Hi! It's R. Eric Thomas. From the internet?
Hi!
I had never been to Sardi's before, the famous New York restaurant where they post caricatures of celebrities on the wall, but I walked by it on my way to see a performance of Alex Edelman's astounding one-man show Just For Us last week and I thought hmm.
You know, sometimes I have more complete thoughts, but most of the time my thoughts are just weird little Muppet noises like I'm Beaker trying to alert Dr. Bunsen Honeydew that the lab is on fire. Hmm. Meep. Woweeee!
(I was just reminded of the Anne Lamott book Thanks Help Wow and now I can't get over the idea of naming my next book in the same style but calling it Hmm Meep Woweeee! Instead of a thoughtful meditation on prayer, my book would be a guide to living your life like a Chaos Muppet. "Here's how you communicate with a higher power, and by higher power I do mean Miss Piggy doing her water ballet in The Great Muppet Caper.")
Anywho, Sardi's. I saw the show--phenomenal; two women made immediate friends with me before the lights went down and they kept turning to me to laugh or grabbing my arm throughout as if we were old besties who love to do activities together and who have shared years of laughter, and yes, some tears, because that is how it goes but we solider through it all, with each other, with our friendship, with help, with thanks, with woweee!
After the show, I had an hour and a half to kill before my train was set to leave and I walked in the direction of Sardi's and I thought, again, hmm. I was in shorts and a t-shirt and if I've learned anything from literally every movie in the 1980s it's that Sardi's a place where fancy people go to have a very stressful conversation with their agent while their agent smokes Virginia Slims and eats oysters. OR it's a place where fancy people congregate after Opening Night to wait for a Newsie to bring them the reviews in the Times. I don't think my agent smokes and I am actually not allowed to read reviews of my work, plus I wasn't wearing an 80s-style fur coat, so I figured I wouldn't be allowed in.
But then I thought meep and I walked through the doors.
Shockingly, they did not immediately called two 80s-style police officers (Cagney and Lacey) to come take me away. And I remembered from The Muppets Take Manhattan (which, as I wrote three years ago when leaving Elle, is my personal Help Thanks Wow) that Sardi's is where Kermit and Rizzo go to start a whisper campaign of good buzz about his new musical. Well, I don't have a musical running but I do have a new book out and I love buzz! I sauntered in and up the stairs to the bar muttering "Afternoon all! R. Eric Thomas! Laughter through tears! Ann Patchett mentioned my name on Instagram the other day! A beach read of a sort if you think so!"
Everything was going amazingly well. People were saying to each other "You know what I'd really like, Sidney? A book of comedic essays that perhaps builds on both the humor and the relatable vulnerability of a previous effort. Where do you think I could find that? Has Miss Piggy written a memoir?"
I reached the top of the stairs, passing caricatures of Loni Anderson and Burt Reynolds, and then came upon this right behind the host stand: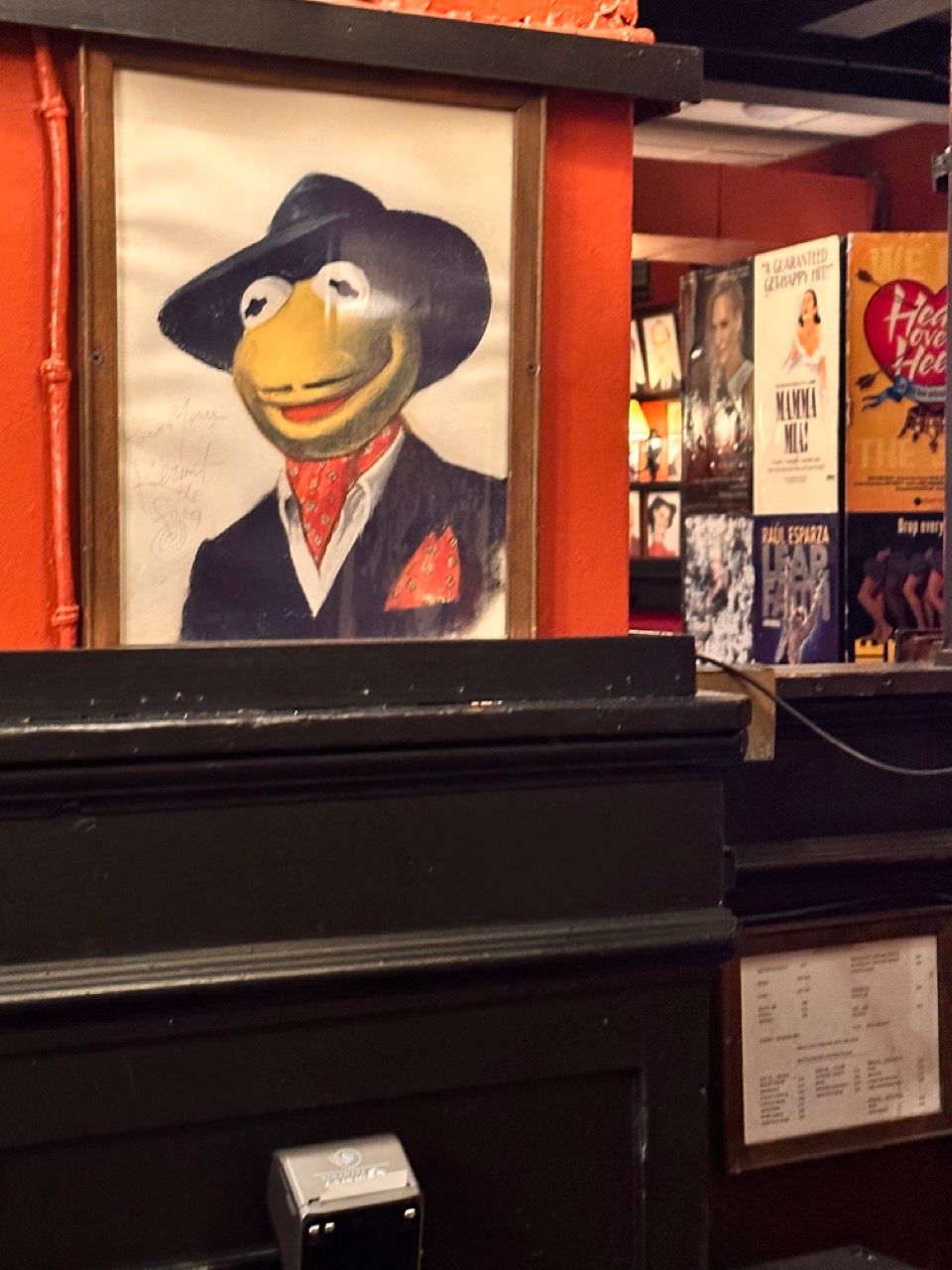 THEY HAVE KERMIT'S FAKE SARDI'S PORTRAIT UP IN REAL SARDI'S! WOWEEE!!
Is there anything better than Muppet nonsense crossing over into our regular, humdrum world? I would argue that there is NOT! That is the message of my forthcoming book Hmm Meep Wowee and, honestly, the message of my nowcoming book as well.
I actually gasped. Like put my hand up to my mouth and everything. I got teary-eyed. Yes, we can, Kermit! I was happy like something great had happened to my best friend (my best friend being the two people who sat next to me at Just For Us. Love ya, ladies!).
Podcasts!
I love love love doing podcasts and I've gotten to do a bunch that turned out really well recently!
Fresh Air with Tonya Moseley (THE Fresh Air!)
What Should I Read Next with Anne Bogel (A delight! Book recs and conversation! I adore Anne!)
Into It with Sam Sanders (Pop culture kiki with the best in the game!)
Gay Reading with Jason Blitman and Brett Benner (This one goes from laugh out loud antics to the most beautiful, introspective thoughtfulness and back again. Loved this!)
Lovett or Leave It with Jon Lovett (I am my ultimate form in front of a live audience. This one was incredible!)
A beach read of a sort if you think so!
People are loving my new book, Congratulations, The Best Is Over! It made the USA Today Best-selling Book List! Probably thanks to all the whispering I did at Sardi's. I think you will love it or whisper about it, too! I'm not allowed to read reviews but I have a loophole if they somehow just come across my IG feed and this one made LOL.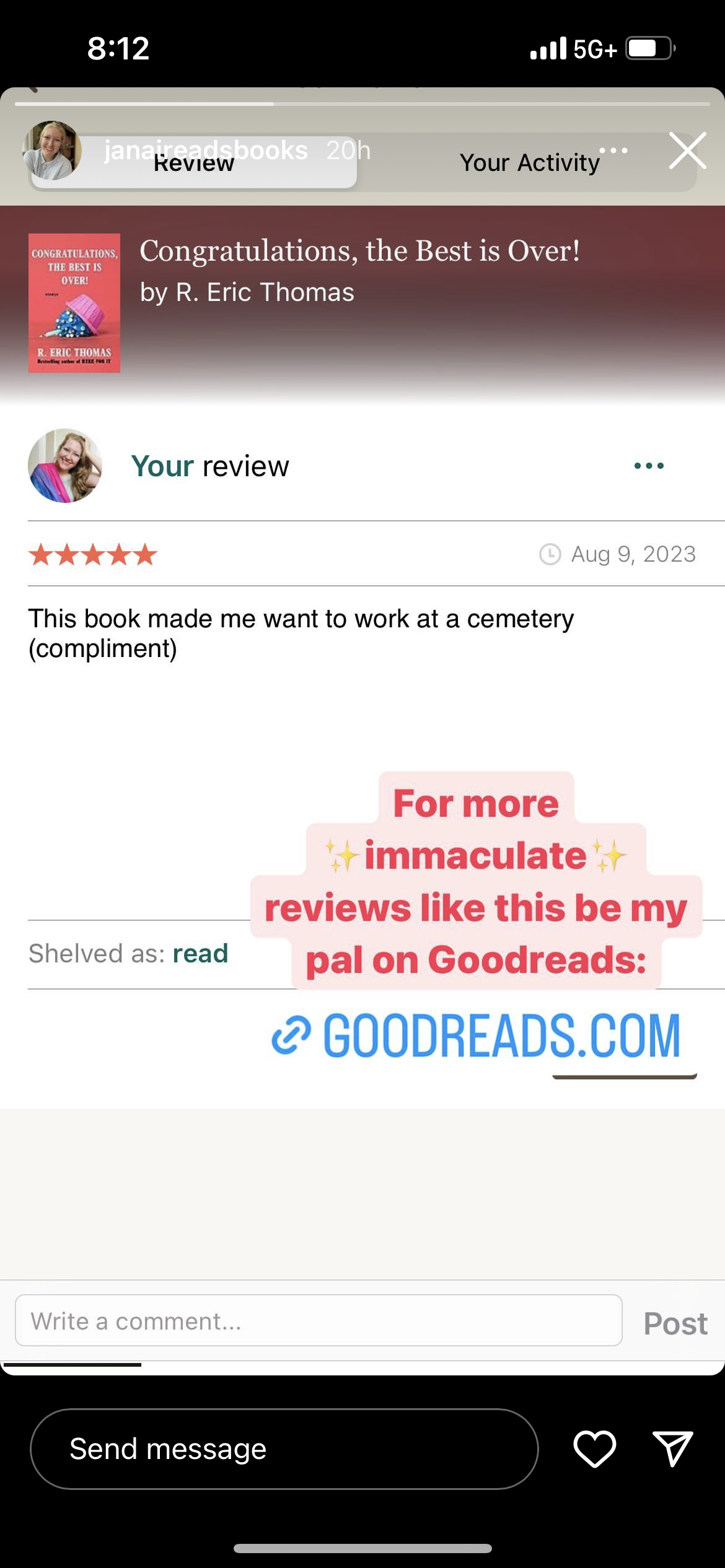 Random Thing on the Internet
Anne Lamott on NPR talking about Help Thanks Wow
You know what I'd really like, Sidney?,
Eric