Frog Want Job: Here for It #206
Hi! It's R. Eric Thomas. From the internet?
Hi!

This week: chaos at the sequin factory and a farewell to ELLE.com
Having spent many decades thinking about it, I have come to the conclusion that there is no piece of culture that had a greater impact on who I am as a person than this incredible serve from Kermit in The Muppets Take Manhattan.
To quote the circus lady from the circus musical "THIS IS ME." I saw this at the age of, like, 5 and was like "well, that's a wrap on my entire personality. Point me to the neckerchief store and let's get this party started."
What I love about this entire ensemble is that I do not understand the sartorial references in any way and I'm not certain the movie does either. The costume designer was like "How do I impress upon an audience of children the simple fact that Kermit is spiraling at this moment?" Mission: accomplished. What's the first children's film that introduced you to the concept of "GOING THROUGH IT"? It's actually a pretty important thing to learn about given the realities of adulthood and also ::gestures broadly everywhere, all the time, forever:: When you think about Muppets Take Manhattan (and, honestly, when are you not thinking of Muppets Take Manhattan) it becomes clear that everyone in the film is spiraling, all of the beloved main characters finding themselves unmoored and flung out into the world. As you know because you are always thinking about this movie, the plot involves Kermit, Miss Piggy, Fozzie, Gonzo and the gang heading to New York with the very simple and achievable goal of putting on a Broadway musical right out of college. "Yes," I said at the age of 7, watching the movie for the 100th time, "this is a solidly constructed plan that I will emulate in 13 years."
They bet on themselves, which is risky even if you don't have as well thought out a plan as "Get on Broadway. Full stop." And the stress of that bet, as the roulette wheel of life is spinning, gets to be too much for them. The gang goes their separate ways. Fozzie experiences insomnia with a gang of hibernating bears. Gonzo joins the circus. Kermit finds work at a restaurant with a kitchen full of rats. "Rats want job! Frog want job!" the diner's owner, Pete, exclaims incredulously. But because the plan "want job" is also so well thought out, he hires them.
I honestly don't know why this film looms so large in my mind. Maybe because even as a kid I wanted to get on Broadway or, short of that, to work at a restaurant. (Mission: half-complished!) Maybe it's because everyone spends so much of the film having a complete psychological breakdown but pushing onward. This movie is like Raisin in the Sun with puppets. California Raisin in the Sun.
It has two of my absolute favorite breakdown scenes that aren't in The Hours, both of which feature Miss Piggy. There's the one where she and Joan Rivers give each other manic makeovers that is honestly the energy I try to manifest every time I have to look less dead for a TV appearance and try to put on Fenty foundation.
And then there's the scene where Miss Piggy's purse is stolen so she borrows Gregory Hines's skates and pursues the thief across Central Park like she's Jason Bourne. Every single time I get angry and have to travel from one place to another I imagine myself as Miss Piggy in a sensible skirt and a Meg Ryan perm, skating across a park and then being supported emotionally by a mildly flirtatious Gregory Hines. It is specific but it is inspirational.
But, of course, nothing is as influential as the scene when Kermit, resorting to desperate measures to get his musical into the hands of a theater agent, puts on the deranged outfit I mentioned above and pretends to be an agent himself. "There's a frog… with an afro" the agent's receptionist tells him. "GOALS" I shouted at the screen at the age of 10.
What's amazing about this outfit is that Kermit is trying to manifest professional success, some sort of vague artistic cred, and also a late-70s California inscrutability, like Jeff Goldblum's character in Annie Hall. It is a LOT of lewk. Why the pink blouse? Why the many necklaces? Why the tinted glasses? WHY THE HUGE NECKERCHIEF? And, most importantly, WHERE CAN I PURCHASE THESE ITEMS?
This is not hyperbole. I'm obsessed with the ensemble. Last year, as you may recall, I spent a lot of time in Nashville last year working on my play Crying on Television and learning from playwrights who are more established than I about the logistics of being a working theater artist and branching out into TV and film. It was a fantastic time and it felt amazing to get the opportunity to bet on myself and my abilities and be supported by a theater company as extraordinary as Nashville Rep. But it was also nerve-wracking. I did a lot of acting as if. And I realize now, looking back at photos, I also spent much of that time in Frog in an Afro drag.
Here's me on my way to a reading of my play notice the Nashville rep pink t-shirt and the GIGANTIC NECKERCHIEF: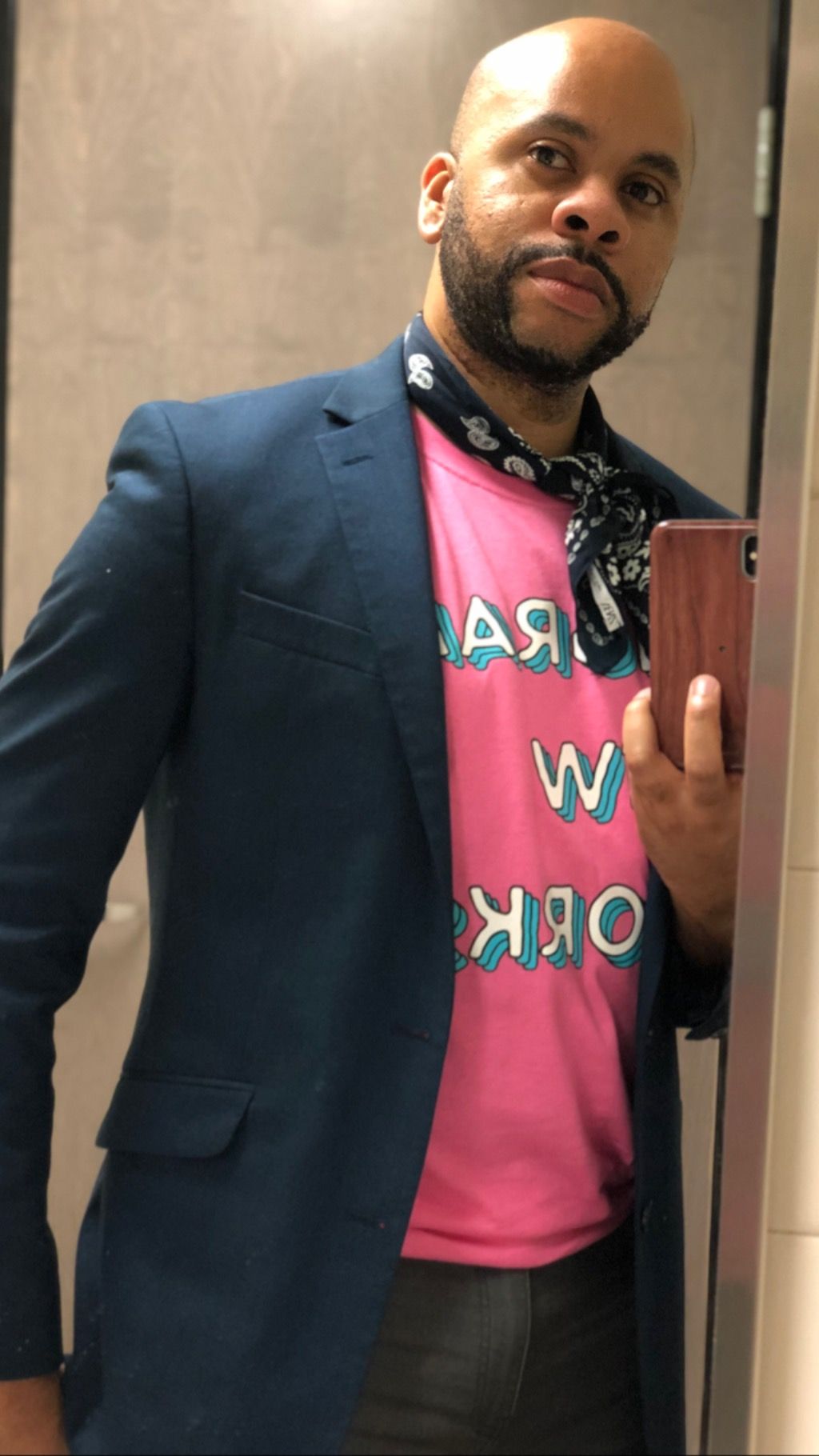 And here's an outfit I wore, I believe, to the Nashville opera???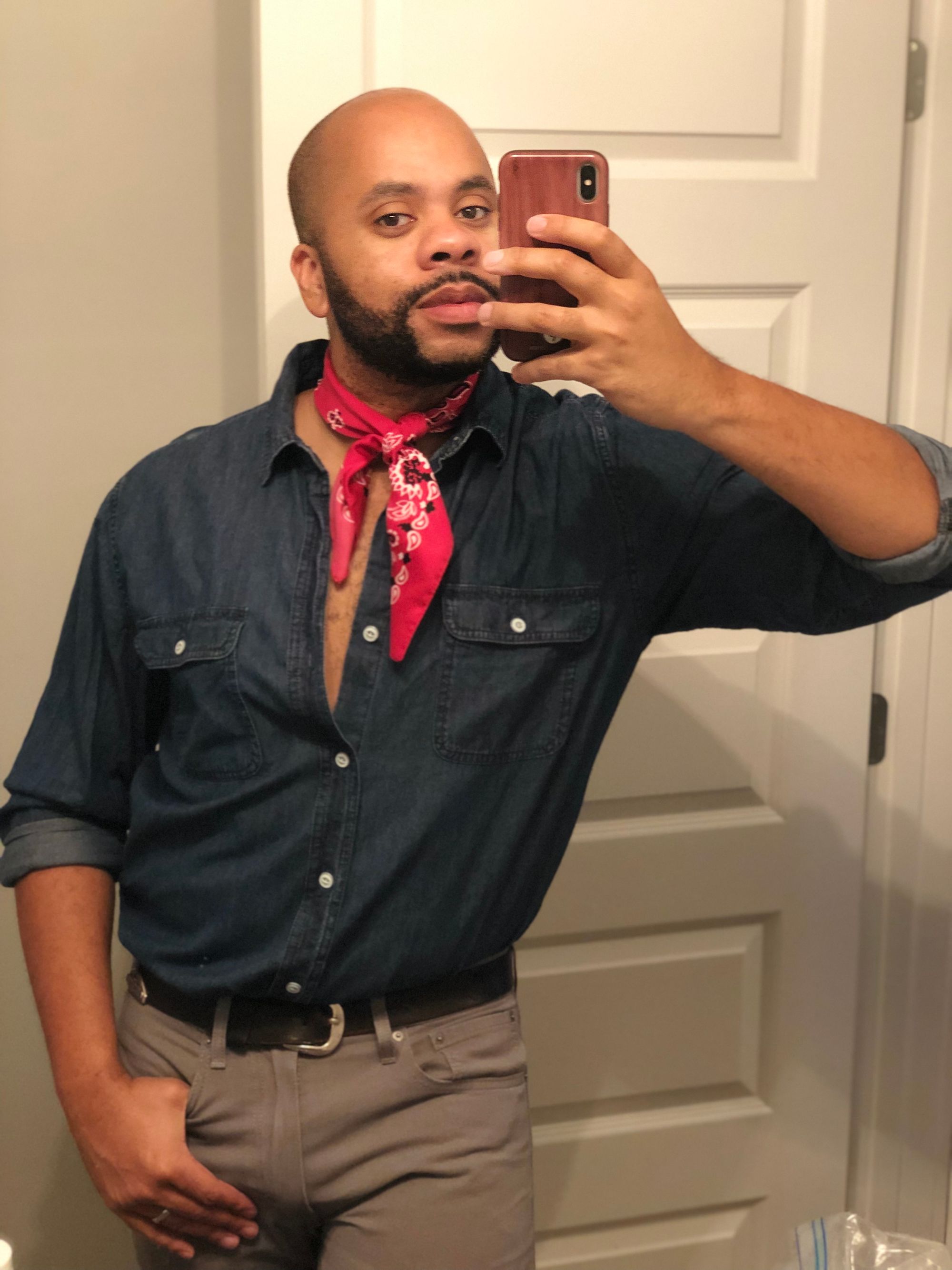 SPIRALING and POSING BABYYY!
Nashville, as I experienced it, is a city overflowing with Muppets Take Manhattan energy—artists, mostly singers, all descending on the town with big dreams and tinted sunglasses (and so many wide brimmed hats!) and maybe a plan or maybe just the vague outline of the future, like Pete the diner owner says "is peoples. Is dancing. Is music. Is potatoes." I would just get off the plane in Nashville every month and yell "Frog Want Job!" at everyone and hope for the best.
Although I don't have to barge into offices, pretending to be someone I'm not, in an effort to get somewhere in my career, I do think that every step forward involves a fair amount of slightly deranged acting as-if. A statement accessory, a mile-a-minute monologue, whatever it takes. And though I, thankfully, have a team of agents who have better fashion sense than Kermit (exhibit 1 and exhibit 2) and actually succeed at getting people to believe that my work is, to use Kermit's words in the scene, "boffo and socko", when I get on the Zoom call to take the meetings my inner "frog in an afro" kicks in.
I guess that's just part of betting on yourself, pushing yourself to do wild things because you believe, underneath the getup, that the work is good.
Which brings me to my very buried lede: this coming week is my last week at ELLE.com. I am leaving a magazine staff and a job that I deeply, deeply love to see if I can make some headway in other boffo, socko forms of writing. There's a lot of things that are sort of, like, happening but every time I talk about them I feel like Kermit charging through an office in a blouse screaming about his private jet being double-parked. What I can say is that at least for the immediate future I'm going to be working in two new fields: television and YA. I'll be spending the next couple of months writing for a couple television comedies and finishing a YA novel, all of which will be out in 2022. I suppose I could probably give you more details so it doesn't sound like I'm talking out of my neckerchief, but I don't know that I'm allowed. That's Hollywood babyyyy!
It's exciting and scary in equal measure and I can't wait to share this new work with you. It, of course, means this newsletter is going to change a little. But I think it will actually change for the better.
Here's how:
I'm going to keep sending out these weekly essays, with links if I've published anything or if I have upcoming events.
I'm going to start doing one-off Eric Reads the News columns if the tea is just too good, and those will come to your inbox directly. They won't be as frequent because I have another job to do, but they'll still happen. (Also, I think Hearst owns "Eric Reads the News" so it may be called "Claudette Peruses the Wires" or something.)
Those two things will always be free and you don't have to do anything to get them; they're already coming at ya. But, in the interest of betting on myself, I'm also expanding the newsletter a little bit and turning on paid subscriptions. I want to be very clear: nothing you've been getting for free is going behind a paywall. It's a totally optional way for you to get more of my writing and to support my work. Here's what's being added:
I'm going to start hosting weekly discussion threads about whatever pop culture, celebrity shade, or political news is worth getting saucy about.
Once a month, I'm posting a writing-focused column, with Q&A and writing prompts, for anyone who is looking to work on their storytelling, their playwriting, their essays, or, eventually, their TV.
I'll also be doing TV and movie recaps and the occasional interview with notable people.
I was going to do a section where I recapped my NextDoor app called "White Drama", but after the election all those spicy hot takes turned into photos of foxes in people's gardens. So… we'll see about that.
The hope is to keep the laughs up and the community going even though I won't be on ELLE.com every day. This newsletter will now be the only place to find my writing online for at least the next year. If this sounds like something fun and it's within your capacity to do it, I hope you'll upgrade your subscription here. It's $5 a month or $50 for the year. There's also an option to be a Founding Member which gets you the ability to commission column topics from me and also maybe a fancy wig or something.
ALSO, if you want in but it's not doable right now, PLEASE just reply to this email and let me know. I'll gift you a subscription. No questions asked.
Okay! That's all! I gotta get out of this afro wig; it's too warm. Thanks for being on this journey with me!
---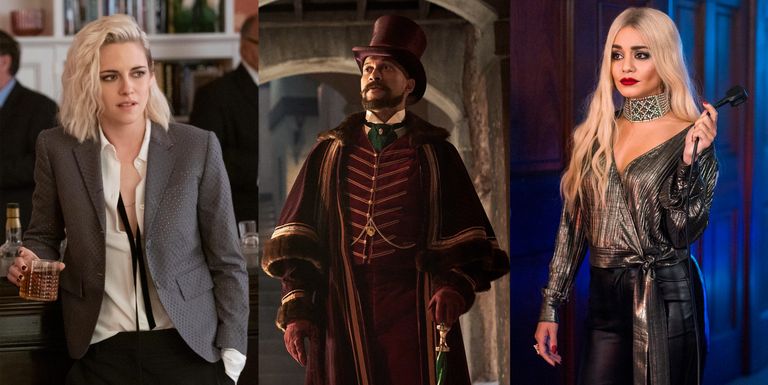 Generally, costumes in holiday movies fall into four categories: Everyone in this Town is Going to a Victorian Murder Mystery Dinner, Disaster at the Pattern Factory, A Sequence of Sequins, and Have You Heard of SWEATERS? They're all always a peculiar delight but the ensembles hit a little differently this year, when our real life go-to looks are "Zoom office party" on top and "cry for help" on the bottom. It's for this reason that, amidst the picture perfection of the majority of 2020 holiday onscreen clothing, my eye was drawn to the characters whose aesthetic more closely aligned with our present reality: chaos but make it festive. Here's the best of the Christmess!
---
Random Thing on the Internet
James Blake covered "OTHERSIDE" one of my absolute favorite Beyoncé songs that one hundo percent always makes me cry. Blake's cover, called "When We're Older" is phenomenal and adds two new verses.
And if you're not in the mood to cry, may I suggest you rewatch the Kermit as agent scene again:
It is specific but it is inspirational,
Eric