Television: Here for It, #299
Hi! It's R. Eric Thomas. From the internet?
Hi!
I MET A PUPPET!
That's the headline.
This feels deeply important because most of my life is not puppet-adjacent so to be, as I mentioned, not only near a puppet but engaged in conversation with said puppet? Call it a veggie burger, cuz it's BEYOND.
Where did I meet this puppet? At work. And it all started with an email. Most work e-mails, unfortunately, I have no interest in. This isn't about the content of the e-mail so much as the fact that when an e-mail comes into your box it is more work for you to do. It is rarely an e-mail that says "Hey, take the year off. We've got this." The best you're going to get is an e-mail that says "So sorry; my day got away from me. Can we cancel our upcoming meeting?" What a wonderful e-mail! And the answer is yes!
A hack to this system, I've found, is to begin the title of a book with the word "Congratulations" because every e-mail I get about my new book seems like simply wonderful news. My inbox is full of things I need to do, but it looks like I keep winning the Publisher's Clearing House sweepstakes. And isn't that fun?!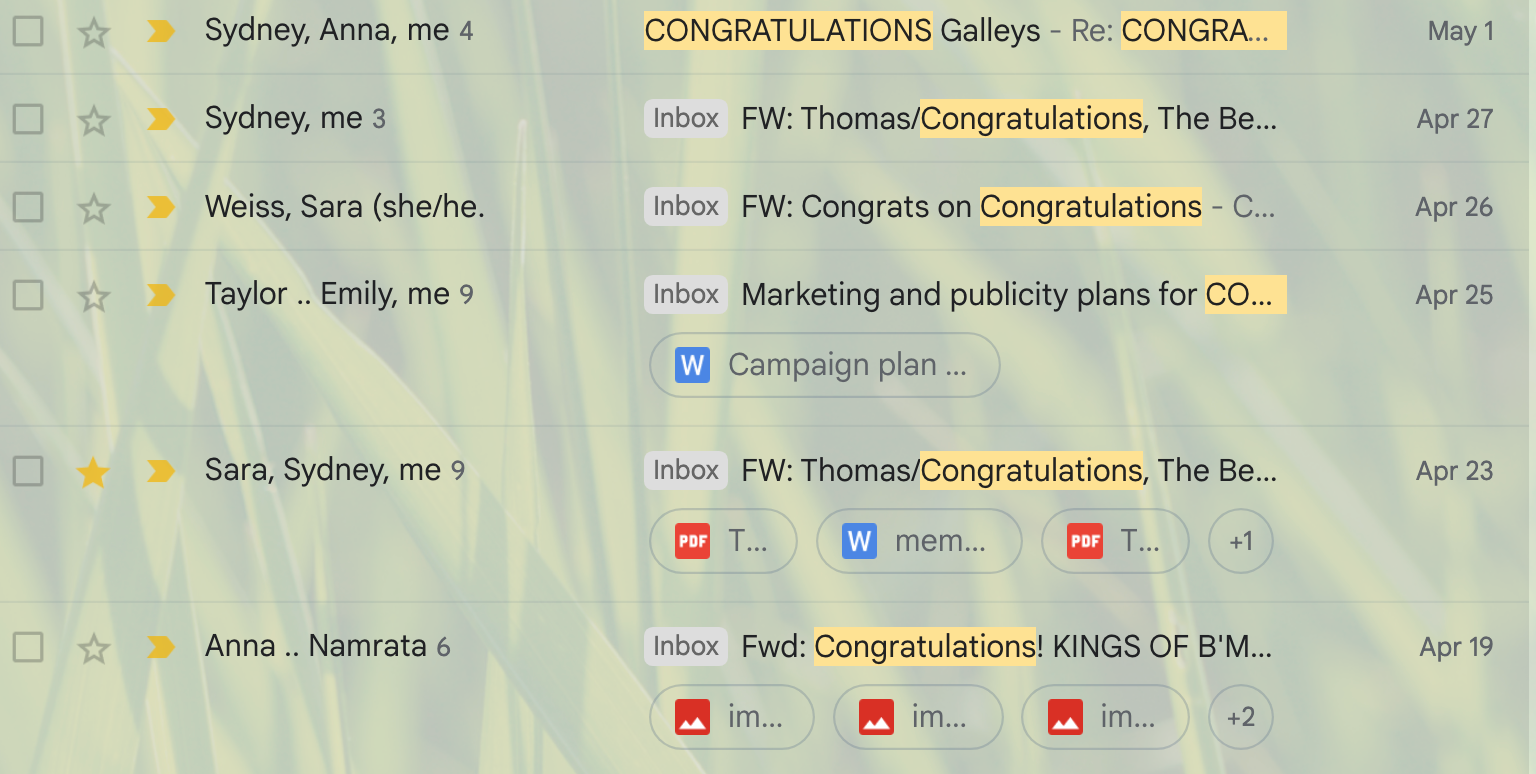 In October 2022, however, I received the best kind of work e-mail: an e-mail I didn't know I wanted but somehow have been desperately seeking for my entire life.

I read the subject line and before I even clicked on the e-mail, I was crying and wailing and rolling across the floor like Patti Labelle in concert.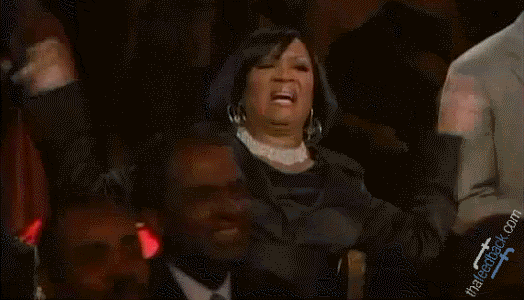 Liz, a producer at WHYY, the Philadelphia public television station, wrote to me about a new television series they were creating for audiences age 2 through 5 focusing on social and emotional learning. The show, Albie's Elevator, follows an elevator operator named Albie, a puppet who navigates the ups and downs of big emotions with the help of her human friends.
WOULD I BE INTERESTED IN BEING A HUMAN FRIEND?!!!!!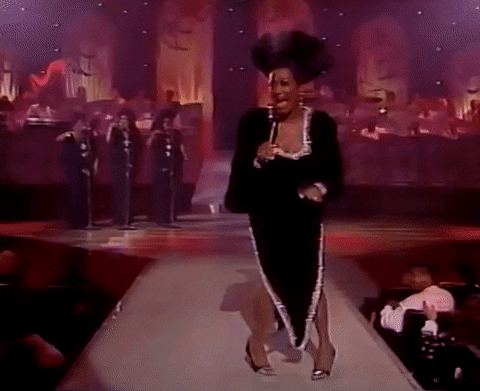 The episode of Albie's Elevator I'd be on was about storytelling and prompts Albie and the friends in her elevator to share their own stories, which Albie finds very difficult. Might I be interested in a call to discuss?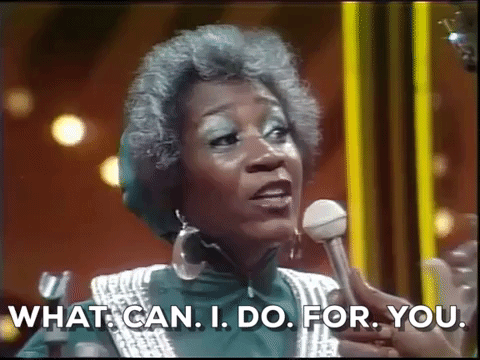 On the call, Liz was joined by Caitlin, who told me about the character of a storyteller/writer with a VERY COOL HAT that she'd written specifically for me.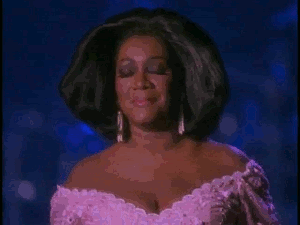 Caitlin and I share hosting duties for The Moth in Philly, trading off months. (She's hosting this Tuesday! The theme is Pride!!) Most of the time when one of us is hosting, the other person has something else to do, so we're rarely in the same room. But every time I get to see her host, I'm dazzled and reminded of how special a space The Moth is. I am rarely, if ever, more at home and more myself than I am when hosting the Moth (at home meaning talking at length to a bunch of people and more myself meaning a lunatic). So, it was especially thrilling that Caitlin had designed this character based on that version of me.
And his name? HIS NAME?!!! Was Ricochet Paloma!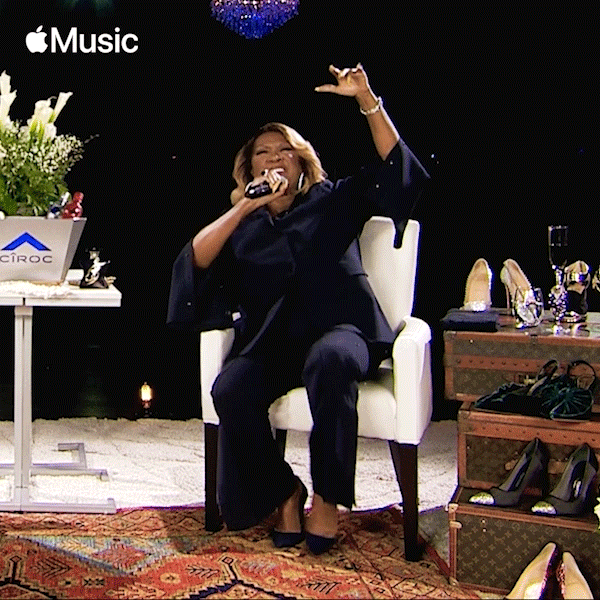 I fell out of my chair with delight. I love a fancy name!!
I got the script, which was 10 pages, and I told David I was going to spend a week memorizing the entire thing like I was Dolly Parton preparing for 9 to 5 (famously, she didn't realize you don't have to know everyone else's lines and also that you film out of order so knowing the whole thing front to back doesn't help you.) I was going to go full Dolly, which is like Method acting but incredibly nice.
I was so nervous! I wanted to get the lines under my belt so that I could spend time making bold, interesting character choices and ensuring that my Resting Furious Face didn't scare the pre-K audiences tuning in.
I had never been happier.
That is, until I got to the studio and met the costume designer and saw her vision for my character. Ricochet was going to be wearing head to toe purple, with a cape and a top hat and (briefly) gloves. Ricochet was giving you full Andre De Shields as The Wiz, he's giving you "magician if personal narrative and self-actualization is the magic you seek". He's giving you PATTI. And I simply burst into tears of joy.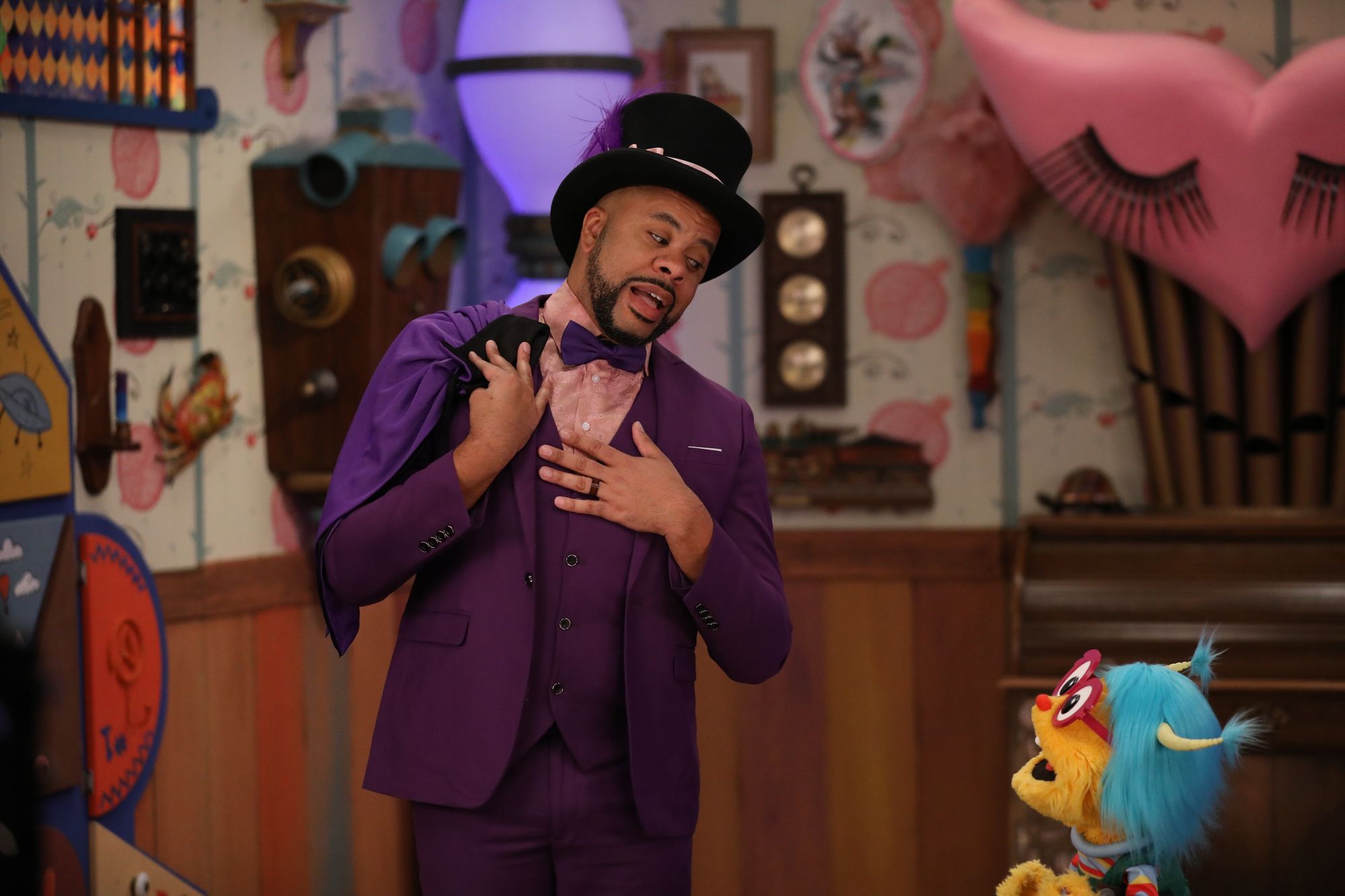 Between this delightful, wise, and warm script and this over-the-top casual day look, I had never felt so seen! I don't particularly love to be perceived at all, but I started to think "If this eccentric, silly, grandiose character is how people perceive me, maybe I'm doing something right." Caitlin's script was like 10 years of therapy! THE POWER OF TELEVISION!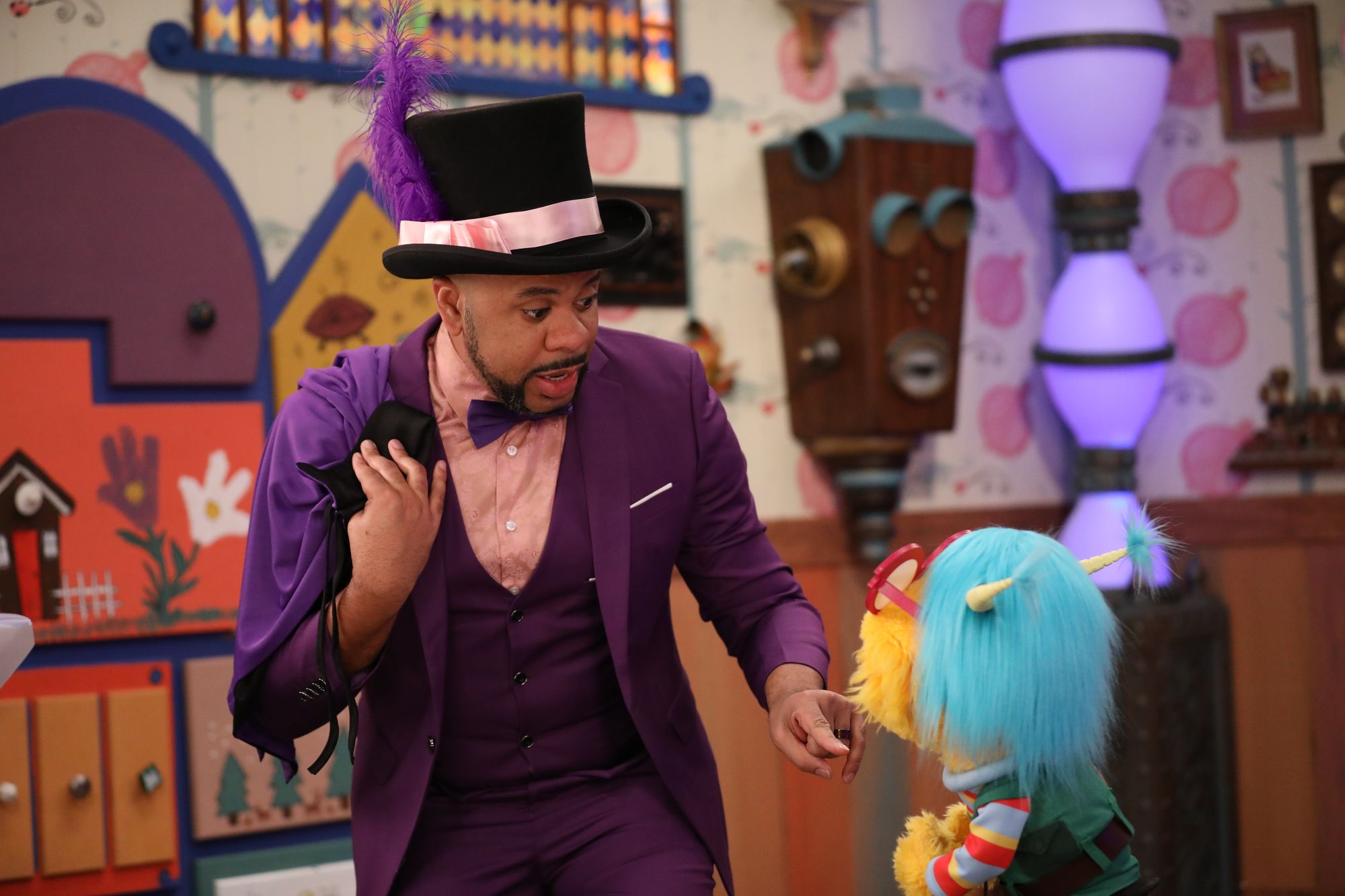 In the backstory I created for the character, he's coming back from going to the grocery store. He doesn't have any bags because he went in search of peach but didn't find any to his liking, so instead he made conversation over an espresso at the coffee shop next door, lent a stranger a copy of Tenth of December, and went upstairs to water his succulents. This is how he dresses for a day of chores and I stand by this choice! If you're not holding your cape, you're not serious about errands!
Albie's Elevator premieres on June 12 on WHYY Kids on YouTube and on WHYY-TV 12 locally. If you have little ones please tune in! Or even if you don't; I was amazed at the talent, ingenuity, and humor of everyone involved. My episode airs the week of July 4th and I'm hoping that Joe Biden includes the episode as part of the Independence Day Celebration at the National Mall.
Finally, I am pleased to introduce you to my new headshot: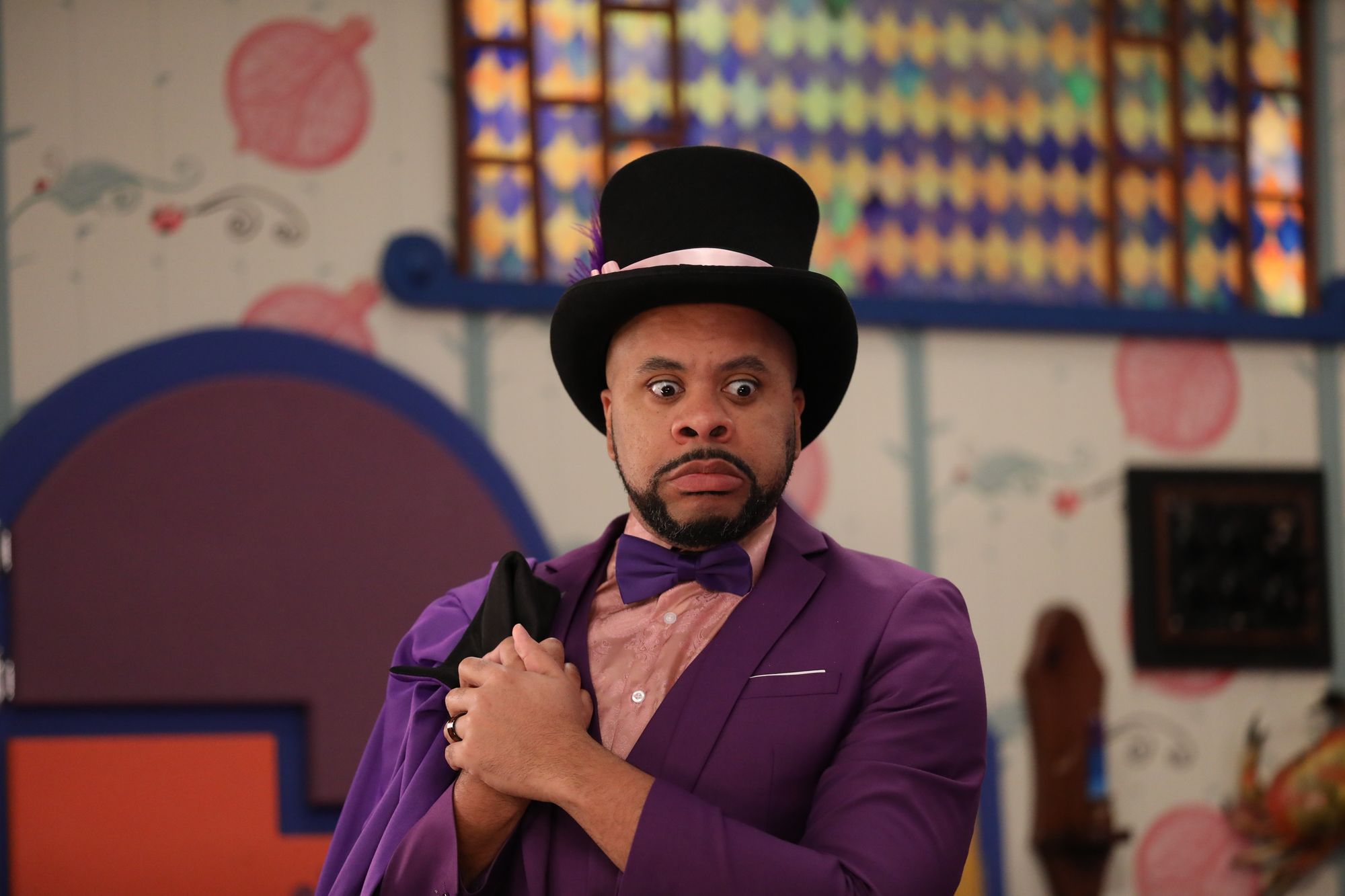 Win a free copy of the Kings of B'more paperback!
Kings of B'more is out in paperback now and I'm giving away 20 signed and personalized copies of it! All you have to do to enter is pre-order Congratulations, the Best Is Over! You don't even have to prove to me you've done it so if you're feeling like committing a crime by lying, you can! I won't ever know!
P.S. There's about to be SO many giveaways for preordering Congratulations... so get your winning hat on and your Showcase Showdown cape out.
Let's hang out!
June 9 & 10 - I'm doing a weekend of events at The Bookshelf in Thomasville, GA with Kerry Winfrey and Hunter McLendon!
June 15 - I'm the guest speller at the Arden Theatre Company's production of 25th Annual Putnam County Spelling Bee! If you want to see it, use code BEE0615 for discounted tix.
June 23 - I'll be at One More Page in Arlington, VA!
June 24-26 - I'll be in Chicago for the American Library Association Conference and receiving the Stonewall Honor for Kings of B'more!
Random Thing on the Internet
(briefly) gloves,
Eric