Hi! It's R. Eric Thomas. From the internet?
Hi!
Now you know I don't go in for a whole lot of astrology research. Nothing against it. Live and let live, I say. I just don't understand--the star signs and what they mean and the position of the planets and whatnot. And I am, unfortunately, unable to google and so I'll never know. Fine for anyone else but I'm going to be over here luxuriating in my ignorance. But I just feel that what a star has to say about my inherent nature is none of my business. I don't need to know a star's opinion of me except that star is Jennifer Hudson. This is my core belief.
People do this thing where they post memes on Instagram listing the different astrological signs and then assigning different behaviors to them--the star signs at a party, the stars as desserts. It's kind of like those old Jeff Foxworthy bits crossed with the Co-Star app: You might be a Capricorn if...
The things is on every single one the behaviors they ascribe to Aries, which is apparently what I am, are incomprehensible to me. Like, I would never do these things. Like, look at this. This meme claims that I would get revenge by keying an ex's car.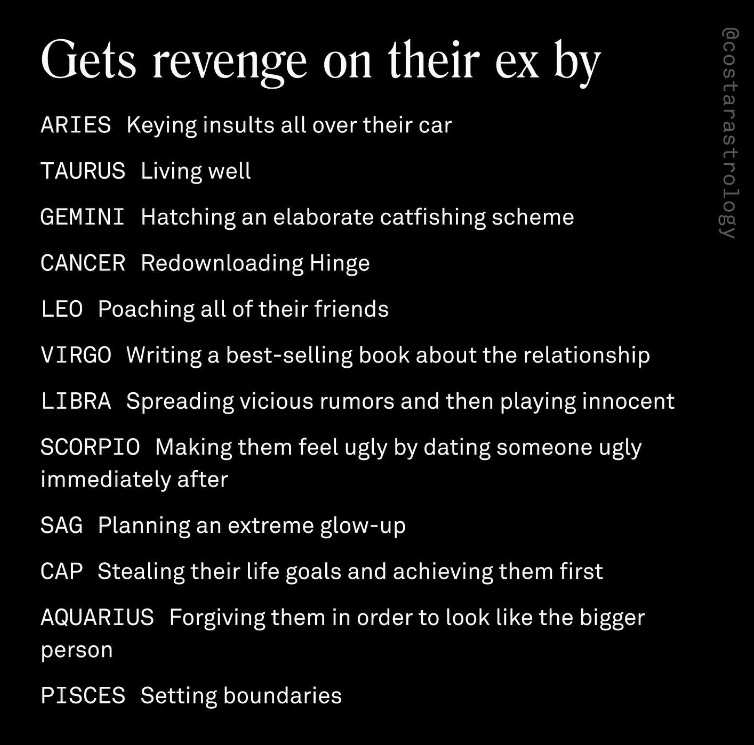 What the skizzadoo?! First of all, I barely remember what kind of car I drive; I'm certainly not carrying around the knowledge of what other kinds of cars other people are driving. I can barely pick David's car out of a lineup. I certainly don't know what any exes drove. Did they have cars? I DON'T KNOW. And property damage? In this political climate? Let's be real here. I'm going to go up in someone's driveway and risk a lawsuit when I could just get revenge the way I always do: being mad for a long time and then doing nothing? Seems unlikely.
I get very upset when I see these memes because I feel besmirched, personally. And also I've seen so many of them that don't apply and I start to wonder if these people have even met an Aries before. To whom do I complain about this? The Star Lord? The Mover of the Spheres? Mars? This is very stressful.
Is writing a letter in protest about how Costar describes the general group of billions born between late March and mid-April an Aries trait? I'll never know! These memes are making very serious allegations and if they're right then I don't know myself and I just can't handle that level of personal disruption at the moment. I am not above bringing an Instagram meme to therapy but I'd really rather not do that. Again.
Apparently this is the beginning of Aries season. I only know that because my birthday is coming up and also I saw a tweet that announced it and I get most of my information from tweets.

I really don't know what Aries season means. Or any of the seasons. Are we all supposed to act like this now? Or just me? Much of this feels more akin to my personal brand (Impatience has served me very well, I must say. But I am very far from over confident. So here we are an an impasse again. Oh, but "Be the drama the world needs" is my life motto. Yes, that's very accurate. Good thinking stars. Abrasive pep talks seem like something I would do. I mean I don't consider them abrasive. Do you want me to be lackadaisical about pepping you up? Absolutely not. Let's get down to business. I'm going to shout encouragement at you. BECAUSE I CARE! Okay, so this one is pretty accurate. Yes, these seem like Aries traits, whatever that means. I'm mollified. I feel seen. I feel confident. I feel like keying a car. I'm just kidding. Maybe. Okay, I gotta go--I need to print out 90 pages of astrology Instagram memes and send them to my therapist so we can discuss this. It's going to be a long week.
Two plays running!
Folks at Home has started performances in Baltimore and Backing Track continues to run in Philadelphia! Thanks to everyone who has come already or is planning on coming! Streaming information is forthcoming.
Backing Track
A comedy about community, falling in love in a world falling apart, the magic of mixtapes, and more.
March 3 - April 10, 2022
Arden Theatre
---
The Folks at Home
A family comedy about a couple, their in-laws, a full house, and the American dream.
March 17 - April 10, 2022
Baltimore Center Stage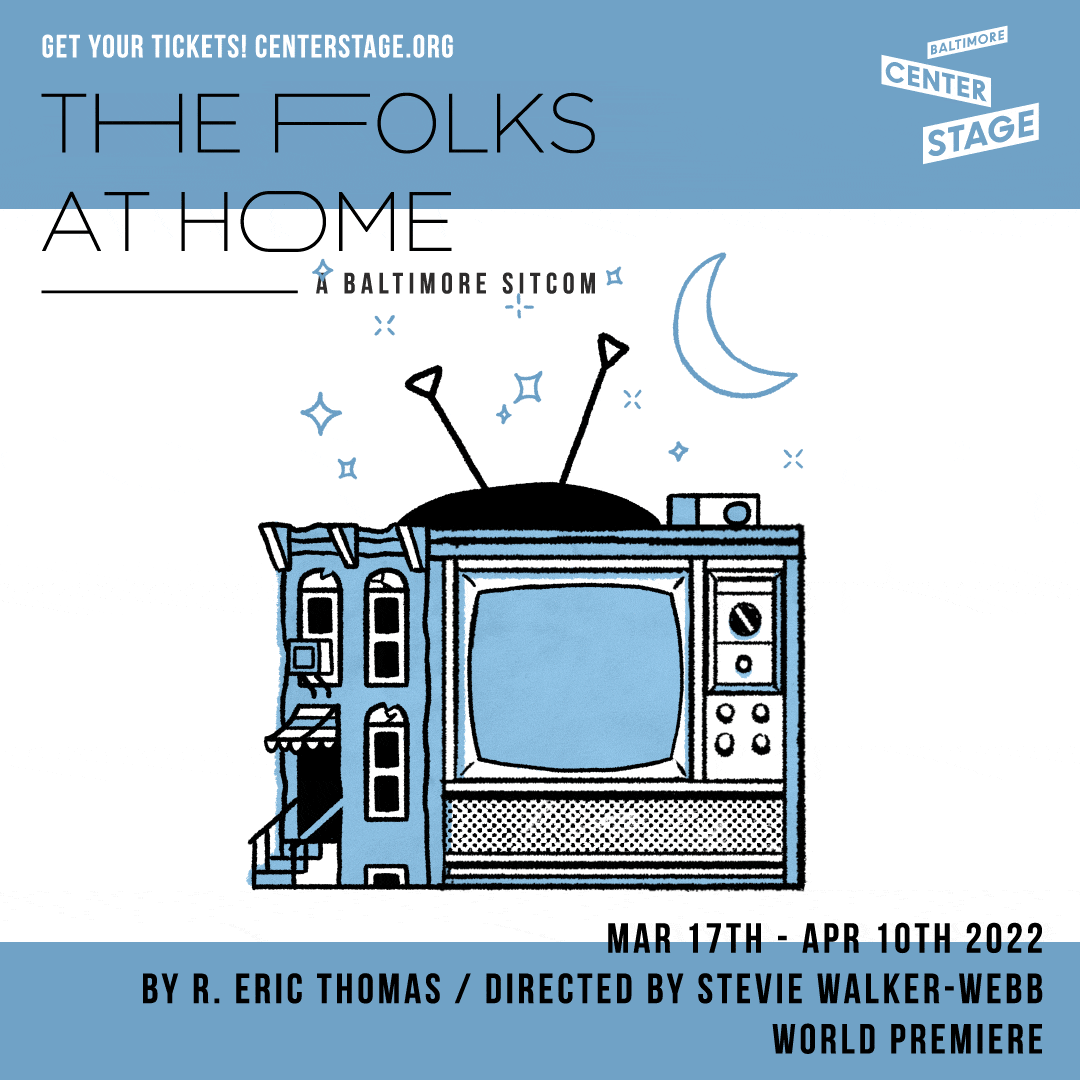 ---
Crying on Television
Living Single meets Noises Off! A comedy about transformation, sidekicks, and the impossibility of making adult friends.
May 31 - June 26, 2022
Everyman Theatre
---
Random thing on the internet
Backing Track is about a lot of things but it's mostly about a family that is obsessed with watching Titanic. So, I've been thinking about the movie a lot over the last few years. This episode of the podcast The Rewatchables is a very satisfying conversation about the movie, some of the more controversial plot points, and a shocking revelation (to me at least) that the prop necklace was actually worth $2.2 million dollars. If I was Kate Winslet, I would have slid that thing in my duffel bag on the last day of filming and kept it moving.
being mad for a long time and then doing nothing,
Eric
---
My new YA novel, Kings of B'more, a contemporary riff on Ferris Bueller's Day Off, is out everywhere on May 31, 2022. Pre-order it here or from you favorite indie bookstore, or request it from your local library!