Here For It w/ R. Eric Thomas, #90
Hi! It's R. Eric Thomas. From the internet?
Hi!

This week: Cool Dad stories from Obama, Mariah Carey has some words for you, and Blake Lively x Willy Wonka is saving my life.

Are we supposed to hate Facebook? I forget. I mean I know it's *bad* and *destroying democracy* but, you know, so is everything. But Facebook isn't cancelled, right? It's like plastic straws: using it too much probably isn't in our best interests, but there are some benefits, and also when you get down to brass tacks, it's not the ones killing the turtles. I still use Facebook, albeit in a much different way than I used to. I've clocked some of the transition but it still shocks me, sometimes, to see how drastically my Facebook presence has changed when I look at the Facebook Memories feature. If, perhaps, you are a young millennial or one of my many relatives who refuse to join Facebook and force me explain memes, Facebook Memories is a screen that shows you what you posted on this day going back as far as you've had a profile. It's the perfect things for me because 1) I don't have a great memory so the past is always a surprise, 2) I love a montage or retrospective, and this is pretty close, 3) obsessed with myself, 4) often I find patterns and I'm able to investigate my own life like a criminologist on a show called CSI: Eric's Relatively Normal But Still Disastrous Life. What a treat!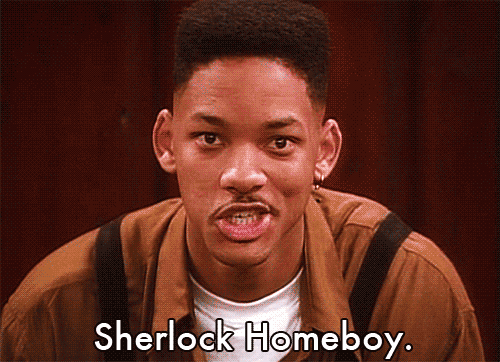 I find sometimes that there are days when going back years I posted something similar every year. Not even about the weather or pumpkin spice lattes or whatever, but about the way I felt or getting into a new TV show or advertising a new creative endeavor. That freaks me out because it suggests that I am moving through patterns in life that I'm not even aware of. I mean, I guess that's also why I'm in therapy but it's still a shock! Me, predictable in a human way? Can't relate! My therapist is always like, "Hey, seems like you're catastrophizing which is a thing you definitely always do. Maybe you should download the mindfulness app I told you about and start living in the present." To which I respond, "Hmm. That's so weird, I feel like I've heard this before." And my therapist is like "YOU HEARD IT FROM ME. ME. I TOLD YOU." And then my last therapist walks through the door and she's like "ME TOO!" And the therapist before her pops up in the window and is like "I DONE TOLD YOU THIS!" And the therapist I only worked with for two sessions drops in from the ceiling, Mission: Impossible-style, and is like "I would have told you this if I were better at my job and stopped trying to get you to do couples counseling with me and my wife even though you'd only been dating your partner for a month and all of your issues had nothing to do with your relationship!"

It's wild. Do I have to give all of these people a co-pay?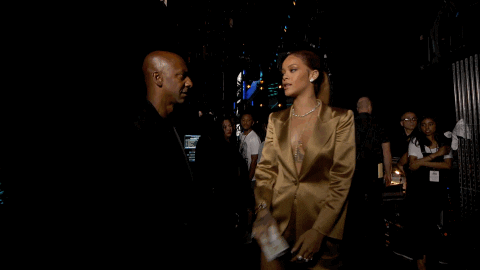 Today's Facebook Memories was a journey! This time last year, I had apparently found myself in a place that was rebroadcasting the US Open and I watched for an hour not knowing it wasn't live. "I was so confused (mostly because I don't understand how scoring works so it feels like watching a Fringe show in which the scenes keep abruptly ending.)" I wrote. "Nevertheless I was really nervous for Sloane, a person whom I had never heard of before 5 days ago, and shushed the person next to me so I could concentrate. I cheered aloud in public when she won her second US Open title in a week." Go Sloane!

The year before that I was a month away from getting married and so my post was an explainer about what to wear to our wedding. The attire was "Golden Globes chic" and people really delivered.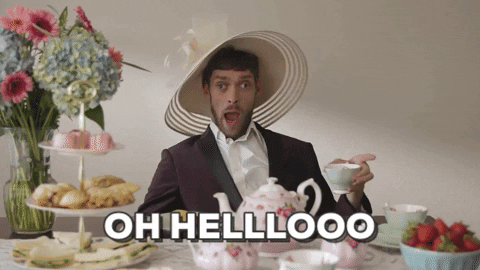 Four years ago, I was hosting a Moth and my friend Jarrod Markman, who is a delight and a prince and insists on being mentioned in everything I write, posted a photo of me from the show.

Five years ago, six years ago, seven years ago, and eight years ago I posted about some kind of baked good--two were cupcakes, one was a Jewish apple cake, and one was a photo of a brunch that was apparently all pastries. I really went through a carb moment. FOR FOUR YEARS. An entire administration of just baking things and eating them. It really made me question whether I have something to say about a baked good today. I'm stressed. I had a scone earlier. It was fine. Have I made progress? Cue my therapist popping out of a cabinet shouting "NOPE!"

Actually, seven years ago I posted about cupcakes twice. Once, I was trying to figure out a recipe. The second time, I was complaining that the woman I didn't like at the office brought cupcakes for everyone and didn't give me one. I don't even remember 1) which job this was, 2) who this woman was, 3) why I didn't like her. BUT I'M STILL MAD ABOUT IT. Cue my old therapist flying over my house, sky-writing "LET THINGS GO!"

Can't relate!

This week, Mariah has a word for the congregation, Mark Wahlberg wakes up at 2:30 a.m. to make muscles, and Blake Lively's stylist (herself) deserves a raise. But first! Cool Dad Obama!
---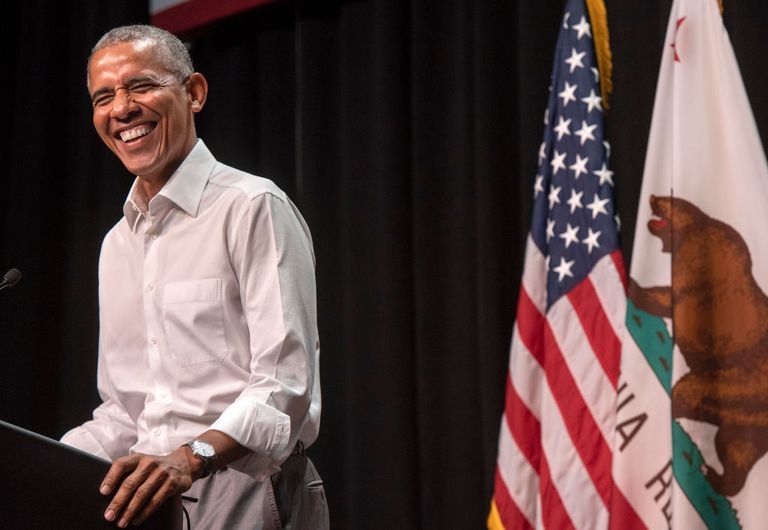 President Obama was in Anaheim, California over the weekend drumming up enthusiasm amongst Democrats prior to the midterm elections. And like Very Cool Parents the world over, something as simple as physical proximity prompted a Mr. Toad's Wild Ride down memory lane. It's that thing where every time your dad drives by an Olive Garden, he randomly tells a story about asking an Italian exchange student to prom 40 years ago and you're like "Why am I hearing about this?" but he doesn't answer because he's too busy belting "Volare! WOAH!" It's that. [READ THE FULL COLUMN]
---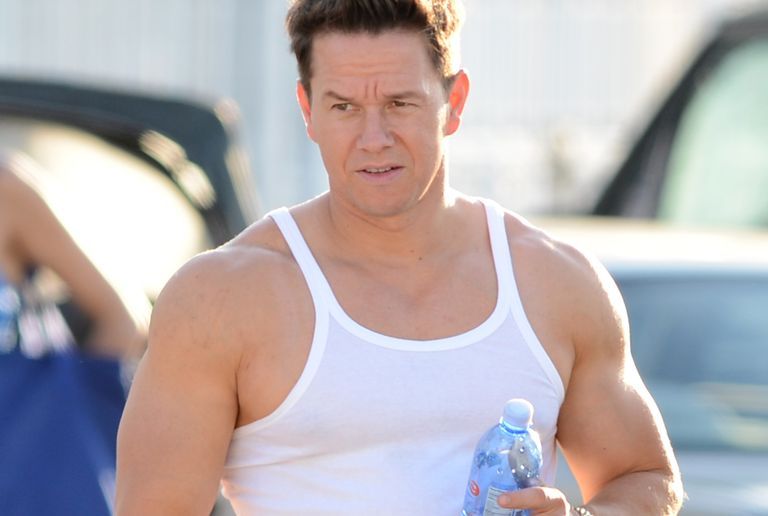 2:30 A.M.: Wahlberg awake. Me, dozing in the back of a Lyft. This is not a waking up time; this is a Googling "How late is Taco Bell open?" time.
2:45 A.M.: Wahlberg praying. No shade here; Wahlberg is one of Hollywood's more famous Catholics. I do want to point out, however, that between 2:30 and 2:45 there's just 15 minutes where he's just staring into the darkness.
3:15 A.M.: Breakfast. This is the most outrageous sentence I have ever read. [READ THE FULL COLUMN]
---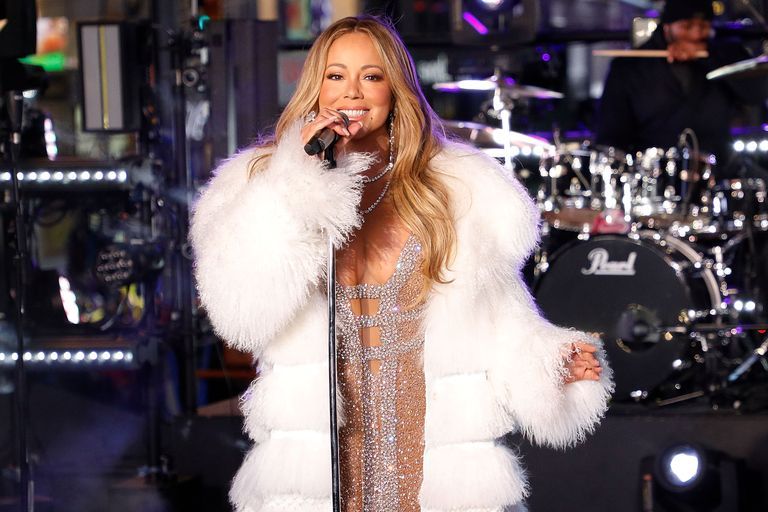 Honey, you don't ever want to receive a breakup letter from Mariah Carey. The Queen of Not Knowing People, will always tell you exactly who she is. And she'll it rhyme. You ever been taken down a peg in couplets? [READ THE FULL COLUMN]
---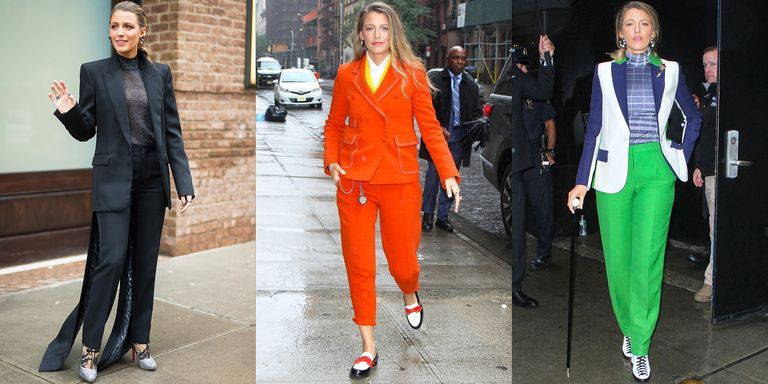 Beloveds, I say this with all the sincerity and affection in my being, with an open, candy-coated heart, and with a complete absence of snark: Blake Lively's enthusiastic transformation into Willy Wonka is the best thing that happened during Fashion Week. [READ THE FULL COLUMN]
---
Let's Hang Out

Hosting The Moth in DC at City Winery on Monday September 17th

Hosting The Moth in Philadelphia at World Cafe Live on Monday October 1st

Hosting The Moth Mainstage in LITTLE ROCK, ARKANSAS! on Thursday October 4th
---
Random Thing from the Internet...

Speaking of baked goods... today at church, someone brought carrot cake cupcakes with and without pecans. I have never had carrot cake because it is usually made with nuts (I'm allergic; will die) and even if it doesn't overtly contain nuts it's just not safe for me. (OH! BTW I went to get a new Epi-Pen from the pharmacy last week and the pharmacist was like, "They're on backorder from the manufacturer and they've given us no info on when they're be coming out so LOL I guess just don't perish, my dude!") Anyway, I didn't have a carrot cake cupcake at church because I was pretty sure there was a great chance of cross-contamination so, instead, I'm going to make Allison Robicelli's carrot cake recipe in my own kitchen, with my own ingredients, and stay alive.

The past is always a surprise!
Eric