Here for It w/ R. Eric Thomas, #175
Hi! It's R. Eric Thomas. From the internet?
Hi!

This week: Channing Tatum's gold pants?!
So, the thing is I am very interested in this concept of a Zoom PowerPoint party. Or, I suppose, a real life PowerPoint party, should I ever deign to put on pants again. But I am categorically averse to homework and preparing a PowerPoint, even for fun, feels dangerously close to homework. At the very least it's work, even if you don't have to leave your house. All Zooms are performance and this one involves a slide deck? I cannot abide. And yet all I've ever wanted was five uninterrupted minutes to tell my friends about my niche interests! So, I'm torn.
I feel the pull of a recreational presentation more and more even as work-related presentations continue to give me anxiety. We had so much fun in Mexico City last year that when we came back we decided that we would hold an old-fashioned slide show party where we invited people over to our house to look at vacations photos projected on our walls while we talked about what we did. We didn't end up holding the party because a) we don't have a projector and while I am very extra, I am also quite cheap; b) throwing a party and preparing a presentation and teaching myself how to make the little bowls you serve mezcal in? Honey, who has the time for all of this? I used up all my PTO in Mexico!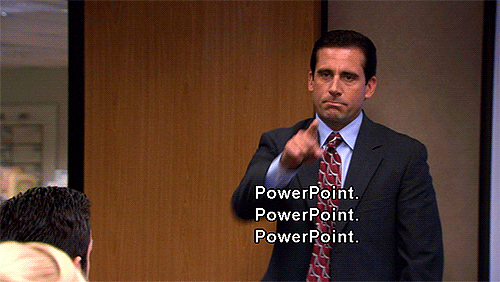 I still think it's a good idea, though. I would love to go to someone's house, eat their food and drink their booze, and listen to them tell anecdotes about their vacation while projecting selfies on the wall. Does this concept have a high chance of being super boring? Absolutely! That's half the fun. Every boring presentation is always mere seconds away from being performance art. This is particularly true about presentations that happen during Zoom meetings. Chaos can break out at any moment and in any possible way. It's like Sleep No More meets The Office meets an actual circus. I love it.
Last night, I was at my dear friend Chris's Zoom birthday party and we were having a great time and then the chaos fairy floated into my window and whispered in my ear and, really, that's all I needed. I mentioned that I'd made the Alison Roman shallot pasta for dinner that night and, of course, that necessitated me then immediately pivoting to discussing the Alison Roman quotes and tweets from the last 24 hours and, of course, since some people weren't aware of all the things that went down in celebrity cooking world, I had to share my screening (without waiting for permission) and take everyone at the party through the tweets, the reaction, the memes, and then a random account of a comedian I enjoy. I also, later in the party, shared my screen again when I found a bootleg copy of the Sister Act II script that demanded to be read by the group right away. It wasn't a PowerPoint party—I would have rehearsed if I'd know I was going to have to go over culinary drama or deliver the line "your teacher says take off your robes!"—but it was the kind of delicious recreational chaos I hunger for.
Speaking of chaos, yesterday, I caught a YouTube reading of the play Blithe Spirit, starring William Jackson Harper, Rene Elise Goldsberry, and the great Leslie Uggams as the spirit medium Madame Arcati. It was really quite good and I really enjoyed seeing people of color do Noel Coward. At one point, however, Leslie Uggams's video froze and William Jackson Harper just stared, expectantly, at the screen because… well, what else can you do? It went on so long that the director popped up on the screen and conducted an impromptu cast Q&A while, I guess, someone called award-winner Leslie Uggams on FaceTime and walked her through reseting her router. Blithe Spirit's plot involves a man who is comically bedeviled by the ghost of his first wife, so it makes perfect dramaturgical sense that a staged reading without the benefit of a stage would experience similar mysterious complications.
They never were able to figure out Leslie Uggams's tech issues, unfortunately, which led to me remarking "Zoom is bustin' out all over!" to my own delight and an empty room. I really do crack myself up; maybe I should do a PowerPoint party just for me. If you haven't seen Leslie Uggams perform an absolutely deranged rendition of that song, you absolutely must right now. I can think of no better approximation of the spirit of chaos that we invite into our lives every time click "join meeting" than a fuzzy VHS recording of Leslie Uggams stalking through a confused crowd shouting nonsense words at them. When I finally do my PowerPoint party, this will be my first subject.
This week: Channing!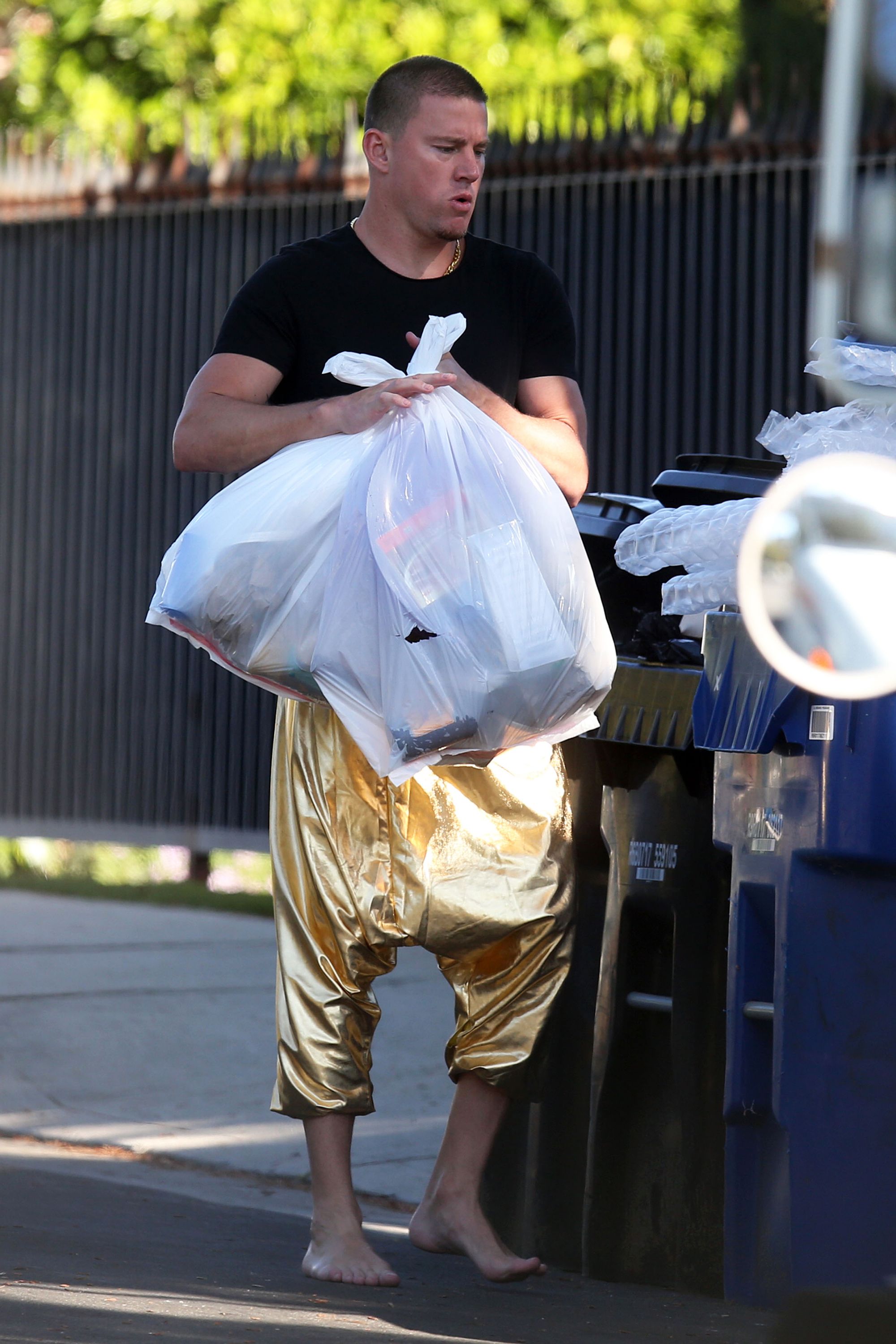 What we have here is an accessibly hot celebrity who seems like he's probably a nice guy (but do not quote me on that) giving you "bouncer chic" up top and a Project Runway one-day challenge judged by Will Smith as the genie from Aladdin on the bottom. In bare feet. While taking out a trash bag that is about to break. You ever see a photo that's 100 percent backstory? The actual pixels that comprise the image are like "Babe, I don't know what to tell you; I'm just here."
---
Let's Hang out
MONDAY: Comedy Conversation at 1812 Productions—storyteller Hillary Rea and I will be be in conversation on Crowdcast about making narrative out of real life and making jokes about tough subjects. I'll also be performing two stories from my book. Free with a suggested donation. INFO HERE
TUESDAY: I'm delighted to host my friend Emily Scott's launch for her phenomenal book, For All Who Hunger. She's inviting friends, including Nadia Bolz-Webber, to celebrate the book with an evening of stories and song. INFO HERE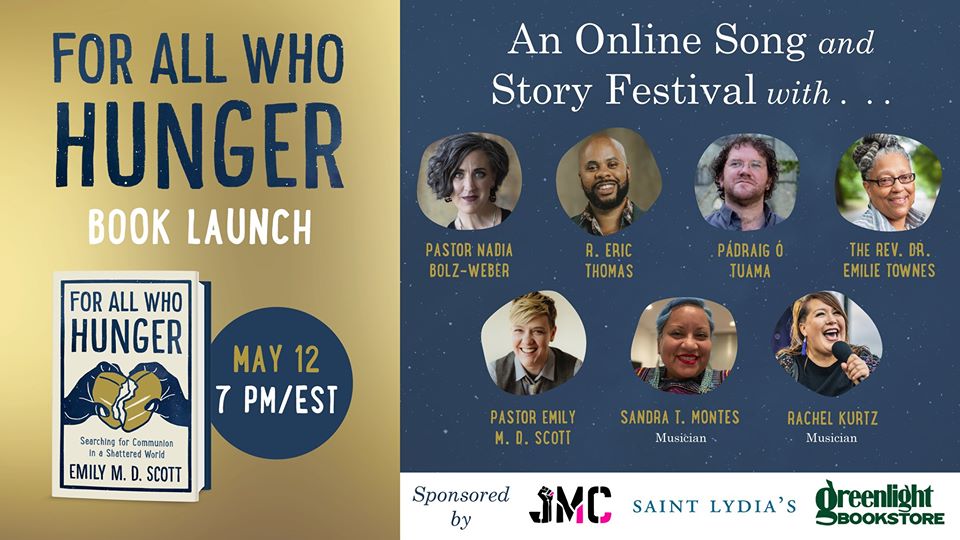 ---
Random Thing on the Internet
This SNL sketch about Zoom church hits very close to home.
Zoom is bustin out all over!
Eric