Here for It w/ R. Eric Thomas, #170
Hi! It's R. Eric Thomas. From the internet?
Hi!

This week: Jake Gyllenhaal gets thirst trapped, Fools are canceled, 9 to 5 plusWorking Girl plus Zoom, and I deeply identify with Joe Versus the Volcano's brain cloud.
Okay, so yesterday the day began with me setting off on an errand to an establishment called an Auto Zone (?) to purchase towels that mechanics use because an article told me they make better face masks and it ended with me getting a small black eye. No, I did not fight someone in hand-to-hand combat for the last box of shop towels. As is usually the case, the drama begins and ends with me.
I feel like every piece of potentially life-saving information comes to me by way of whisper down the lane. On Instagram, a friend posted a screenshot of a Washington Post article that recommended making masks for yourself out of shop towels; I hadn't heard about this or… what a shop towel is, so during my nightly 3 a.m. Google spiral, I found some at a local Auto Zone (?) and purchased them for curbside pickup so that I could make us some no-sew masks (I don't have a sewing machine nor do I know how to sew but, yes, one other night at 3 a.m. I considered ordering one.) Like many people, I hadn't been thinking about masks for us. I'd been focusing on raising money for PPE for relatives and friends who work in healthcare. I thought that's what you were supposed to do. But now, of course, the whisper on the lane has changed and you do what you can to keep up and to be responsible and to find that sweet spot between pragmatism and hysteria and being price-gouged on a sketchy website.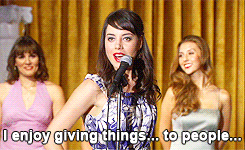 Since I was going out, I decided to act on an impulse I had earlier in the week that seemed like kismet. I've been really missing being outside but taking walks makes me anxious (physical activity in general is a no from me and I know we're allowed to take walks but sometimes it feels like we shouldn't be taking walks? I don't know. No one knows.) I don't like to be yelled at and I want to get an A in Pandemic Social Responsibility, so I don't leave the house except to go to the market (and to be tech support at church, but that's been moved to our living room now). All of it was starting to get to me. I feel like my skin is so much thinner and my fuse is so much shorter and I wished I could do something about it. I mentioned to David that I regret not getting a bike before the stores closed. Biking seems a perfect sort of activity because it allows me to be outside but away from people; we live 5 minutes from one of the largest public parks in the nation. I could ride for hours without endangering myself or others. I could connect with something in myself I felt slipping out from under me. But oh well! The next best recourse was jogging in place at my window while I stared at my neighbor's Peloton.
Except! The day after I mentioned biking to David, I was on a FaceTime with a friend and they mentioned they'd just bought a bike that day. Bike shops are still open because they facilitate transportation and so they're deemed essential services! I looked into one of them and found that it's on a road with no foot traffic and the inside of the store is closed to business so they meet you outside on the sidewalk, talk through your wants, and then bring you options. This felt like a great solution!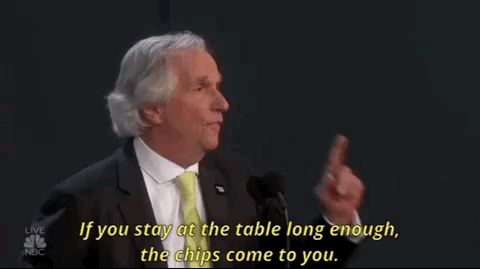 So, I decided before the shop towels I would buy a bike. I was a little anxious about the whole errand, but it didn't feel irresponsible and, I don't know, there's no guide book for this. I'd wear a bandana around my face and latex gloves like a bank-robbing doctor; I'd support a local business; I'd pivot my spiraling to pedaling. Getting ready to go out, I tied a bandanna around my neck and took a photo of myself that I posted on Twitter labelling the look adorable but ineffectual. Some actual asshole who I don't know decided that the necessary thing for her day was to try to shame me for improper safety practices as if I was licking the handle of an ICU door and it made me so furious. She responded to me (twice!) with scolding and then quote-tweeted my photo with additional scolding and I was gobsmacked. Ma'am. This is a bandana and a very lazy thirst trap. Let's all right-size our rage, can we?! Reality is so absurd right now and the assertion that I was contributing to the death of millions by wearing a strip of fabric around my neck improperly just pushed me right over the edge. Sitting on the side of the road, outside the bike shop, screaming at my phone about a generously filtered selfie. Ah, dystopia.
Anyway, I deleted the photo, blocked the person, tied on my mask, put on my latex gloves, and got out of the car to have a conversation across a folding table with a bike shop salesperson in a camo mask. I have to say, I do find the addition of tables to aid in social distancing to be a delightful touch. It makes every interaction feel like we're Meredith and Cristina Yang talking over an operating table on Grey's Anatomy. He brought out a model and told me to take it for a ride down the road, which I did. It was fine. Much like test-driving my car or looking for "shop towels" I had no idea what I was in the market for. Just save me from myself please lol.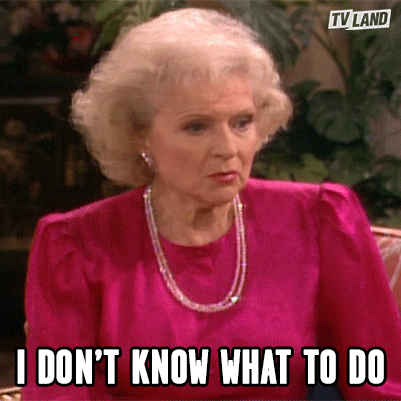 I returned and commented that there was a bit of pinch between my shoulder blades and maybe the handlebars could be raised. He did so but he would later say he apparently didn't "torque it" enough (???) because on my second ride, I'd made it about a quarter mile down the road and I attempted to make a U-turn to come back and the front wheel jerked violently, sending the whole bike flying out from under me. I went flying in the other direction and landed in a successive movement first on my thigh, then on my shoulder, then on my outstretched hands, and then finally on my cheek. A burst of pain, metallic and viscous, flew through my head and I laid there for a second, trying to figure out what happens next. The palms of my latex gloves were ripped off but the mask was still on. I felt around with my tongue to see if there was blood anywhere and I didn't think so. But I couldn't tell for sure. I struggled up to my knees and just sat there, so frustrated. What a mess! WHAT A MESS! Oh, God, I wanted to cry and give up for all the reasons but I was sitting in the middle of the road in possession of a bike that did not belong to me so my agenda was a little too full for emotions. Everything in the world was potentially dangerous, everything was terrifying, and I had no way of telling whether I was hideous or not (or, like in need of urgent care) because I was afraid to touch my face or pull out my phone. I walked the bike back, checked myself out in the side mirror of my car, and asked to see a different model.
By the time I limped through the door at home I was vibrating with anxiety and so deeply discouraged. I iced and heated my leg, laid down, and watched a shiner bloom under my eye. As far as interactions with the outside world, it was not my best, but it was actually not my worst. And today is a new day and it's still a mess but I have a bike and shop towels. I'm trying; we're all trying. I could have been hurt badly but I'm not and I'm grateful, so there's that. And someday soon I get to go for a ride.
This week! Tom Holland and Jake Gyllenhaal have more success with thirst traps than me! Plus, Remote Rewind takes on comedies with prescient ideas about workplaces, including this one on Joe Versus the Volcano that I'm really proud of.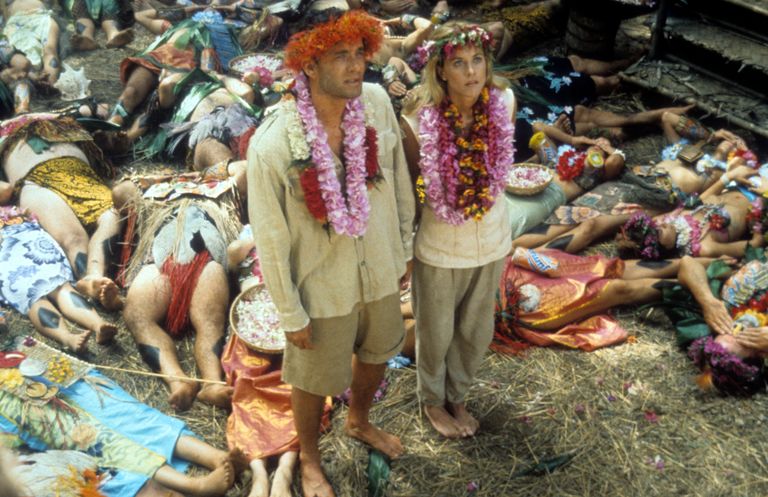 Joe Versus the Volcano is a love story, an existential fable about the revival of the soul, and a heightened satire about escaping corporate drudgery. This third reading merits Joe Versus the Volcano's inclusion in this week's Remote Rewind, which is focused on comedies about jobs during a time when our relationship to work is changing. In or out of context, the details of our present moment would be right at home in Shanley's peculiar world. Office buildings across the nation sit empty as the workforce crawls the walls of their homes and shouts into computer screens. If ever there were a time for the insertion of the absurd (or for putting on a wig and playing a Meg Ryan character), it's now.
---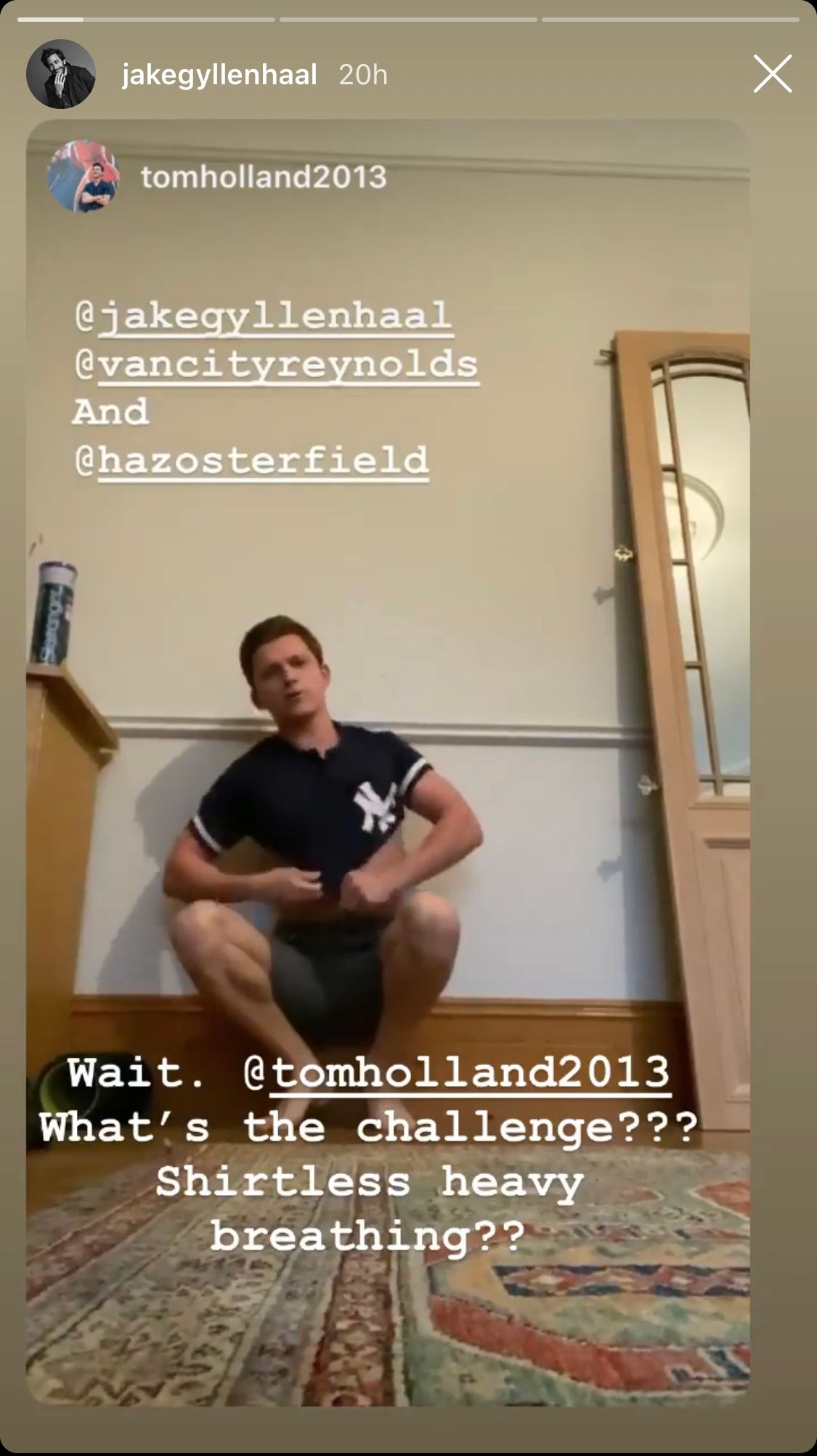 Let it be known that I while I do not spiritually agree with Instagram "challenges", I will make an exception for any "challenge" that results in Tom Holland (and potentially Jake Gyllenhaal) being shirtless for abs-olutely no reason whatsoever. Social media meme challenges continue to be a pox on our society dressed in the disguise of a slow and steady quarantined spiral. But, as my toaster whispered to me the other day at lunch, "Wouldest thou like to spiral thirstily?"
---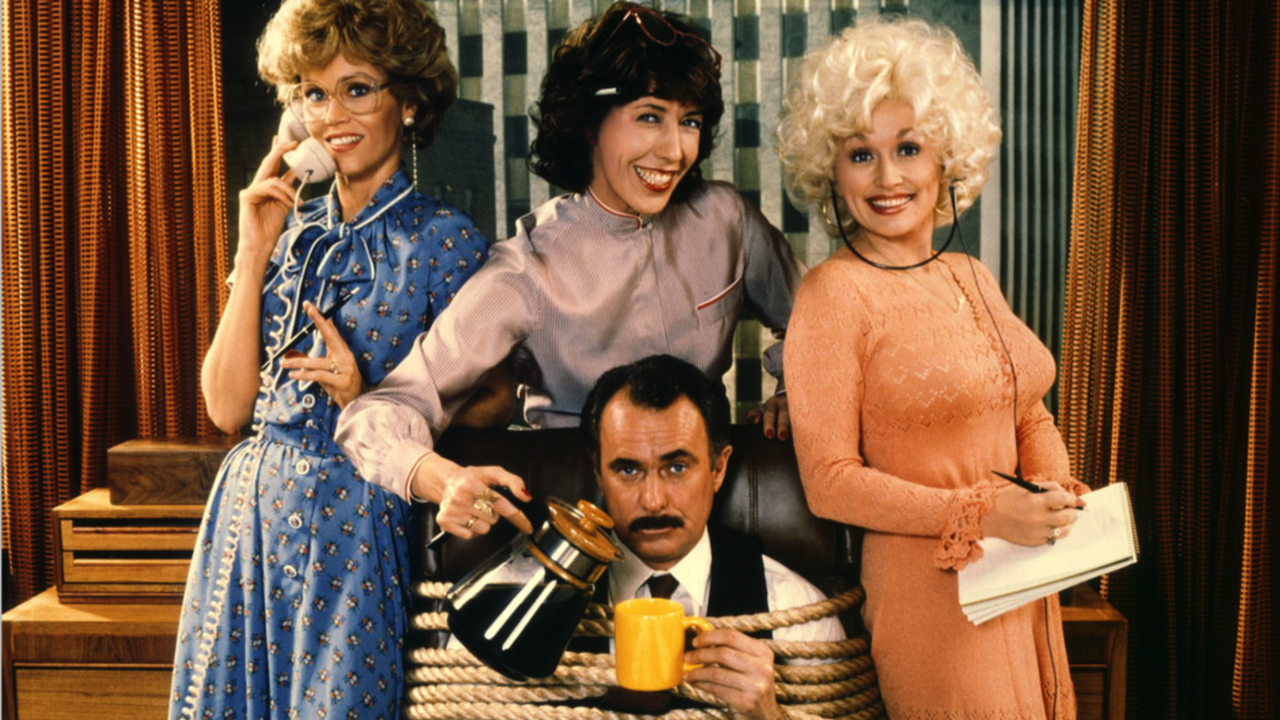 Pour one out for the Roz Keiths of the world, beloveds. You know the OG Roz—the snippy and inquisitive executive assistant played by Elizabeth Wilson in the 1980 comedy classic 9 to 5. Though Roz's boss Franklin Hart (Dabney Coleman) is the primary obstacle to the happiness and success of the film's trio of heroines, it's Roz who is Hart's eyes and ears, as manager Violet Newstead (Lily Tomlin) points out. Roz is up in everybody's business at the office, going so far as to crouch in a bathroom stall and transcribe a secret conversation on toilet paper. For the gossip folks among us (present and accounted for!), Roz is an icon of nosey representation on screen. Of course, for anyone who works in an office with someone whose nosiness crosses into the land of snitches, Roz is the ultimate pest. However, with cascading stay at home orders going into place across the nation and thousands of workplaces switching to work-from-home models, what are the Roz Keiths of the world to do? Who are they going to snitch on now—their cats? This is an interruption in the workforce that Congress has yet to address.
---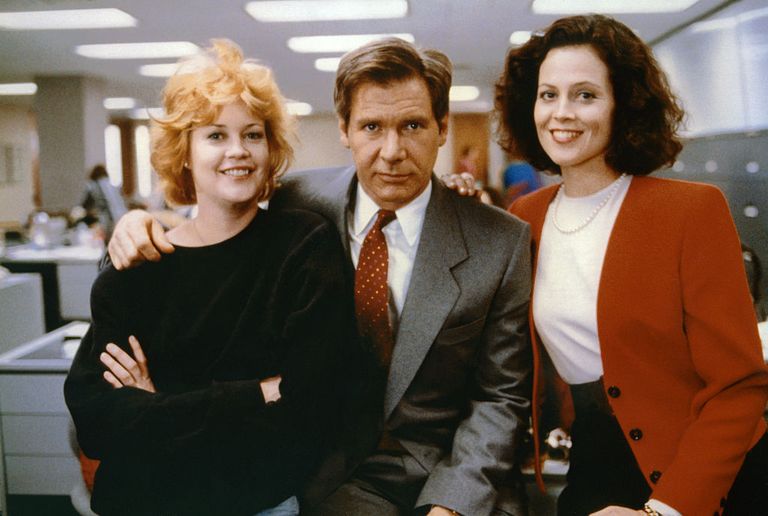 Katherine's break becomes a glamorous staycation. When she phones Tess, her secretary, late in the film to let her know she's returning to America, Katherine's hospital room is livelier than DJ Nice's Club Quarantine. There's music in the background, a host of guests, and even a pedicurist. It's deranged and it's all I've ever wanted. Katherine Parker may be a duplicitous intellectual property thief but…well, she sure knows how to make the most of isolation. Plus, she dresses to the nines and she's played by the Sigourney Weaver. I have decided to stan, with reservation.
---
Here for It is a national bestseller!
In a shocking turn of events, six weeks after it came out, my book hit the indie bestseller list at number 9, just below Alison Roman's Nothing Fancy. Thank you to everyone who has bought it, recommended it, and posted about it. And thanks to the independent booksellers who are championing it, suggesting it as a great respite from the news, and continuing to find creative ways to get books into people's hands! If you're buying books, call your local shop to see if they're still mailing or try using Bookshop.org, which can get you books by mail and puts money directly into indie bookstores. (Also try Indiebound.org, Kobo.com, or Libro.fm for books, e-books, and audiobooks respectively).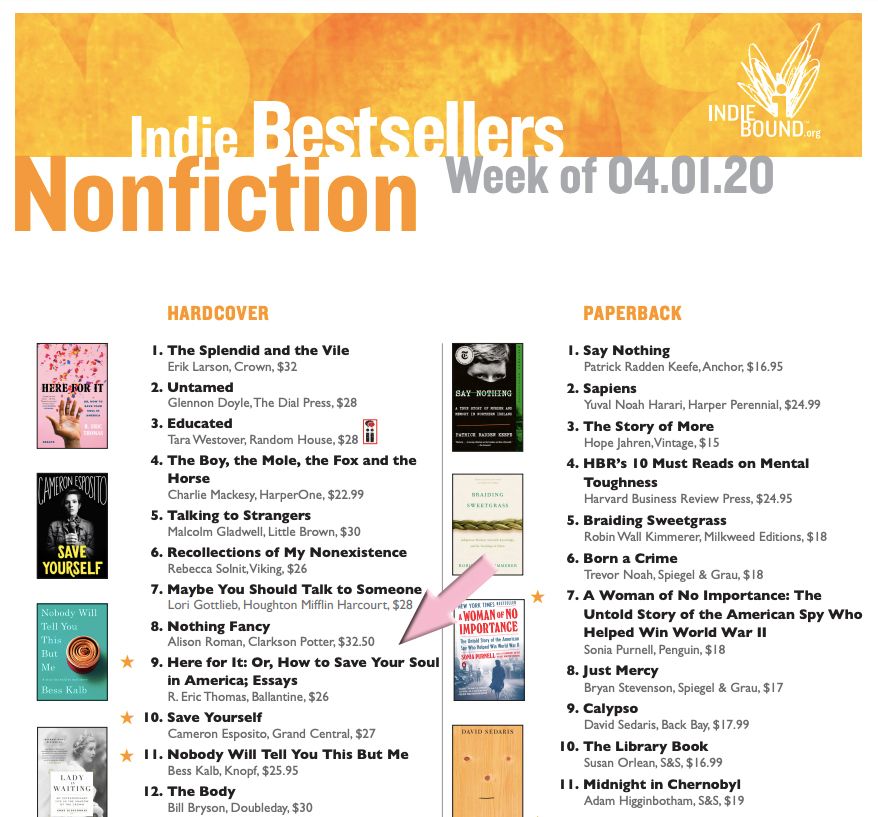 Let's Hang Out!
Last week I got invited to join a book club meeting that was discussing Here for It and I had such a great time! Random House is setting authors up on other book club stops, so if you have a group and you'd like me to stop in, let us know at this link. Also! Not for nothing but O, the Oprah Magazine recommends Here for It as one of their 22 best Book Club picks.
---
Random Thing on the Internet
My friend Uel made a Challah french toast bread pudding french toast and detailed the extensive journey on Twitter. It is a delight!
Today is Jarrod's birthday!!!
Eric