Here For It w/ R. Eric Thomas, #128
Hi! It's R. Eric Thomas. From the internet?
Hi!

This week: Trump is a Rihanna stan, Drake needs to watch himself, and I rate the walk-out music of the 2020 Dems.

There's a scene in the movie Apollo 13 that I think about a lot. It is probably not the scene you're thinking of. I don't know what scene you think of when you think of Apollo 13 (and aren't we all constantly thinking of Apollo 13?) But, suffice it to say, I would be surprised if you were always thinking about the scene I'm thinking of. But then again, a lot of things surprise me, so what do I know? You know the premise of the movie, right? It's Tom Hanks, Ed Harris, and Kevin Bacon as astronauts in the Apollo program. They go up to "space" and everything goes wrong and then Tom Hanks says "Houston, we have a problem" which was an iconic line in the 90s. It turns out fine (spoiler alert) but it's scary for a while. While they're up in "space" and it's unclear whether they'll make it home safely, Tom Hanks' wife, played by Kathleen Quinlan, is understandably freaking out. And the scene I'm always thinking about it the one in which she's showering (or maybe washing her hands, I can't remember) and her wedding ring slips off and falls down the drain. She melts down about this because she doesn't want to lose the ring but also because of the symbolism and when I saw this movie at the age of 13 or 14 it blew my mind. I thought about it all the time and it has stuck with me since then.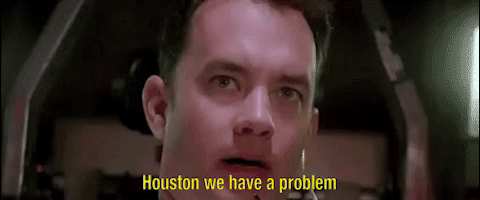 I don't even know if this is great writing or just okay writing; I don't remember if she gets the ring back (I think she does), but I was full-time shewk by this woman losing her wedding ring while her husband was lost in "space" and how effortlessly the scene and Kathleen Quinlan's acting conveyed all the different layers of that moment. I think she got nominated for an Academy Award. It was well-deserved but also kind of a given because the role of Space Wife is Oscar-bait.

I tell you all of this because it's a weird thing that takes up room in my head for no reason. And I also tell you this because I lost my wedding ring this morning. Whitney Houston, I have a problem! I was washing my hands in a public restroom and I think I put my ring on the counter, which I don't usually do. I dried my hands and left and that's when the nightmare started. I didn't realize I didn't have my ring for about 5 minutes and when I went back it was gone. STOLEN! By space pirates. Literally the first thought in my head was "I am Kathleen Quinlan!" David is not on an imperiled mission with Ed Harris at the moment but we had had a small disagreement the night before, which was quickly resolved, and I thought "Is this symbolism? How do I tell him I lost my ring without it seeming like it MEANS SOMETHING?" I turned to him solemnly and said, "David, I really want you to return from space. You have to believe me!" Fortunately, David is not insane and so when I finally explained what I meant he was sad for me but did not freak out and flip a table and take off for Mars in a huff. Fascinating!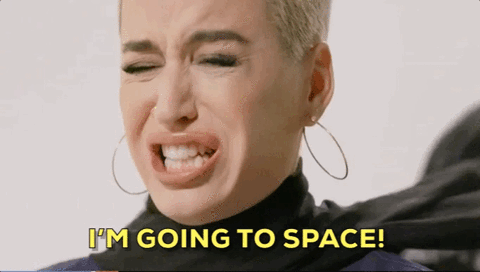 I'm so sad about this ring though! And I feel very guilty. And for some reason I'm really anxious about the whole thing. Ugh, Kathleen Quinlan, help me out! When we got our rings, I was fairly unsentimental about it, opting for an inexpensive band made by an Etsy artist. For years I'd been stalking this one ring on Etsy that was made with dinosaur bone and pieces of meteorite but I didn't get it because it was very expensive and also I feel like it can't possibly be real dinosaur bone because dinosaurs didn't exist. And also, I reasoned, I couldn't pull off meteorite in a ring. Who was I, a Space Wife?

Turns out! I am! So, I guess I have an Oscar coming my way as well as a new ring. We think we might both get new rings, which is something we'd said we had wanted to do at different life stages. It made sense to me that as our lives together change, we acknowledge the new nature of our relationship with new rings. I figured maybe we'd get a new set of rings when we had a kid, and maybe other rings if we moved to another state again. I'm not sure me washing my hands qualifies as a new stage in our relationship, but we have been through a lot the last few years and that's worth commemorating. Sometimes the new stage of life shows up when you're not expecting it. And sometimes a random memory from a 20-year-old movie proves unexpectedly useful in figuring out how to act when things go wrong. Thanks Kathleen Quinlan!

In this week's newsletter, Trump stans Rihanna, Drake has a new acc-sex-sory, and Project Runway came to an end. But first!

There are a lot of really fantastic song choices here. Unfortunately, I must break the news to you that none of the 77 people running for president chose to "Cut to the Feeling" as their walk-out music, which is, frankly, offensive. Additionally, some of them chose songs that I have literally never heard of in my entire life, which is offensive to me specifically. I can't be standing around an Iowan rally, ready to get my entire civic duty life, holding my Shazam up to the speakers and hoping it can figure out what's playing over the screaming of a crowd. This is stressful! For me and for Shazam. [READ THE FULL COLUMN]
---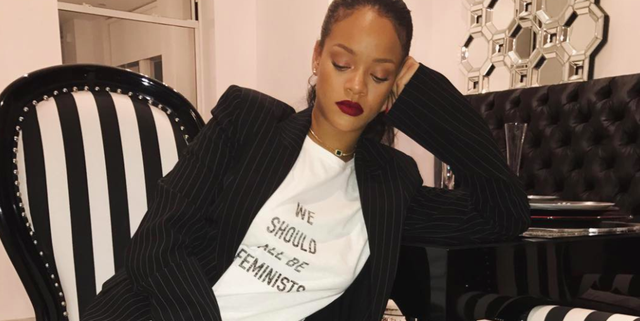 Donald Trump, avid Twitter user and general internet pest, has tweeted nearly 40,000 times and yet has only liked 8 tweets since joining the platform in March 2009 and cursing us all to an existence in purgatory. Perhaps he's missing the old Fave option and is withholding his affection like Twitter is one of his children. Or perhaps he's just here to shout into the void. Either way, when he does deign to "like" a tweet it's either an international affair or... just a click on a phone, full of sound and fury, signifying nothing. Of the eight tweets he's liked, a few are direct criticisms of him, which is an oddly masochistic practice but I get it. One is a meme that definitely looks like a virus which will infect my computer. And one, gloriously, is a tweet by Heben Nigatu about Rihanna. [READ THE FULL COLUMN]
---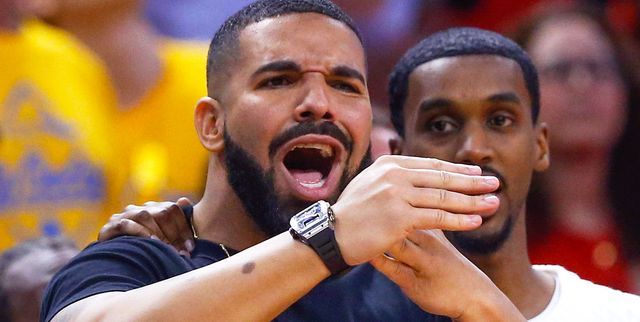 If we know anything for sure, it's that Drake loves basketball and having deep feelings about the sexual intercourse he has had, wants to have, or imagines others having and then expressing those feelings in poetic language. The "Fake Love" rapper got to bring the two objects of his affection together at Game Five of the NBA Finals this week as he cheered on the Toronto Raptors against the Golden State Warriors whilst wearing what can best be described as a f*ck watch that cost three quarters of a million dollars. [READ THE FULL COLUMN]
---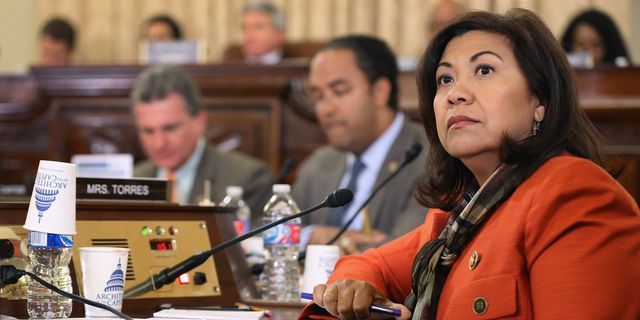 On the floor of the House yesterday, California representative Norma Torres chose a practically perfect way to express her exasperation over her male Republican colleagues' opinions on abortions. "Mr. Speaker," Torres said when she was given the floor, "it is tiring to hear from so many sex-starved males on this floor talk about a woman's right to choose." Welp! [READ THE FULL COLUMN]
---

Christian tells the designers that they'll be meeting this week's guest judge early, as the guest wants to meet them that evening. It's Diane Von Fürstenberg! They gather in the lobby of her offices, where she descends an impossibly tall staircase. Like, it is so tall that they have to cut away and cut back when she's farther down. It's probably, in reality, a 13-minute walk. This is true glamour. [READ THE FULL COLUMN]
---
Random Thing on the Internet

IKEA has released a Pride version of its blue shopping bag and this thing is both gorgeous and insane.

I really want you to return from space,
Eric