Here For It w/ R. Eric Thomas, #120
Hi! It's R. Eric Thomas. From the internet?
Hi!

This week: Queen Maxine Waters rules again, the presidential race has done to the dogs, and Thirst Pope returns.

This weekend, I made my penultimate trip to Nashville as part of Nashville Rep's Ingram New Works Fellowship, the 6-month program through which I and three other playwrights have been writing and developing four new plays. We'll be back for two weeks in May to continue work on our plays, rehearse with a cast, and put on two readings of each play. (If you're in the area, you should definitely check out the New Works Festival. These plays are phenomenal and the acting caliber down here is out of this world. Get info on the festival here. Single tickets go on sale this week.) As part of this weekend of writing and revising, we also got to Nashville Rep's production of Shakespeare in Love, a stage adaptation of the film. I was very excited about this for many reasons, chief among them being it gave me the opportunity to tell people I was seeing "Shay-Kes-Peare in Love" many, many times like I was Regina Hall in Scary Movie.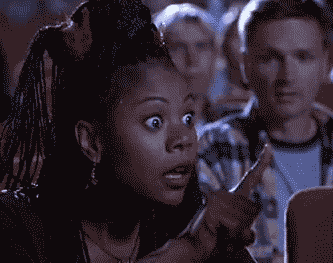 I have no idea if you actually know what I'm talking about. It's a random line delivery in this scene that has stuck in my mind more than anything else from that movie. I am not actually sure if I even saw Scary Movie but, for some reason, Regina Hall saying "Shay-Kes-Peare" has buried itself in my mind like Proust's Madeline. It's actually rare that I say the word Shakespeare the right way. What would be the point?!

Much like Regina Hall's absurd line reading in Scary Movie, I came away from the excellent production laser focused on one random thing. So, if you've seen Shakespeare (Shay-Kes-Peare) In Love you may remember that part of Will's plans are upended by a petulant young boy who wants to get cast as Juliet but is constantly overlooked. I did not remember this part, nor the fact that it's revealed that the young boy is John Webster, future tragedian with a dark view of society. Webster wrote The Duchess of Malfi and a play called The White Devil, which is also my autobiography. No shade to the kid who played him in the movie 20 years ago but the part just didn't stick in my mind. That was not the case, however, with Nashville Rep's production. The kid playing Webster, at 14-year-old named Kevin Rome, seems to simultaneously be channeling Patti LuPone's Mama Rose, the character Santana from Glee, and possibly Hannibal Lecter in his portrayal and it has, without hyperbole, shifted the entire course of my life. It's such a simple role that doesn't require a lot of an actor beyond background acting and a quick moment of tattling towards the end to complicate the plot. It's maybe 4 minutes of stage time total. Yet somehow, in my memory, this kid was on-stage giving the Roy Cohn opening monologue from Angels in America, for the entire 3 hour running time of the play. The play is only 2 and a half hours long. Where did that extra half hour come from?! ACTING.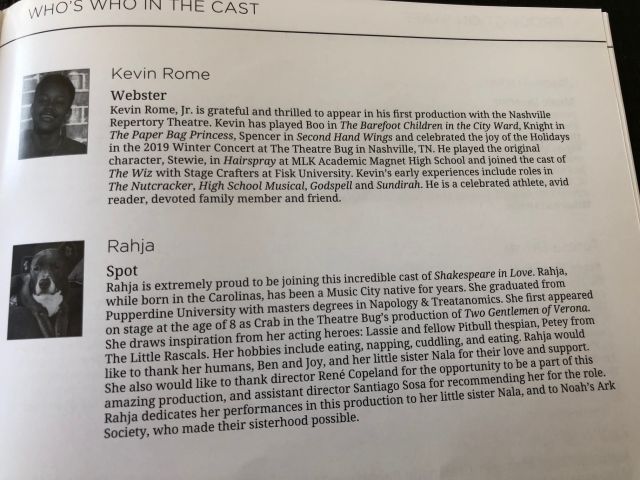 (THERE WAS ALSO A DOG!!!!)

This play is not about John Webster. It is not called Webster in Love, Featuring Shay-Kes-Peare. Nevertheless, ever time this kid came on stage, I couldn't take my eyes off of him. Sitting in the background, openly scowling with the bitter mien of a young Scar from The Lion King, he devoured every inch of that set. I would say he reminded me of a young me but I was never that good. My Audrey II in Little Shop of Horrors was legendary, yes, but Kevin Rome would take me down, All About Eve-style, in a heartbeat. Thank God for my advanced age! I didn't go into the production knowing who John Webster was per se (I definitely Wikipedia'd him before writing this so that you will think I am smart). But the minute Kevin Rome's Webster shows up to audition for Shay-Kes-Peare, performs an over-the-top monologue from Faustus, is summarily dismissed, and cuts his eyes in a way that projects the entirety of a super-villain's backstory, I knew I was hooked.

The play I'm writing for Nashville Rep is about 5 adults trying to figure out how to construct community and a sense of belonging but I am very serious about scrapping the whole thing and writing a new one-teen version of Glengarry Glen Ross for this kid. Actually, my play is also about relating to television characters as if they are our actual friends, so I could definitely find a way to work in a dark origin story for Steve Urkel or something. (Actually, Dark Steve Urkel is a very good idea and I'm going to put a pin in that and come back to it.) (Also a good idea: an All About Eve in which a high school student tries to ruin me and take my career. Putting a pin in that too. SO MANY PINS.)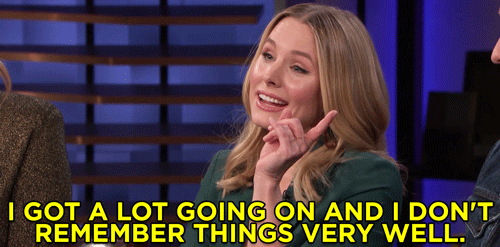 I legit considered writing this kid a fan letter. This has gotten completely out of hand. But, I have to say, it's always amazing to see a teen who is really going for it, performance-wise, and it's also amazing to see a performer of any age treating the scenery like a bag of Tostitos ripe for chomping. AND it's amazing to see a performer of color get the opportunity to play notes of villainy and melodrama that aren't usually written for them. I wish that you could see this production of John Webster Gets His Revenge on that Talentless Scourge Will Shay-Kes-Peare, but it just closed. Curse you, Shay-Kes-Peare! I guess I'll have to get to work on writing my version of Lady Bird where Kevin plays a young me and also my evil twin and also Laurie Metcalf because, let's face it, he has the range.

This week, so many people demonstrated the range, from Baltimore-born Bishme on Project Runway, to Jude Law in Young Pope, to the dogs of the 2020 Election! But first! THE QUEEN!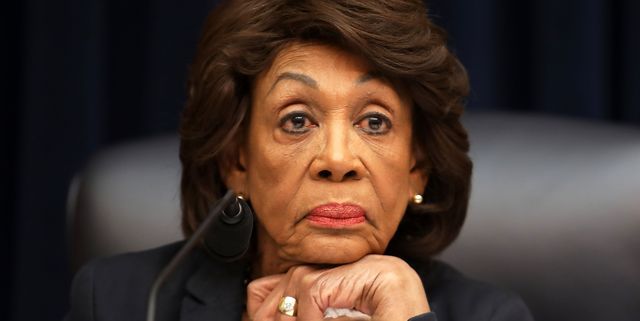 The Treasury Secretary clearly must have mistaken the House Financial Services Committee for the ball pit at McDonald's because he continued to act like it was playtime. He responded to Waters that if she wanted to keep him there and "grill" him, he would cancel his "important meeting" (rolling around on a pile of $100 bills like Demi Moore in Indecent Proposal). He warned however, "I will not be back here. I will be very clear. If that's the way you'd like to have this relationship." The reach! If I'd been in the room when this happened, I would have immediately packed my knives and gone home. I would have Ubered a horse and set off for the Old Town Road. The gall of this dude. The tia and temerity of this man! [READ THE FULL COLUMN]
---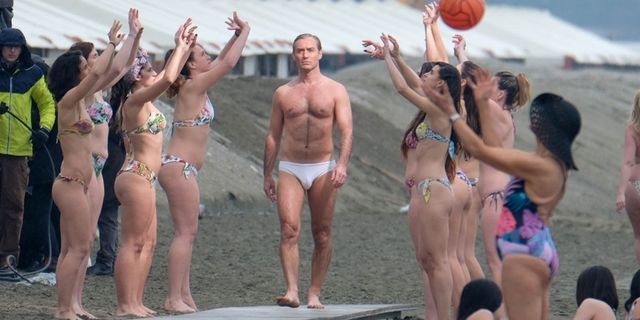 Remember that time we dreamt that Jude Law was the Pope and the Pope was a shady dude named Lenny who smoked and strode around like a regal elderly drag queen and threw shade at Diane Keaton for some reason and was also hot as balls? And we were all like, "Yes, this makes sense. I will watch every episode?" Well, it's happening again. [READ THE FULL COLUMN]
---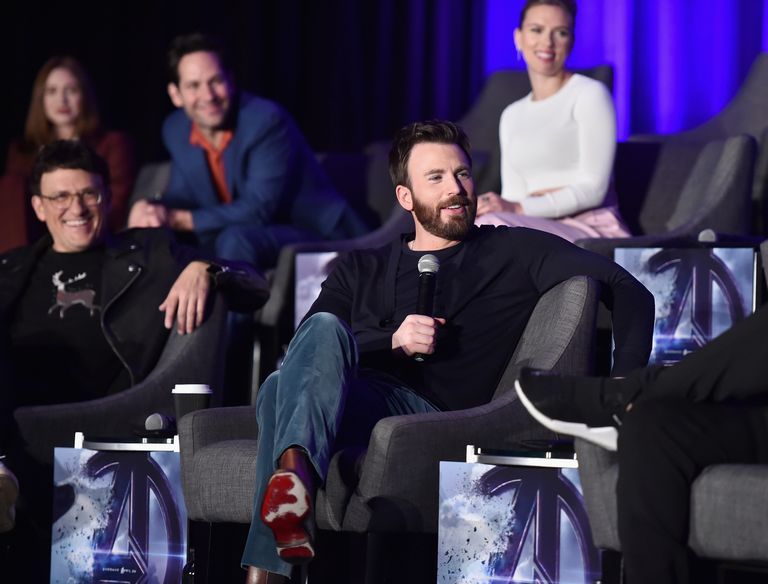 Wow, truly amazing that before Captain Marvel and Okoye could singlehandedly revive the half of the universe that Thanos snapped away, Chris Evans showed up to an Avengers press junket in teal crushed velvet pants that were so incredible they wiped the other half of the population out. Sad news for humanity (and Skrullmanity and whatever the raccoon is) but good news for my Hulk-size thirst. [READ THE FULL COLUMN]
---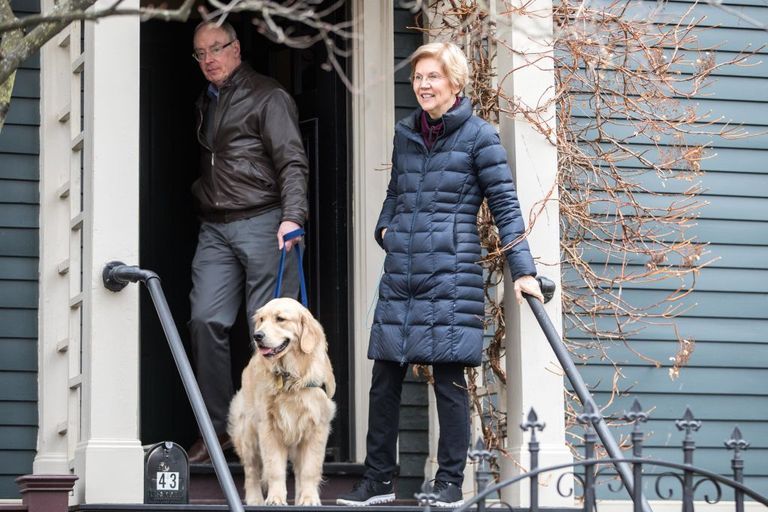 We're over a year away from the election, but the 2020 campaign is already ruff. Fur is flying in the dog-eat-dog world of contemporary politics, as the barrage of candidates try to convince the American public to throw them a bone. It all seems a little much, which is why it's important to pause for a moment and recognize what's really important here. Yes, you should research the positions of the candidates and review their tax returns and read a thousand tepid hot takes about the way they move through the world, but the most important criteria for a potential future president is "Do you like their dog?" [READ THE FULL COLUMN]
---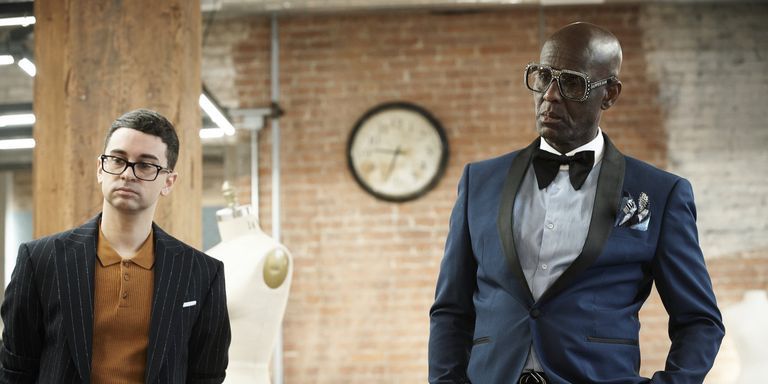 Meanwhile, Rakan's design is based on "the farmer's woman" who is "coming to the city to sell her vegetables" in his native Syria. Apparently these iconic rutabaga-shilling ladies wear drop-crotch pants and architectural shoulders. Love it. Give me all the veggies. Call Michelle Obama because I am going green! [READ THE FULL RECAP]
---
Let's Hang Out!

Tomorrow! Hosting The Moth StorySlam at City Winery DC
May 1! Hosting The Moth Grand Slam at Union Transfer, Philly
May 8-18! Ingram New Works Festival, featuring my new play, Crying on Television
---
Random Thing From the Internet

The best thing I saw all week was Shoshana Bean sing "She Used to Be Mine" from Waitress.

Thank God for my advanced age!
Eric