Hi! It's R. Eric Thomas. From the internet?
Hi!
A belated but very enthusiastic Happy Audra McDonald's birthday to all who celebrate!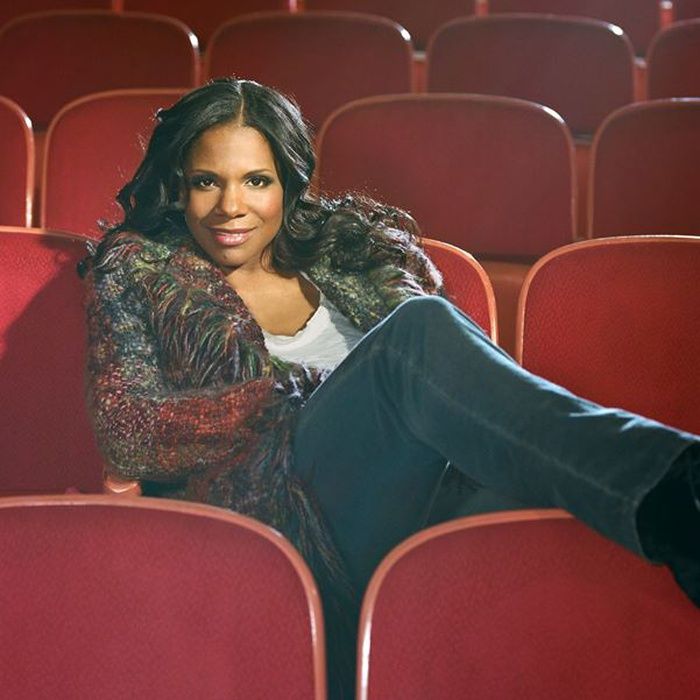 This is exactly how I'm going to be sitting up in an empty 11 am screening of Fast & Furious 9: Now I'm Really Angry tomorrow despite the fact that I have never seen a Fast nor a Furious before. I'm going to be wearing that exact outfit also because I do get chilly in movie theaters and that is my struggle and it is very brave of me to say so. Watching Catch Me If You Can just shivering the whole time; don't make no sense! Can't hear Nicole Kidman in The Hours because my teeth are chattering! SMH!
(I promise I have seen a movie in a theater in the last 15 years but I simply cannot remember one at the moment! I simply can't! Oh, wait... the second to last movie I saw in theaters before ::gestures theatrically:: all of this was... Cats. Let that memory live! AGAIN! There were a total of eight people in the theater, including myself and my friend Jeff. The theater employees kept ducking in to check on us like they couldn't believe we were real. Up there at the concession stand like "I think those ghosts are having a psychological break!" At one point, a woman was laughing so hard she apologized [to whom?!] and fled the theater. 10 out of 10 experience.)
I'm not in a huge rush to go back to everything I used to do that brought me joy/caused concern in movie theater employees, but I am looking forward to it. I love going to movies, I love going to theater, I love being in rehearsal for theater. I am very much looking forward to doing all three as work begins on my new musical called Cats: The Movie: The Musical. (Yes, I have reached out to Audra's people about this. No I have not heard back. Maybe I have an old number???)
That list of things I like to do originally included going to concerts, but I had to delete it because it involved too many caveats. I love watching live music performance, I love Beyoncé (the ultimate concert experience), but I think I am at the point in my journey where I would like to have an assigned seat and I would like to sit in that seat for the duration of the concert, save for the occasional standing ovation. I am excited to be here but I am also so tired, Beyoncé.
This weekend I got to return to another beloved activity: speaking into a microphone on a stage in front of a group of actual people, many of whom are like "Who is this guy?" Philadelphia's Wawa Welcome America organization was putting on a smaller, COVID-modified version of their usual Fourth of July festival and I was invited to tell a story on the We the People stage, which was a real honor for me. I leapt at the opportunity and the excuse to run back up to Philly.
Pictured: Me arriving back in Philadelphia:
The lineup on the stage included so many amazing Philadelphians Ursula Rucker, the poet Greg Corbin, Mark Segal, publisher of the Philly Gay News, and the owners of Harriet's Bookshop. The idea behind it was to capture a diverse collection of voices to reflect where we are a nation, all with the theme of Our America Now. The Our in that theme was the emphasis--stories of inclusion--but I did make me giggle to think of what the event would be like if the emphasis was on the Now. "It's our America, NOW!" I scream into a microphone as I hold the audience captive telling a three-hour story about seeing Audra do a high-kick in Shuffle Along. This is what the founders wanted. Showing up to the function with the energy of Barbara at the end of the second act of August: Osage County where she screams at Violet "I'M RUNNING THING NOW!" Cue the fireworks. Places for act 3.
It wasn't that but it does give me a little teehee to think about.
I was telling a five-minute true story, which is very much in my bag, but as I drove up on Friday I realized I was very nervous about the performance. I don't tend to get nervous that much, mostly because I am an attention-hungry monster and speaking into microphones in front of people is like pulling up to the Golden Corral buffet. But when I first started hosting the Moth in Philly I used to get so nervous beforehand that I would shake. Trembling in the green room like I was in a frigid matinee screening of Harry Potter and the Prisoner of Azkaban. This lasted for months. At first it worried me, but I came to view the nerves as a signal that I was really invested in doing a good job and was building up a lot of energy to take with me on to the stage. After a while I stopped getting nervous and then that made me nervous, but I took it to mean that I'd built up the muscle that I needed. Getting nervous about not being nervous--my goodness, my therapist really has his work cut out for him.
Pictured: Me arriving for Zoom therapy to once again talk about my complicated relationship with entertainment, my chosen career and only talent: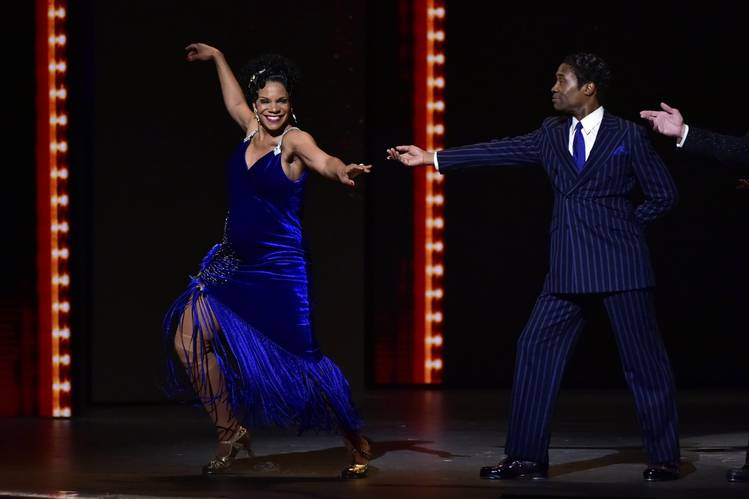 In general, I am in favor of not being nervous and instead just being good, but I welcomed the nerves in the car as a part of the old ritual that I'd been so eager to get back to. While I do feel a certain comfort with speaking extemporaneously, I made myself rehearse for the entire drive up. Saying the five minute story over and over again, revising it, recording myself, listening, doing it again. Just blabbing out loud in an empty car zooming up 95. (Okay, I didn't rehearse the entire ride. First I listened to selections from the 2014 musical Violet. But after that: rehearsal! It's my process!)
When I lived in Philly, I didn't have a car, so navigating the city in a vehicle continues to be a strange experience for me. I don't think cars belong in cities but that certainly didn't stop me from putting my little hybrid on Benjamin Franklin Parkway, so toot toot vroom vroom I'm complicit. But my brain only knows getting around Philly by foot, subway, or in a Lyft, so when I pulled up to the Welcome America festival, my brain said "Great, you've arrived. Hop out of the car." You know what is not Our America Now? Leaving a Ford C-Max idling in the middle of the street. Benjamin Franklin was like "You better make like Joni Mitchell and find a parking lot in this paved paradise, babycakes."
I checked in with the event organizers but I had about two hours until I went on, so I bought some dinner and ate it in my car, like a very cool kid in high school. I also wandered the rest of the event, which was amazing. Unbeknownst to me, the performers were all displayed on printed signs throughout the area. When I found one, I started doing a casual scavenger hunt to find mine. Just to see. Just curious! When I found it, of course I took a picture of it. And of course at that moment a guy walked up and looked at me strangely (or maybe normally. I don't know people!) He was like "Taking a picture?" Which... yes. But I was embarrassed for some reason so I pointed at my photo on the sign and said "He's my cousin."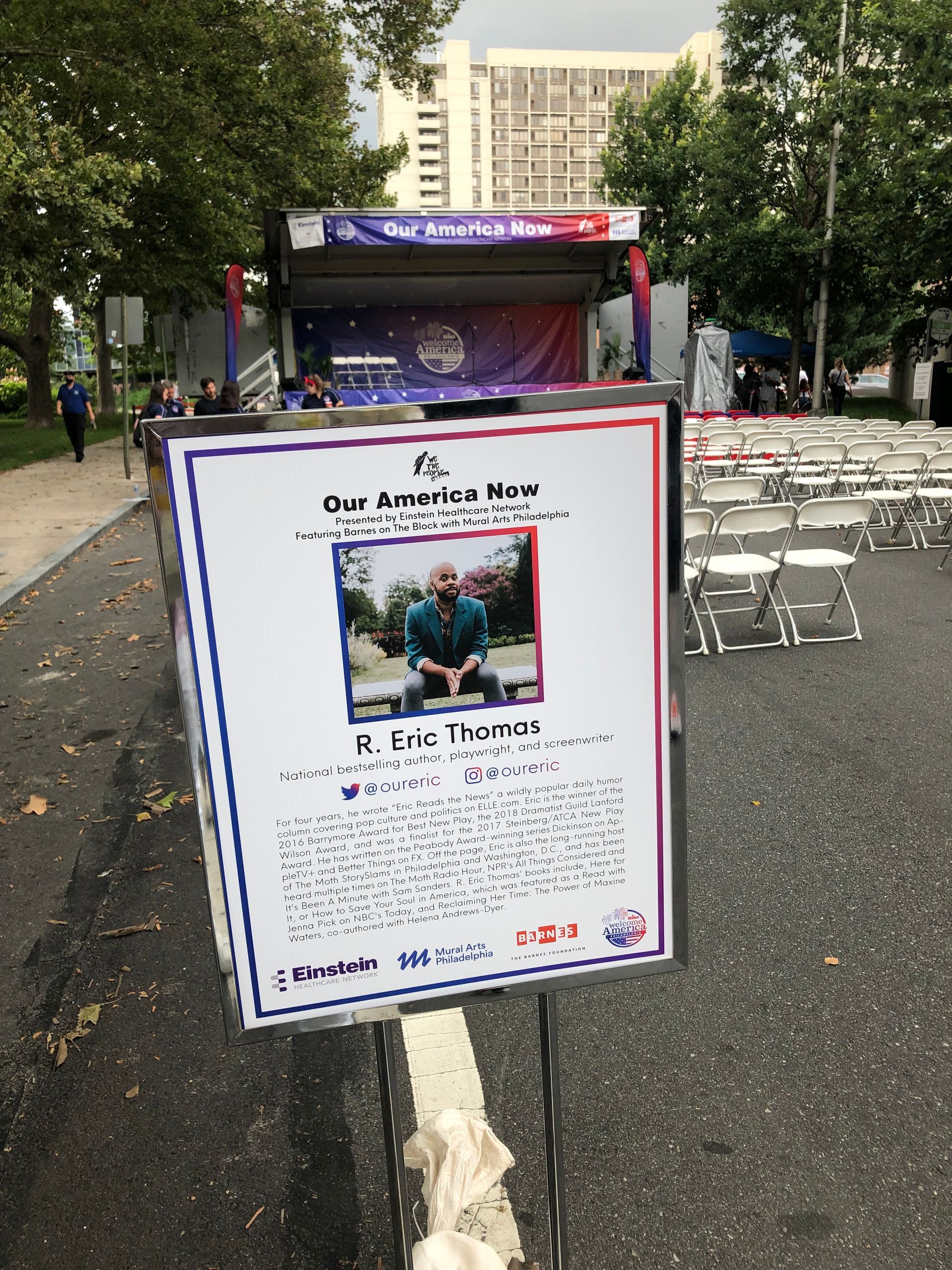 Me, standing there with my face, pointing at my own face, acting like it's not me. Somebody call the Tony Awards because this is a performance. The guy was like "Oh! Your cousin!" Now I'd booked the audition and I had to play the part. Rebooting The Patty Duke Show over here. I was like "Yes, we're so proud."
(Also, I am never not a little embarrassed to see my whole bio printed on things, even though it is me who sent the bio in the first place and it answers the most anxiety-producing question of any event "Who are you again?" Agh, so much to discuss in therapy.)
Pictured: My therapist encouraging me to be more self-confident: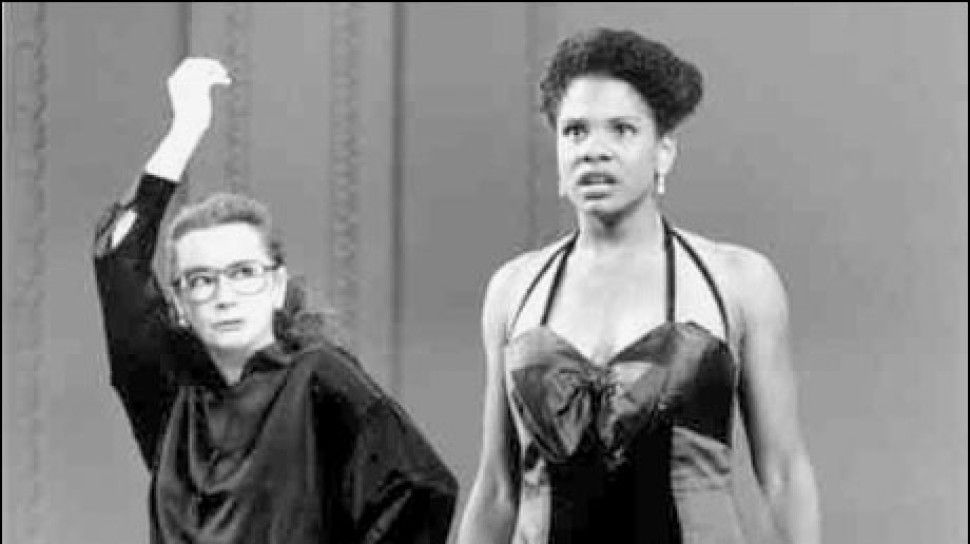 By the time I was scheduled to go on, it had started to rain, and the audience had largely fled the seating area, some of them going home and others--about 20--huddled under nearby trees. I think that in the old world this would have thrown me--outdoor events are kind of hard anyway because it's difficult to get a vibe check. There's noise, people are moving around, birds. Et cetera. This, of course, makes it all the more impressive that Beyoncé is able to corral entire stadiums of standing, cheering people and me, seated and loving it. But I found I wasn't thrown at this, my first live event in a year and a half. I trotted on stage, took the mic off the stand, and started telling my story about parades, and theater, and moments of shared extraordinary experience to three people in ponchos sitting five rows back and a group of people standing under the trees. And it felt wonderful!
Pictured: Me holding for a laugh that I cannot hear above the rain but I assume is there: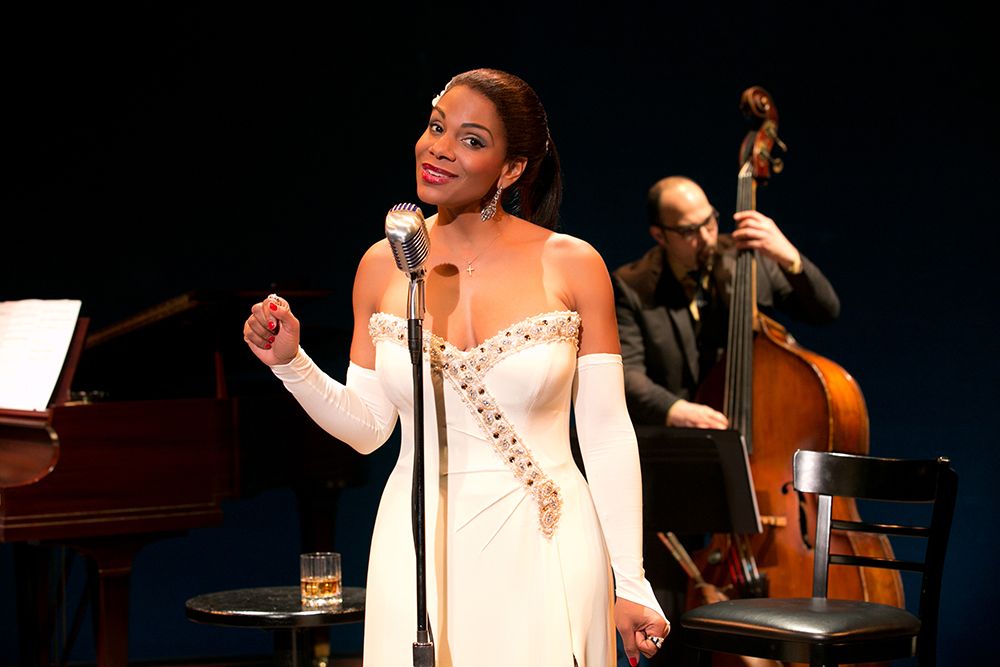 Do not tell my inherent laziness, but I think the rehearsal helped. I also think that a year of trying to blast charisma at the Zoom screen built a new muscle in me. I've hosted the Moth on Zoom during the last year and a half, I've worked in TV writing rooms on Zoom, and I've had a lot of meetings on Zoom where you have to tell a story--the story of your life, or a proposed TV show, or a movie--to the screen of video squares while you sit in your empty room home office (which gets very warm; our office is like the opposite of a movie theater. The people who designed this house in the 1950s neglected to think about how much heat a laptop, multiple ring lights, and a nervous Black person can put out.) I love being in the same physical space as other people but I'm excited about what I might have learned about reaching people while at a distance.
So, I can't wait to test out this new muscle at my next live gig: explaining what is happening in Fast & Furious 9 to an empty theater at 11 am tomorrow morning while wearing a full winter coat.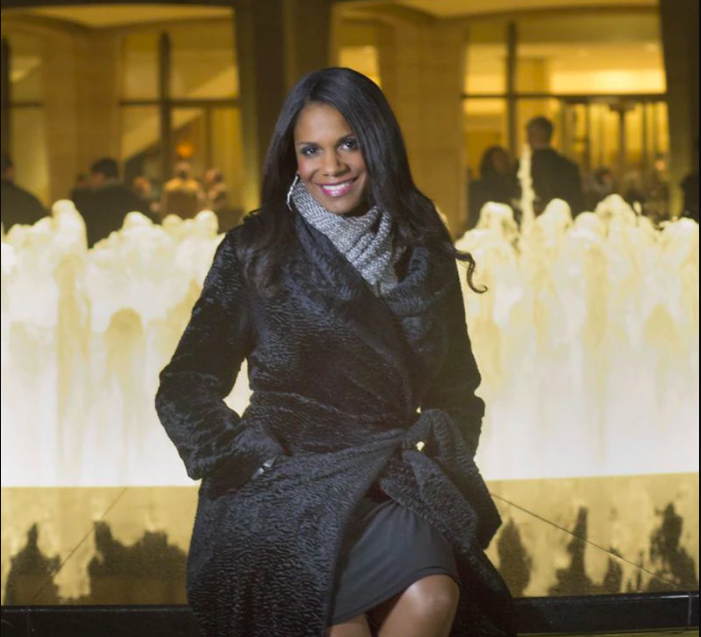 ---
---
Just a note: there won't be a Wed. thread this week as I'll be some place with spotty wifi on Wednesday (I'm going to the Jodie Foster Contact space ship. Let me know if you want me to bring back anything.)
---
Random Thing on the Internet
Look at this photo of Vanessa Williams rehearsing for a fireworks concert tonight!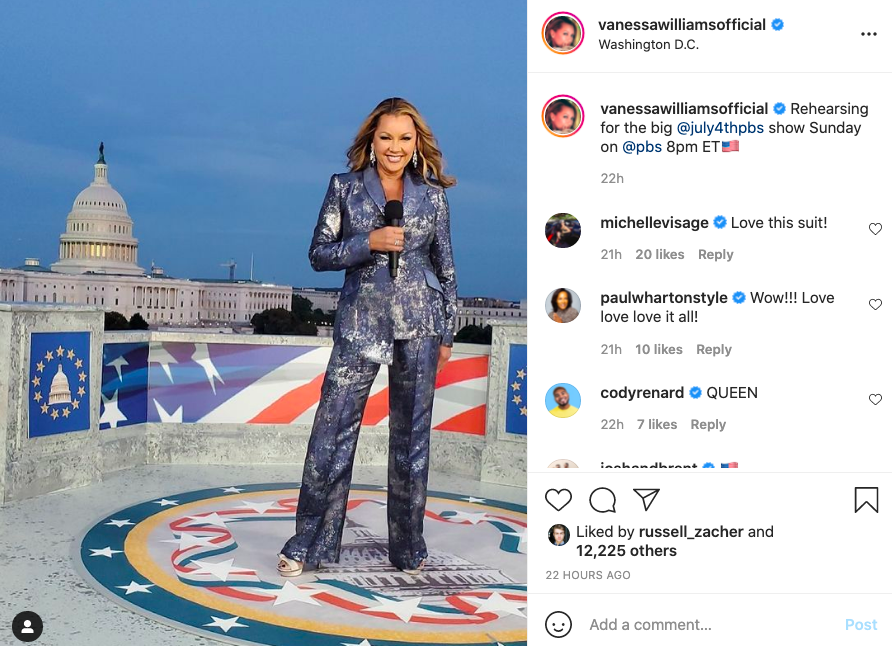 I am also so tired, Beyoncé,
Eric