Hi! It's R. Eric Thomas. From the internet?
Hi!
Personally I love daylight savings time because I am a huge fan of arbitrary chaos. The sun is pulled up outside your house, honking the horn, yelling "If you don't get your behind up, I swear I'm going to freak out!" I deeply appreciate this. I like to imagine celestial bodies as that one abrasive friend who is like "I told you what time I was going to be here and I now I'm here and I don't care that you don't have no shoes on, baby, and I certainly don't care that I'm bothering the neighbors. These are your neighbors. You know I live in the sky. Gated community. You think I'm trying to pay these prices to live here? So close to the highway? I told you not to move in over here but you do whatever you want, clearly, seeing as how it's fully daylight and you're still puttering around inside and I'm out here generating complaints on the NextDoor app. Does this make sense to you, my darling? All this for brunch?! What kind of life are you living?"
People are always going on and on about the benefit of daylight savings time (I know it's capitalized but I refuse to dignify it in such a way.) People are always like "You get more daylight! You have to understand the process!" Dear, as my therapist will attest, I am not interested in the result. And the result I'm interested in is sitting outside at a cafe in June with the sun going down at 7:45pm. So, let's just go to there, okay?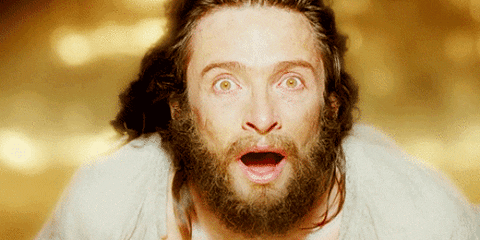 That said, I am writing this from the middle of a tech rehearsal for The Folks at Home, which I'm enjoying immensely and is (DON'T TELL THE SUN I SAID THIS) all about process.
Tech is the process where all the different elements of a play come together and we we work through it moment by moment to make sure there's synergy. Everything that happens in a play is precisely designed--the script, the performances, the lights, the sound, the costumes, the set, the props, and more--and they've all got to be cued by a stage managers at the right time and in the right order. The desired effect is to produce an emotional response--the make you laugh, to make you cry, to make you surprised. And it doesn't happen if the various parts aren't working together. It's kind of like building a car. An art car. (I don't actually know if this is true; I've never built a car. I know this is a shock to you.)
Actually, it's more like building a Rube Goldberg device. I haven't built one of those either (no patience! no actual skills!) but I think we'd all agree I'm much more likely to build a very complicated, expensive contraption that will open a soda bottle than I am to build a car.
Tech is a machine. But all there's a shagginess to it, too. The actors will begin a scene, get a line or two in, and then be asked to hold. They'll stay generally in place while something is worked out, and another play comes to life. They're running lines or chatting with each other or with us or they're working through a bit of choreographed movement over and over again. And they're themselves and there's ghosts of their characters and something else entirely. In their costumes, under stage lights, on a set, something magical and theatrical and unscripted comes to life. Yesterday, one actor, whose character was sleeping at a point where we kept having to go back to and hold, actually fell asleep and had to be woken when we went on a break. And that was magical too.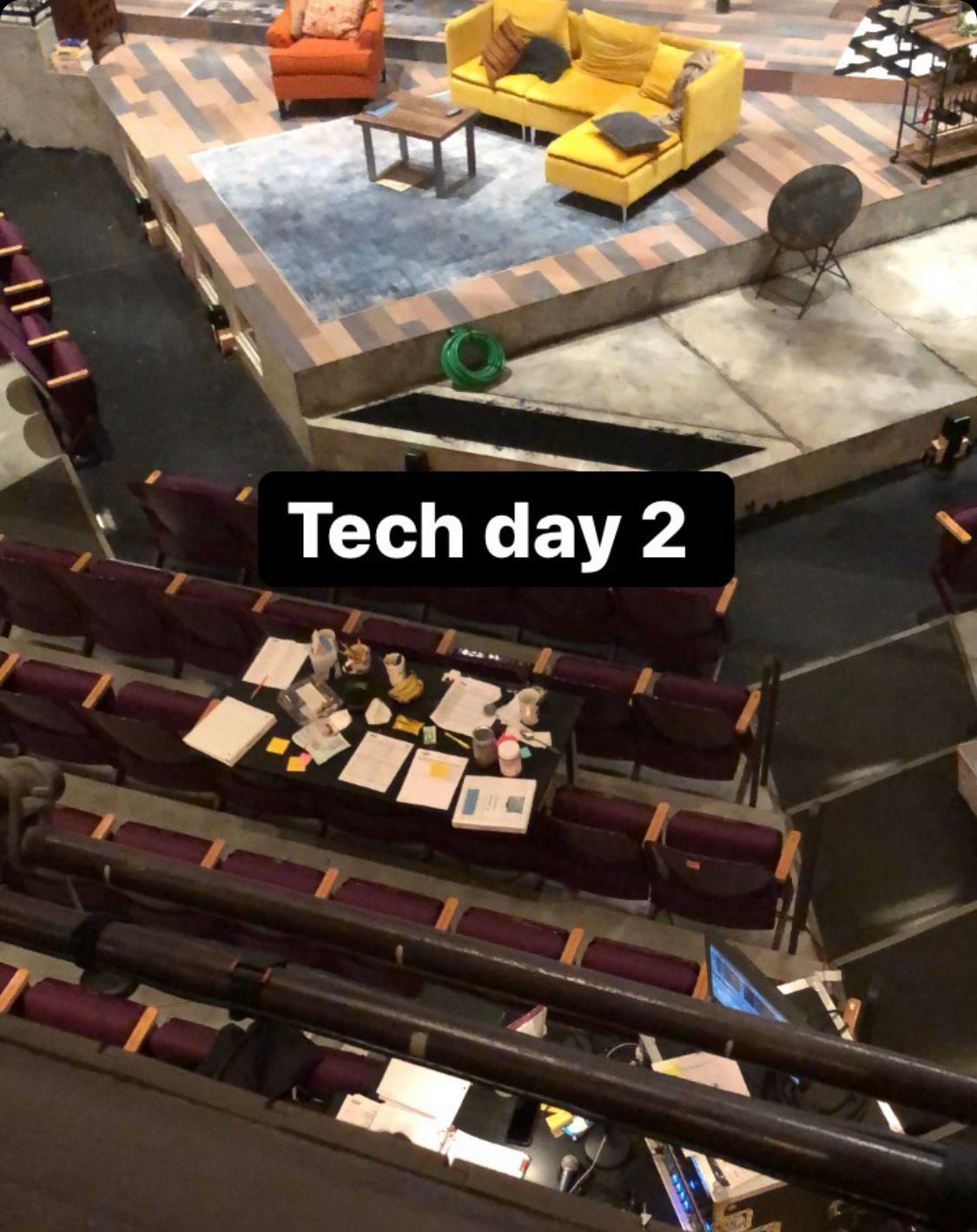 Right now, the whole cast is sitting in the middle of the set, gathered around a a couch and a chair, talking and laughing. We're on a hold--the lighting designer is running through different looks, casting them in twilight at moments, and full light, and special spotlights, which makes their casual conversation seem elevated. The sound designer is working the the precise timing for microwave popcorn, so that it works with spoken dialogue and action and supports a series of punchlines. The director and assistant director are working with stage management on how to move everyone off the stage at the end of the scene. I am just here to make offerings, to catch an ad lib that worked really well and throw it into the script, to marvel with a critical eye. And to write this newsletter. Process!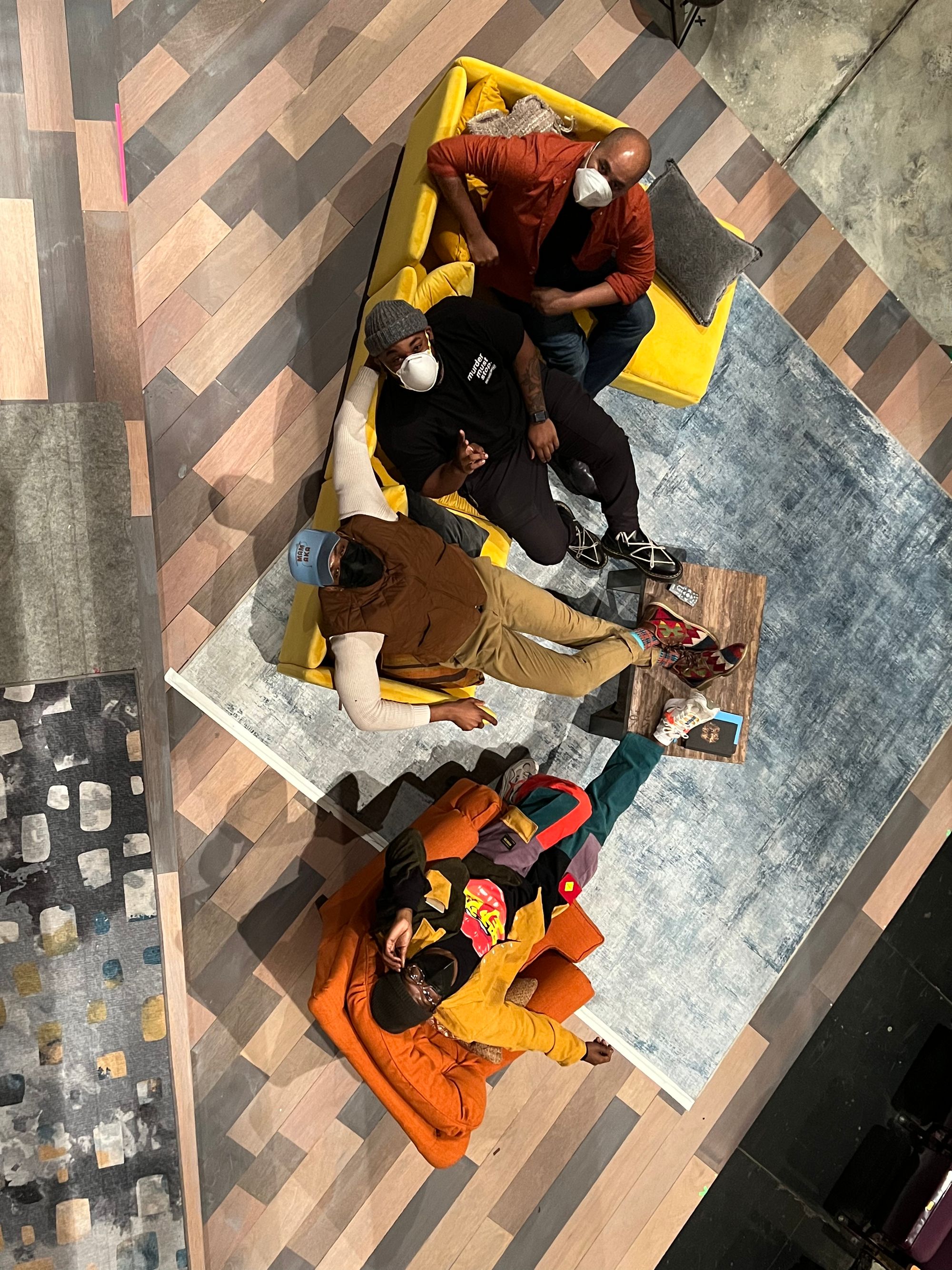 My attention is everywhere during tech. And I find it's different every time. During Backing Track tech, I was tinkering with the script throughout the process. We reworked a climactic moment differently every day. For Folks, I'm doing less script tinkering and I've become hyper focused on all the small details that this world to life. Tracking one character's frequently lost house keys throughout the play; the micro gestures that tell me these people live in this house and with each other; the small accumulation of dirt on a work uniform; the subtle shifts in light that reflect an interior landscape.
All the tiny ways that theater will enrapture and beguile you.
Tech days are long days with broad shoulders. Technicians and stage hands come in early in the morning to work on set construction, then the official tech day runs 10 hours, with a 2 hour dinner break, then afterward the actors are released and the creative team meets for a production meeting. It can be tiring, it can be invigorating. Much like springing forward an hour or whatever the heck we're supposed to do. But the end result is extraordinary. A golden lit summer night in June.
Reviews are in for Backing Track
I don't read reviews. It's bad for my practice. And yet somehow the words of reviews always make it to my eyeballs. It's a mystery!
"The Arden Theatre Company's world-premiere production of
Backing Track
, a play about technology, loss, and gentrification, offers abundant pleasures. Playwright R. Eric Thomas has
serious comedic talent
, the male lead is a
magnetic performer with a glorious voice
, and Rebecca Wright's precise direction allows the entire six-person ensemble to shine."
-Julia M. Klein,
Philadelphia Inquirer
"Thomas can write a joke... And there's plenty to laugh at here: a recurring riff on the title of Dion's magnum opus 'It's All Coming Back to Me Now' had me in stitches every time. Director Rebecca Wright smartly knows to give the one-liners plenty of breathing room.Even more impressive, though, is Thomas's ability to distill a powerful emotional journey into a compact, moving exchange...
Thomas understands the value of a well-judged dramatic moment to interrupt the jollity
. He doesn't push them, just as he doesn't oversell his comedy."
-Cameron Kelsall,
Broad Street Review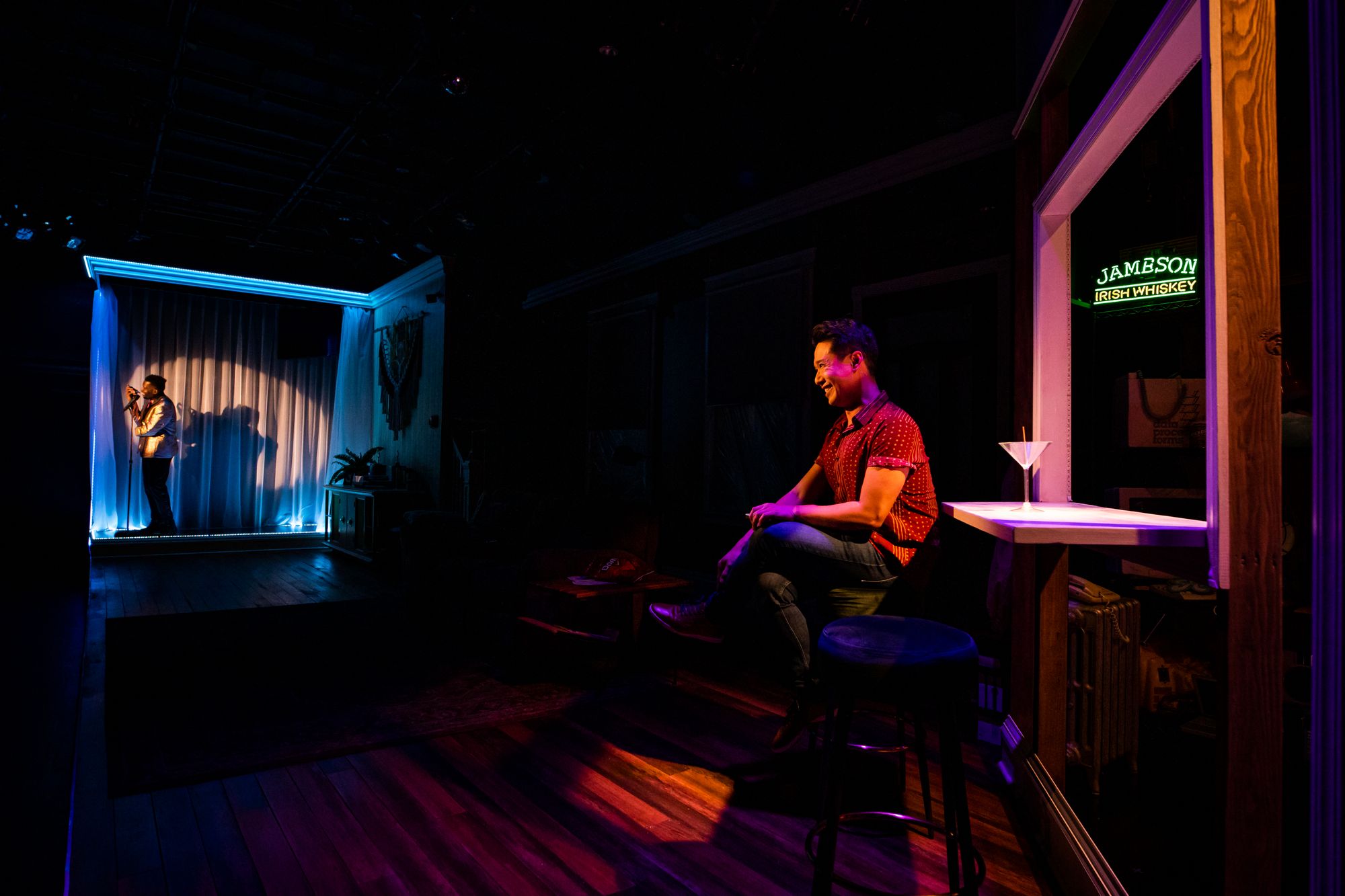 ---
Backing Track
A comedy about community, falling in love in a world falling apart, the magic of mixtapes, and more.
March 3 - April 10, 2022
Arden Theatre
---
The Folks at Home
A comedy in the style of Norman Lear's groundbreaking 70s sitcoms about a couple, their in-laws, a full house, and the American dream.
March 17 - April 10, 2022
Baltimore Center Stage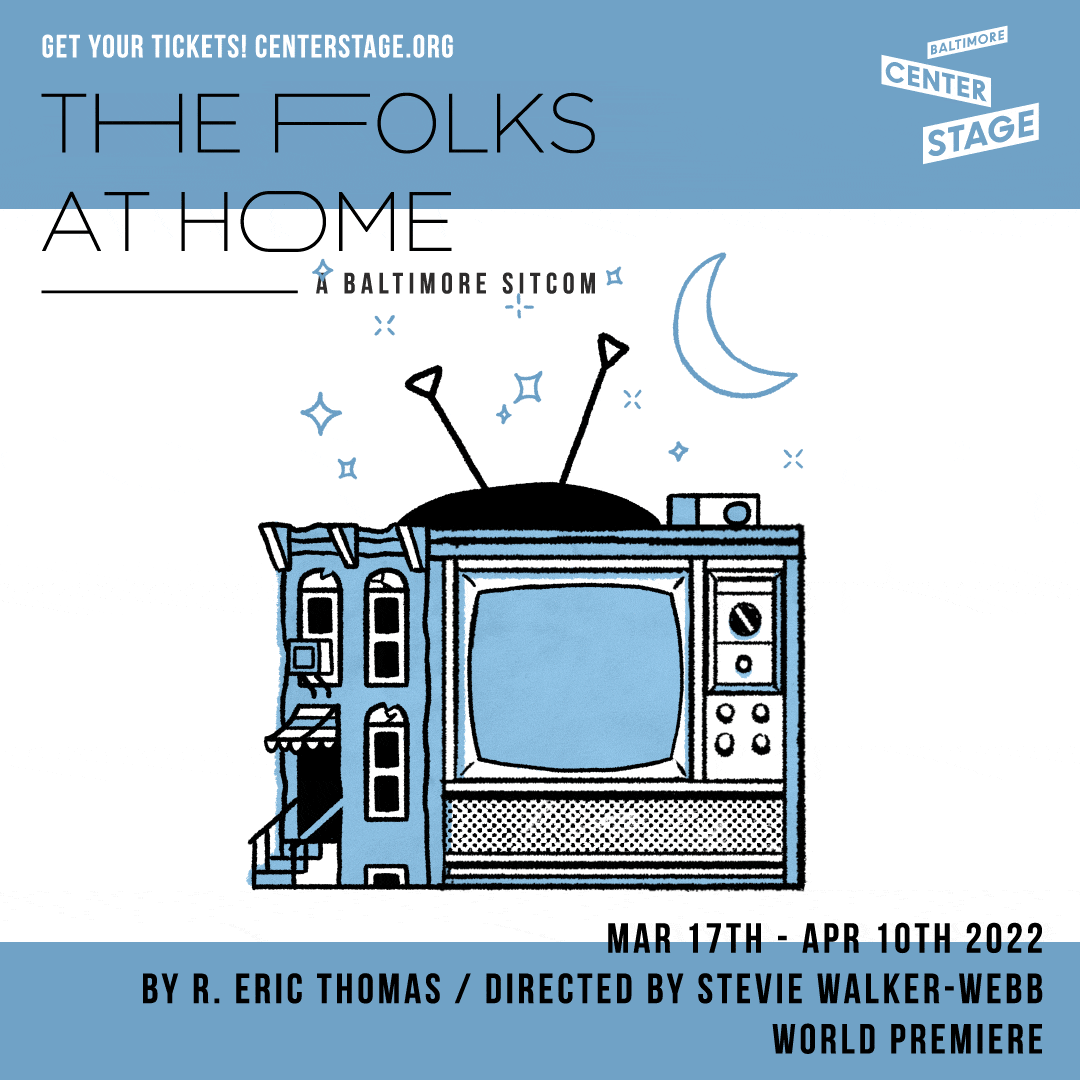 ---
Crying on Television
Living Single meets Noises Off! A comedy about transformation, sidekicks, and the impossibility of making adult friends.
May 31 - June 26, 2022
Everyman Theatre
Random Thing on the Internet
I came across this folk album of Sondheim covers and it's really a perfect combination of my interests.
You know I live in the sky,
Eric
---
My new YA novel, Kings of B'more, a contemporary riff on Ferris Bueller's Day Off, is out everywhere on May 31, 2022. Pre-order it here or from you favorite indie bookstore, or request it from your local library!