Everyday People: Eric Reads the Week, #38
Hi! It's R. Eric Thomas. From the internet?
Hi!

If you think about it, Hello Dolly! is really just a musical about one woman's relationship with her favorite restaurant. Perhaps it's been a while since you saw the Barbra Streisand movie or the Bette Midler production (or the Carol Channing production or the Pearl Bailey production or...) Let me refresh your memory: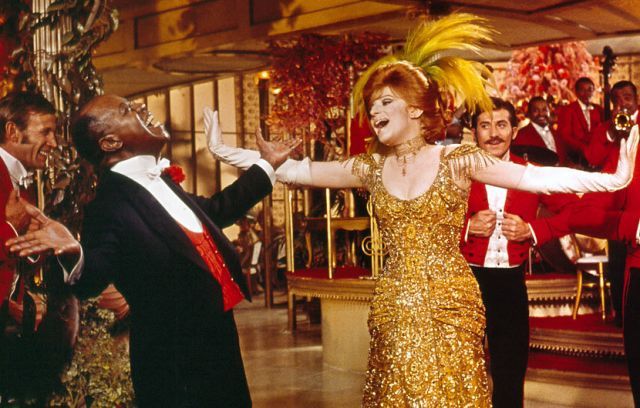 Okay, so Dolly is a widow/matchmaker who is sort of in love with one of her clients which is totes non-profesh, but I guess a hazard of the job. The client is set up (by Dolly) to marry a New York hatmaker (they're in Yonkers for some reason involving train choreography) but Dolly decides to put the kabosh on that and marry him herself. Through a bunch of characteristic scheming she manages to get the entire cast to converge at the Harmonia Gardens Restaurant, where the staff is so excited to welcome her back (she used to come with her late husband) that they perform a 10-minute song that receives multiple standing ovations and gives the musical its title.

After that, you realize that all of this was pretense to get Dolly back to in from of the Harmonia Gardens' whole chicken special. In the Broadway show (btw I saw the show last week. Amazing!) Bette does this insane silent comic act in which she vociferously eats an entire dinner and dessert while the whole cast watches. It's worth the price of admission.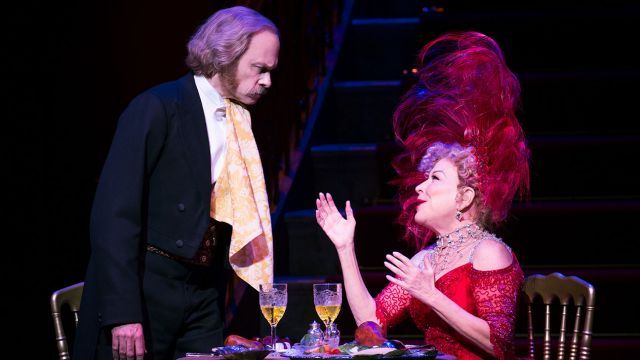 Ultimately, as in most musical romantic comedies (of which there aren't nearly enough these days) all the pairings are foregone conclusions pretty much from the time the curtain opens. The real suspense comes from the question of whether Dolly will get to enjoy a good meal in peace. This is the kind of theater I am very much interested in. I would absolutely watch Yelp! The Musical about two people trying to find a good place for brunch.

People come and go, but relationships with restaurants can last forever.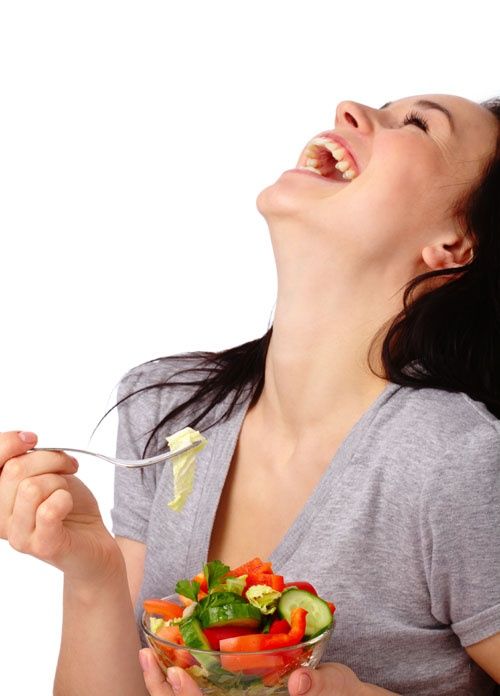 (Sutton Foster in the musical Woman Laughing With Salad!)

At the performance of Hello Dolly! I walked within inches of a woman I couldn't quite place. I thought we might have gone to college together but I knew we hadn't been friends because I was busy building my relationship with John Jay Dining Hall. I am socially awkward so I knew I wouldn't be approaching her to ask "Did we sort of know each other in between bites of mozzarella sticks?" But I almost did a weird half-wave as I passed before realizing where I knew her from. It was Posh Spice, Victoria Beckham. We very much did not go to college together.

Last week was full of moments like that. I went to three fashion week shows, did a face-to-face interview at Hearst with an actress I really enjoy, sat literally next to Nina Garcia (while I was wearing jeans; I will now die) and saw a Broadway play. All of these things are very much in my wheelhouse and also very much outside of the realm of normal behavior for me. I spent the entire week a little awe-struck and a lot awkward.

I hope that I can always feel a little bit enchanted by this kind of thing. I don't think it's the fame that beguiles me so much as it is the sheen of brilliance, being in the presence of someone who has become known for something that they were absolutely put on Earth to do. It's a weird mix of making something look easy while making it unattainable. Gasping for laughter while watching Bette Midler eat a chicken leg, this combination came into high relief for me. Bette looked like she was having fun, she looked like it was effortless, but I was also keenly aware that that's exactly the kind of thing that takes an extraordinary level of skill.

It's always fun to be reminded that stars are just like us--they grocery shop, they can't figure out the DVR, they sometimes look uncomfortable at fashion shows--but for me, this week reminded it was equally thrilling to be assured that in many ways stars are nothing like "everyday people" at all. Some stars, at least, are wildly gifted, extraordinarily hard-working people at the top of their game.

Speaking of people at the top of their game, this week's columns covered Leslie Jones at Christian Siriano's incredible show, Cher & Future, but first, Hillary Clinton!
---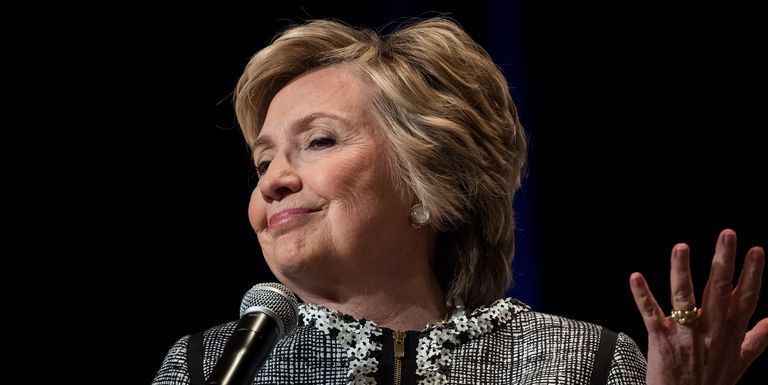 Hillary Clinton is not going away and I'm here for it, if for no other reason than every single person has the right to take up space and speak their minds and continue to exist, without reservation and without permission. You don't think Hillary Clinton should have written a book? Good for you. Go buy Pillars of the Earth and read that. Get a Kindle download of The Pelican Brief. This isn't summer reading for sophomore year; there will not be a test on this material. [READ THE FULL COLUMN]
---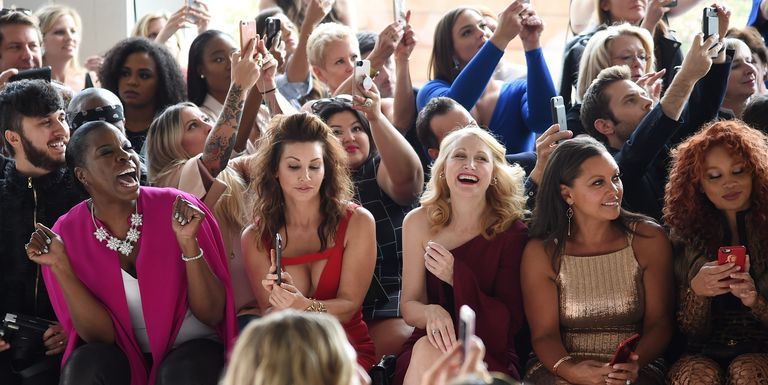 Leslie. Was. Gagging! The normally ebullient comedian was especially hype for the entire show, clapping, howling, elbowing Gina Gershon in the ribs. Have you ever, in your life, elbowed Gina Gershon in the ribs?! No, you have not and if you tried it she'd sprinkle marbles under your feet like Nomi did in Showgirls. [READ THE FULL COLUMN]
---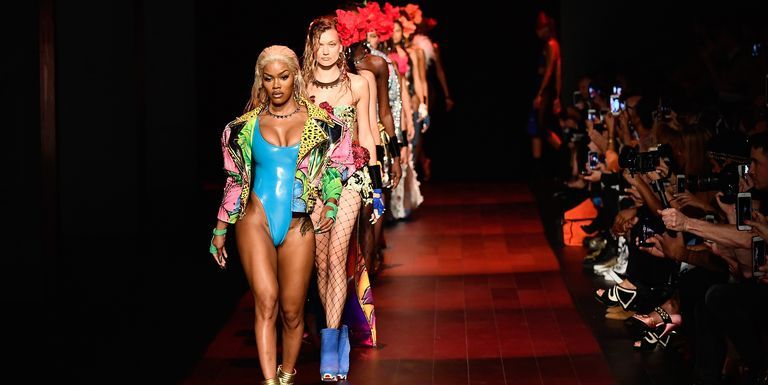 Arriving at the cavernous West Soho warehouse space for The Blonds' 9 p.m. show, I first passed a UPS packaging processing center as long as a city block. Tractor trailers bearing packages and brown delivery trucks bearing Taylor Swift's face rumbled down the street, past the throng of attendees crowding around a doorway where they were letting people in 20 at a time. During the day, Washington Street, where the space is located, looks like the kind of nondescript place where an expository scene from Law & Order might take place. But at night it was absolutely lit. [READ THE FULL COLUMN]
---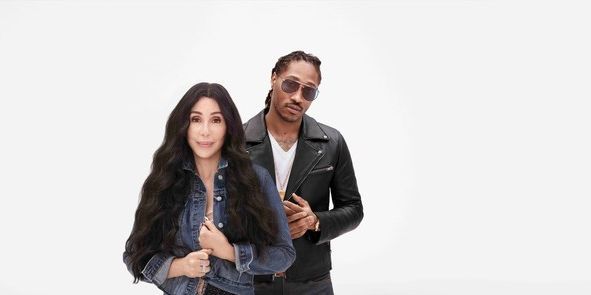 You may have thought last week's Twitter clapback was peak Cher, but keep your eyes open! There's, evidently, so much more. Cher says that she and Future had never met, which seems pretty much to be expected but nevertheless was surprising. No matter. They're best friends now, chilling out on the Rocky Steps from a coloring book. [READ THE FULL COLUMN]
---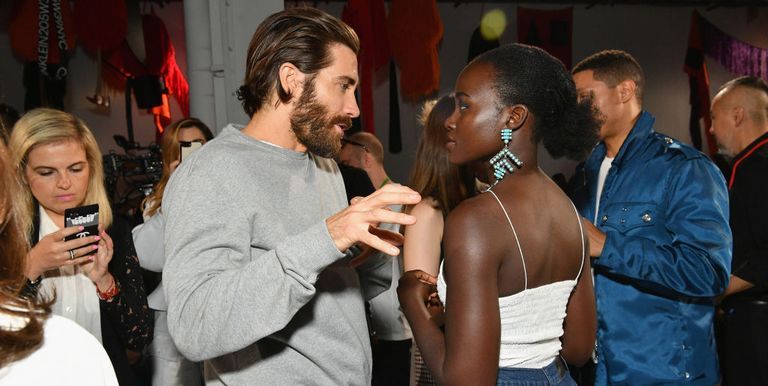 Dig if you will the Nicole Miller runway show, which featured timeless dresses in muted colors against an environment that can best be described as a Banana Republic store from the '90s. Remember when the aesthetic of Banana Republics was literally "What if this store was in a jungle or a Joseph Conrad novel?" Wild times. Literally. [READ THE FULL COLUMN]
---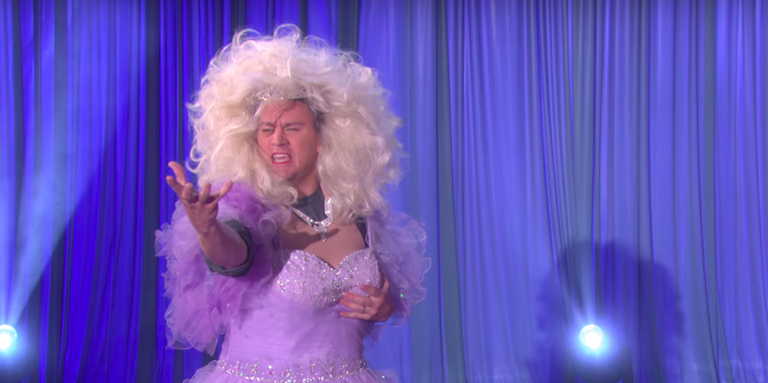 It's not that it isn't fun and frequently funny. It is. The Magic Mike star doesn't just let the look do the work for him; he throws himself into his performances with the tenacity of a bachelorette who's been pulled up on stage at a gay bar and told to lip-sync for her life (or a free shot of Fireball). But despite the fact that I'd watch Channing Tatum do pretty much anything up to and including his taxes, I think we're good on watching him do this one thing. [READ THE FULL COLUMN]
---

To the extraordinary everyday!
Eric