Hi! It's R. Eric Thomas. From the internet?
Hi!
Oh my goodness, what a week! (Yes, I know it's only Tuesday. But the fact is I wrote this on Monday and Monday had already been a week. Also I'm talking about last week. And every week before that. What a week! If I was a spider with the ability to talk like Charlotte in Charlotte's Web, I'd use my web to spell out "SOME WEEK!" And then everyone on the farm, all the humans and whatnot, would be like "Wow, so are insects also using the Gregorian calendar? Do insects have a basic knowledge of Pope Gregory XIII, his thoughts and works? What is the insect work week like? Is it 5 days? Is it less or more because they didn't have an insect Henry Ford who shifted the structure of the work week for reasons that were either altruistic or baldly capitalist, depending on who you ask? Do insects have capitalism?" That's what I'd ask if I was on that farm and I saw some spider making signs and whatnot. It would completely derail all other conversations. The crops would bolt. What a mess. Keep your opinions to yourself, spider!)
Anyway, whatta week! Last week I got rear-ended at a stop sign and I've been so busy I haven't even had time to make having been in an accident my whole personality. Can you believe that? (Also, it wasn't bad, just jarring, and the damage is negligible, literally a fender bender. I've done worse to my car myself by scraping against parking garage columns. So, let he who is without cosmetic body damage cast the first stone.)
Anyway, what? A week?! Both The Folks at Home and Backing Track close this week, which I'm sad about. But they're both available to stream (more on that below), which I'm very excited about. Folks, I have to be honest with you--people really love these shows and I don't feel like I'm bragging because many hands made this extraordinary work. One of the things I can't stop talking about in both plays is the attention to detail in props. There's some fun echoes, like both plays involve a grocery store cake and a pregnant sister, even though I wrote them about 7 years apart. So both productions have a fake cake, designed by an artisan, and a baby bump (Backing Track actually has two bumps, as we see the character months apart).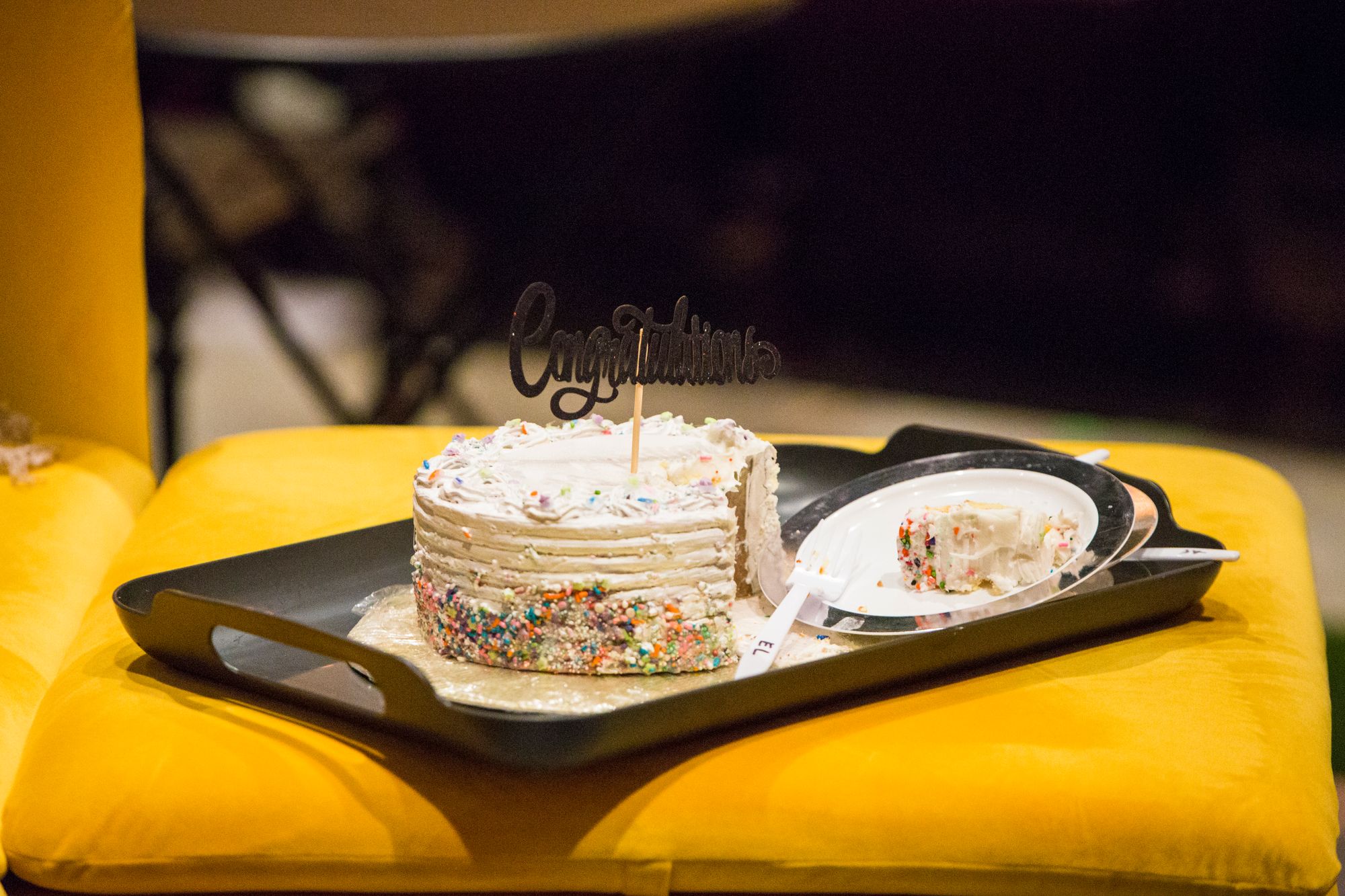 Backing Track is set in 2018 so set designer/prop master Chris Haig, my good friend, went all in on period details that match the time (yes, 4 years ago was a distant planet) and the characters. He asked me, for instance, what would be in a magazine rack in the living room and then found that magazines I suggested (Essence, Ebony, any magazine with Michelle Obama on the cover.) This is the kind of detail work that goes into plays that makes the world more real for the audience and for the actors, even if you never notice it.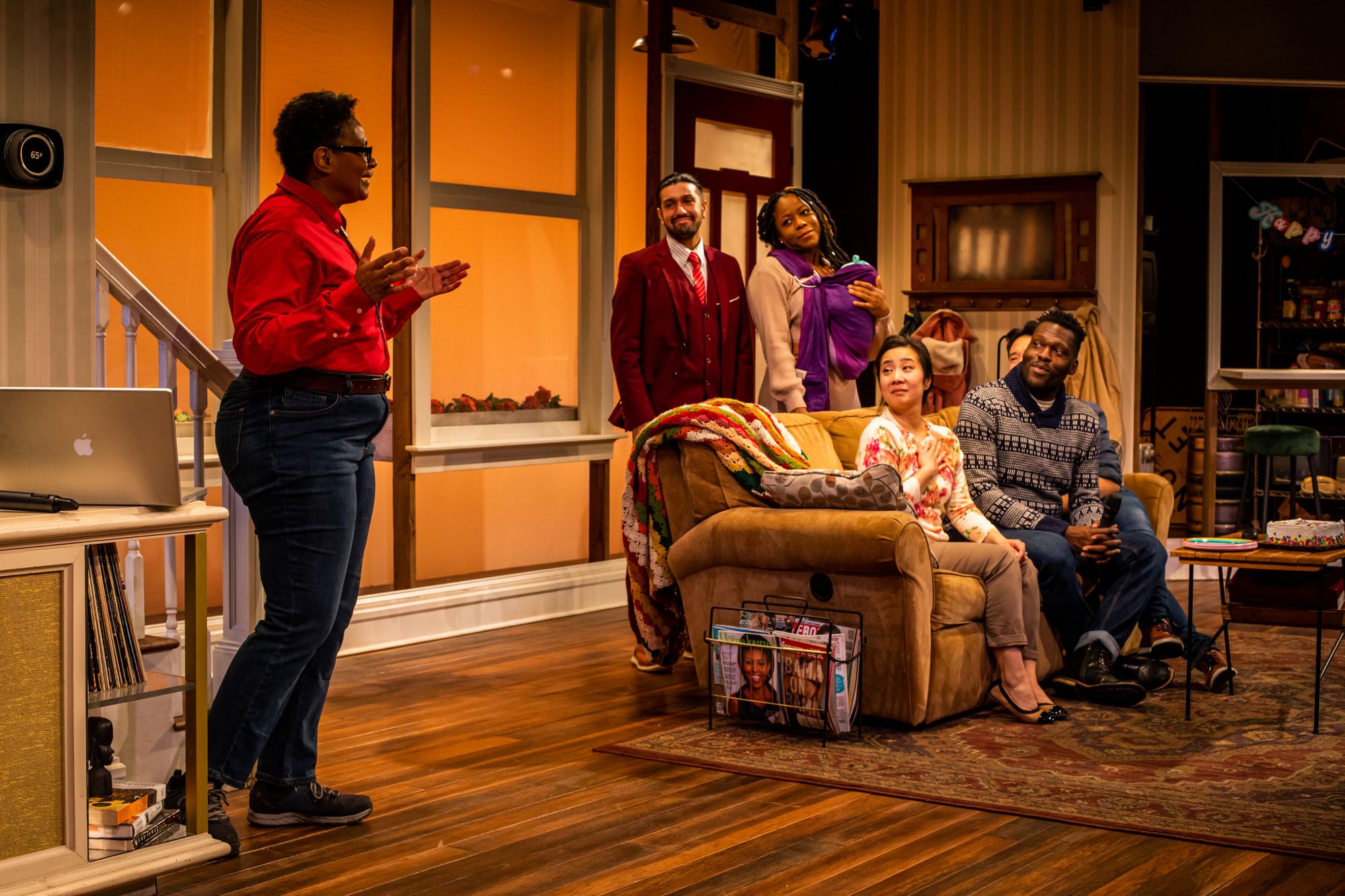 Rachel Erichsen at Baltimore Center Stage put so many details, small and large, into the set designed by Sim Carpenter. She reupholstered a whole chair and built a sofa. And she also made and sourced tiny things, like these magnets that are very Baltimore but also very "we got them for free at the State Fair." I had a long conversation about whether the main characters would have an Orioles calendar and a Ravens magnet on their fridge. The Ravens went; the baseball calendar stayed.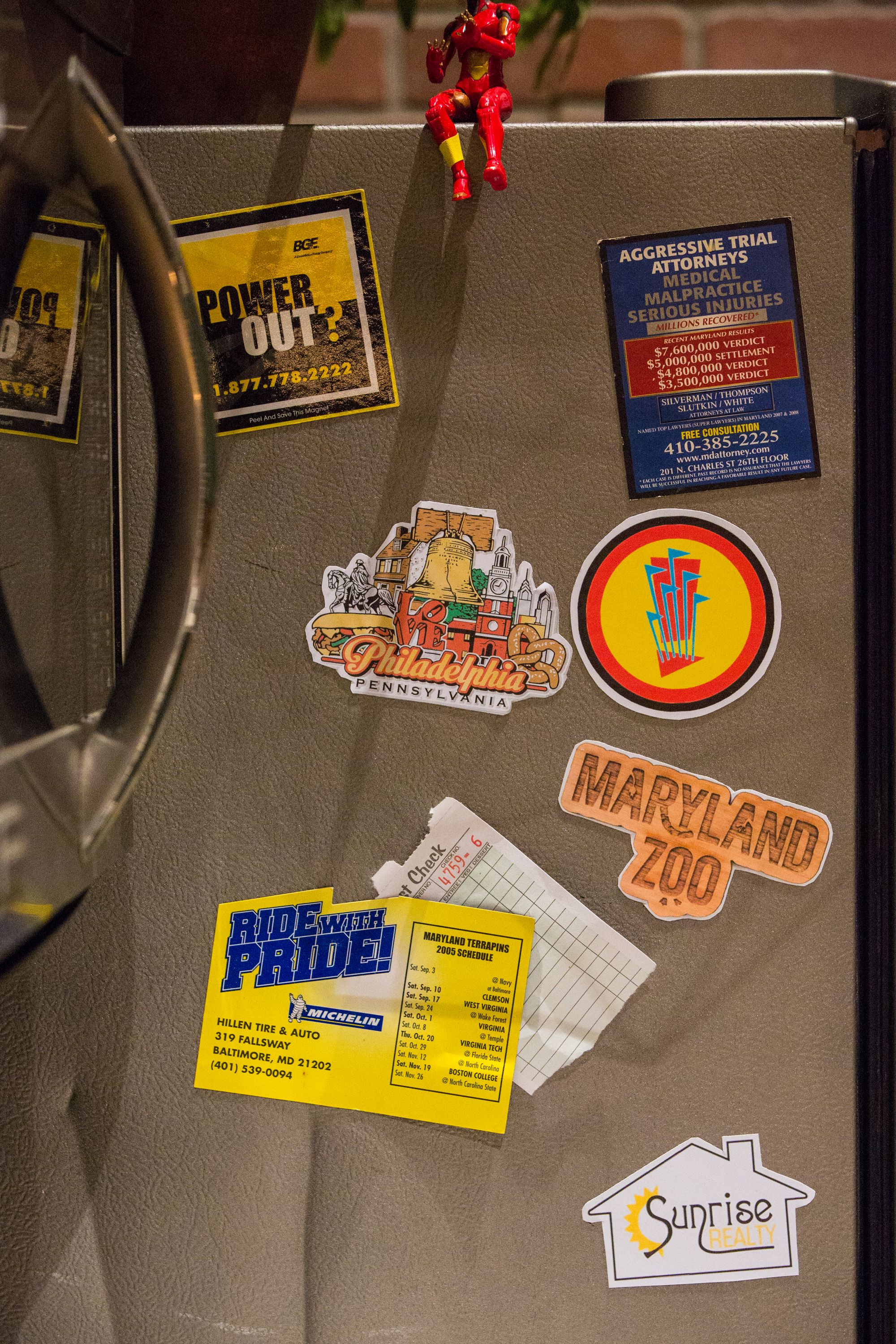 As you can see in the photo below the house has some nice lived-in clutter, including a bunch of books just tossed underneath the couch. We didn't have a lot of discussion about what books they should be, though I made a few suggestions.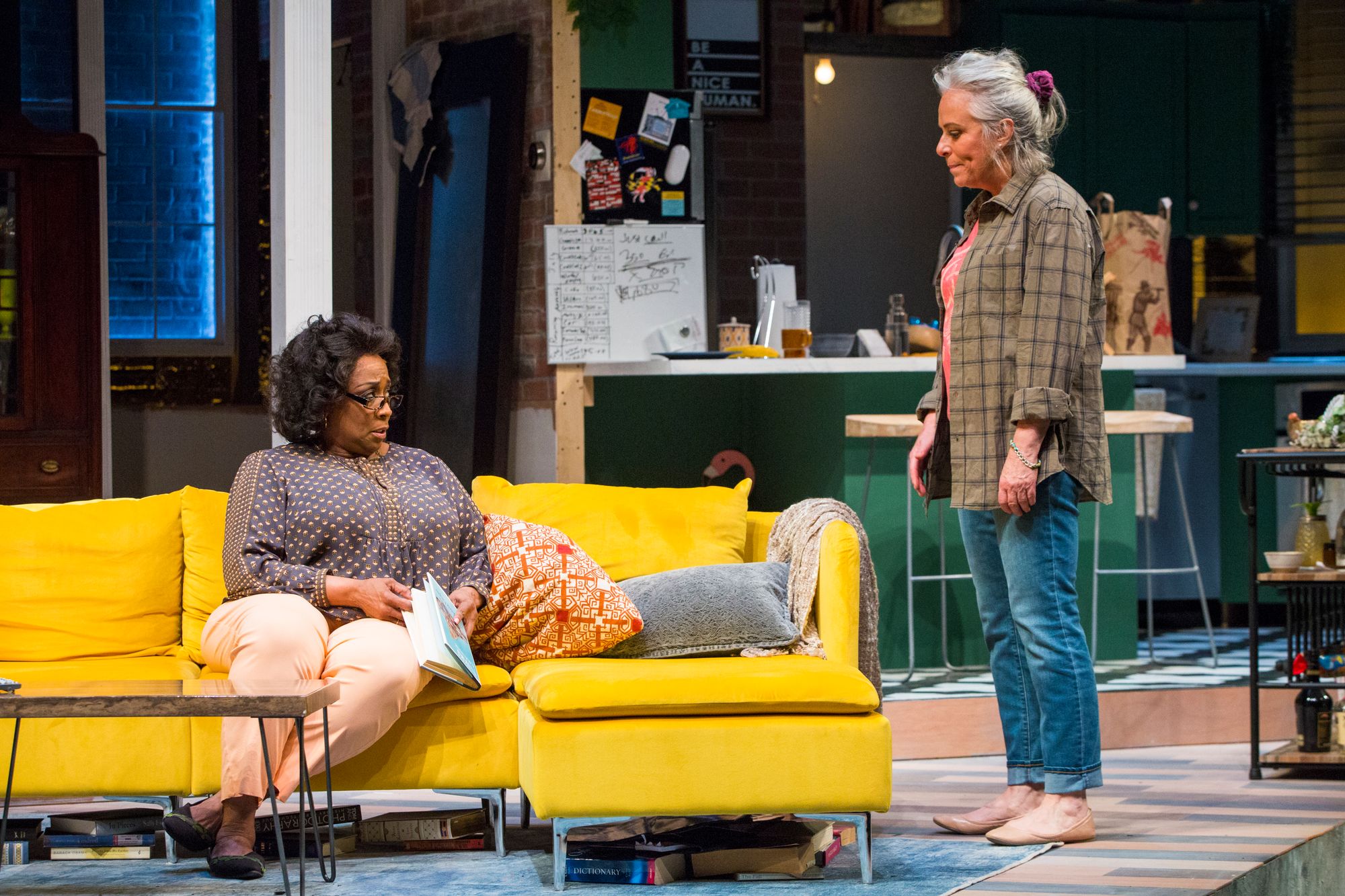 As we were nearing Opening Night at Folks, the assistant set designer, Paloma Locsin, asked me if I wanted to include one of my books under the couch, as a kind of Easter egg. I said yes, that would be fun. Then I had an internal spiral wondering if the characters in the play would have read Here for It or have any idea who I was. The jury is still out but I decided that one of their friends gave it to them for Christmas and they promptly tossed it under the couch. This is how I keep myself sane.
Of course, I kept forgetting to bring a copy of Here for It from home and I live 30 minutes from the theater so eventually I just ran out of time and had to go to a nearby Greedy Reads and buy a copy of a book I own roughly 25 copies of. I was the only customer in there at the time and I just sort of skulked around looking for the book while also pretending I wasn't looking for the book. Going up to shelves like "Oh my, look at this interesting treasure! Who doesn't love Ann Patchett?!" Finally I had to ask.
"Do you have a book called Here for It, or How to Save Your Soul in America?" I asked.
The bookseller replied, "Oh yes! Do you want to sign it?" CLOCKED! I was trying to be incognito and this whole time the bookseller had been like Look at R. Eric Thomas, wandering around in a mask, pretending he hasn't already read The Dutch House by Ann Patchett. Go do a skit with Bel Canto next!
Anyway, they couldn't have been nicer about it and sold me my book with a lil discount, which was kind. And I signed the rest of the books in stock. And now Here for It is sitting on stage at The Folks at Home, part of the set, under Brandon and Roger's couch, waiting for one of them to read it once all the drama settles down.
Stream Backing Track and The Folks at Home
Both productions are coming to your house on multi-camera setups that capture the plays really well.  Folks livestreams April 6-10, meaning that you'll get to watch it at the same time as an in-person audience. It won't re-air, so you have to catch it in real-time. Backing is Video on Demand, starting April 11, great for an at-home karaoke sing-a-long!
Critics are loving both plays! Cameron Kelsall of the Broad Street Review said of Backing Track "Playwright R. Eric Thomas sews together disparate scenes, incongruous personalities, and plenty of music to craft a rich portrait of a multigenerational Black queer family." And of The Folks at Home Peter Marks of The Washington Post wrote "Thomas has composed a comedy of downward mobility that astutely wraps multiple disappointments in sitcom bonhomie."
This week on Previously On...
The Oscars are above my pay grade and Anne Hathaway can do no wrong.
Random Thing on the Internet
Did you see this video of a news station that discovered video footage of 11-year-old Prince at a teacher's strike? A delight!
Go do a skit with Bel Canto next!
Eric
---
If you preorder Kings of B'more from Charm City Books, they'll send you a free mug! How about that!