Afternoon: Here for It, #303
Hi! It's R. Eric Thomas. From the internet?
Hi!
It's been a week since I got back from Scotland which means it's been a week since I've said the words "it's 2pm; should we have a spot of tea?" And frankly my life is falling apart.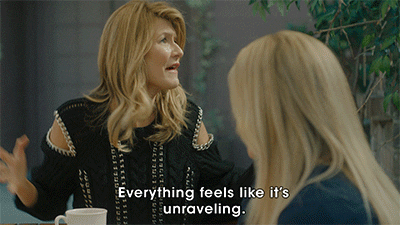 Not to sound like a college junior who came back from a semester abroad talking like Madonna and calling apartments "flats" but I have completely converted to the gospel of Afternoon Tea.
I have always been an Afternoon Tea person, spiritually, and I just didn't know it. I was just walking this world hankering after a tower of baked goods and improbably petite sandwiches. Now I have found my calling. It's like when the purple flower chooses the Black Panther but instead of the flower it's a gargantuan berry meringue and instead of making me into a superhero, it makes me, like, Keira Knightley.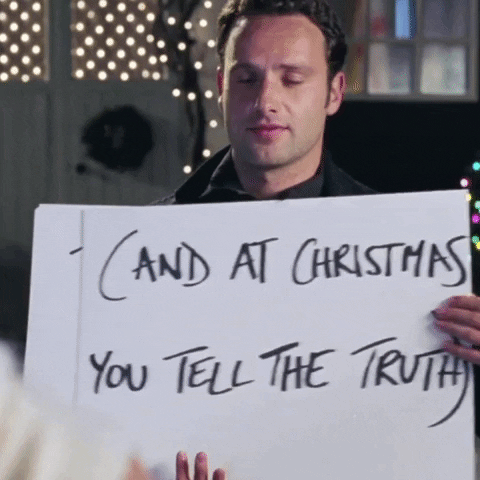 The first tea we went to in Scotland was at a Glasgow tea house that had an art deco design aesthetic and all the servers were wearing traditional maid uniforms, like the black short-sleeved dress with the white collar. What was initially most delightful to me was that our server also had a huge chest tattoo and was wearing doc martens. She was like a mid-90s Parker Posey character. Obviously I immediately became obsessed.
The thing I love about Afternoon Tea is that you have to make a few choices so you feel like you're empowered and in control of your own destiny, but not so many that you get stressed out about doing something wrong. This is the perfect balance for me. Scottish Parker Posey told us the sandwiches and scones were set, but we should choose a dessert and a tea. I was like "manageable!"
But I gotta say I immediately got in the weeds with this menu! They gave us a regular lunch menu, plus a separate Afternoon Teas  menu, then there were two menus that seemed identical to the first two but were labeled "Free From Menu" and, beloved, when I say I was vexed! Tea Culture was already so foreign to me, I was afraid by not knowing whether I was supposed to order from the regular menu or the Free From menu, I was upsetting the king or parliament or Ewan McGregor.
Turns out the Free From menu is the gluten-free menu. I honestly don't believe I would have ever gotten there on my own. They literally just gave us a stack of laminated pages and were like "good luck; we have made this process easy and given you all the tools you need to make an informed choice so, please feel free to over-complicate it as much as you can."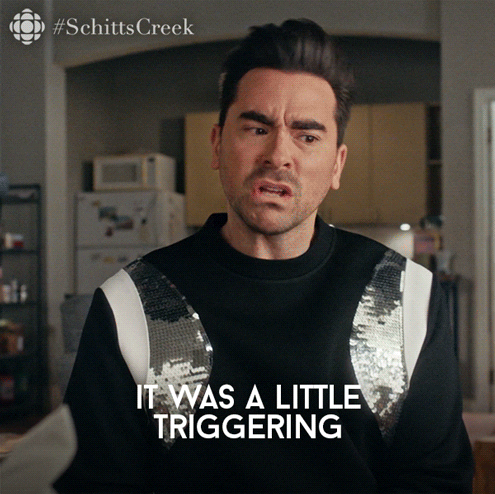 I chose a meringue with berries and a black tea; David chose a strawberry tart and coffee. A coffee at tea! Controversy!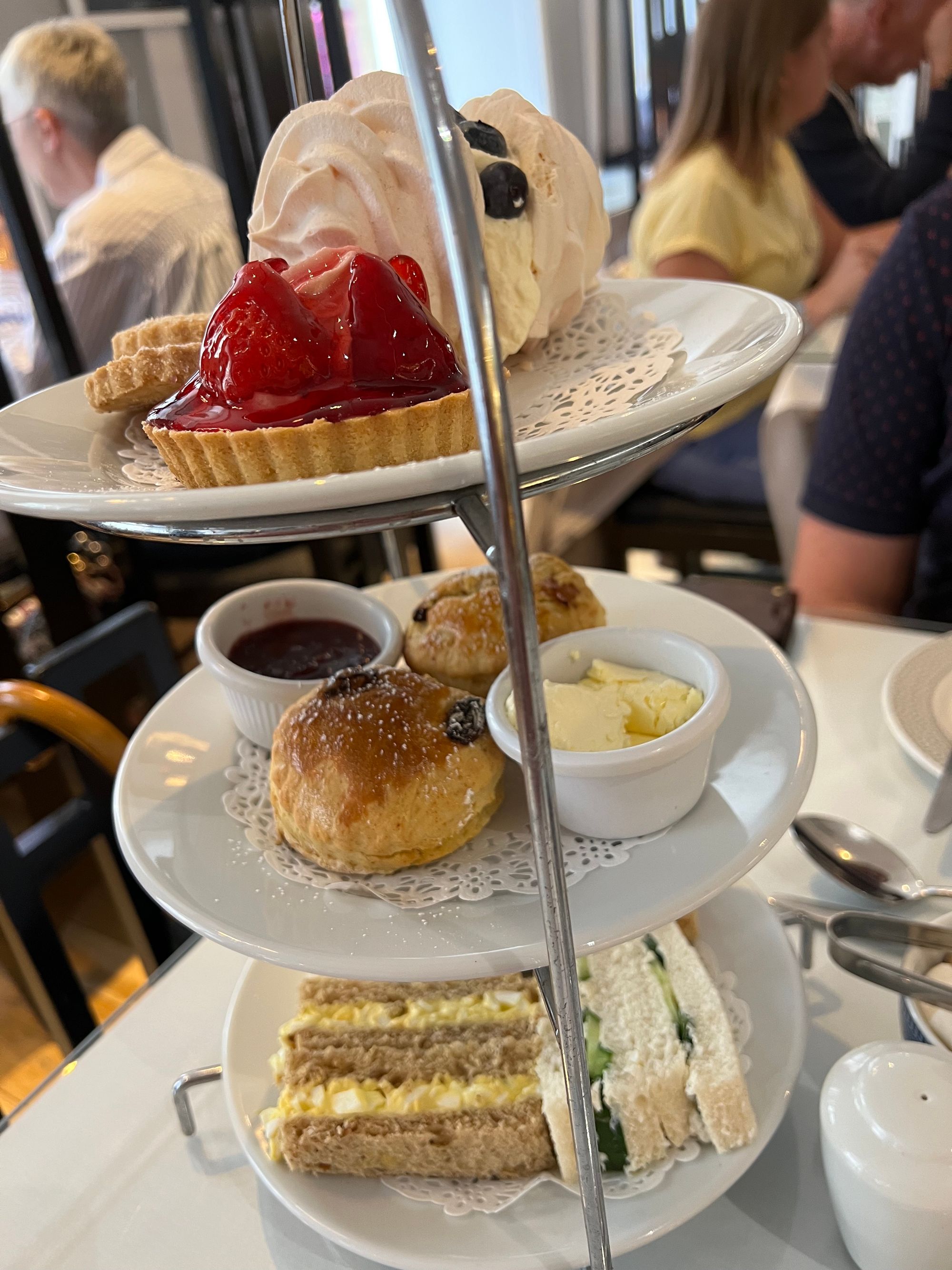 Okay, I'm sorry but, like, what are we doing as a country if not this?!
First of all, a meal on three-tiers?! It's giving dramatics, it's giving space management, it's giving vertical buffet! The other day at brunch (in America!) I ordered a short stack of pancakes and an omelet and I ended up with three dishes in front of me, because it came with a biscuit. It was so much food the people next to me were like "Wow, are you waiting for someone?" And I was like "Yes. Jesus is coming back."
Now, if we'd just invented the technology to put those plates on a stack in a tower, I would have looked normal, cultured, sophisticated. Ready for croquet.
I'm obsessed with having a small slice of sandwich. It's like being at a cocktail reception but not having to stand up or make small talk or bid on a silent auction. What fun!
And don't even get me started on the Scones Level. I have never in my life eaten a scone this good. We have been bamboozled as a nation by the scourge of coffee shop pastries that claim to be scones but are actually, I don't know, hardtack? Geodes? Kryptonite? These scones were flavorful and soft and rich and didn't immediately crumble the minute I bit into them. They were... scone-y. And what I've been eating thus far has been phony.
I am so mad at every coffee shop right now. Get out of here with this rock biscuit you're calling a scone. I will report you to Interpol, I swear I will.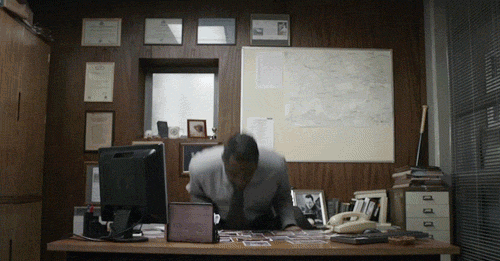 It really is a shame that American coffee shops have given into lies and deception vis-a-vis scones because the way that one snacks at a coffee shop is very Afternoon Tea-like. With Afternoon Tea, you cover all your major afternoon food groups: Caffeine, Bite to Eat, Baked Good, and Dessert. And it comes just at that point in the day when you're feeling a bit peckish and need a pick-me-up.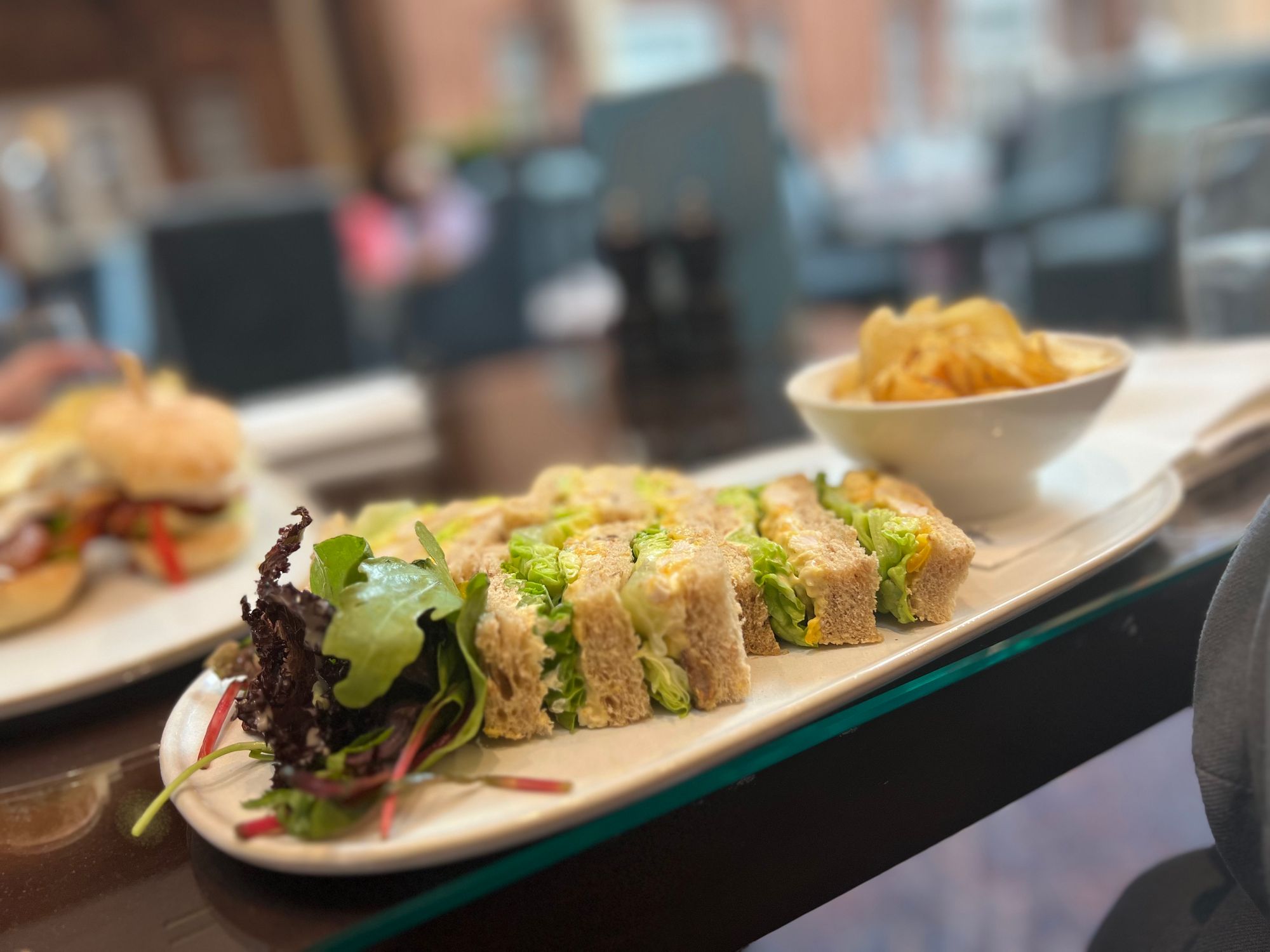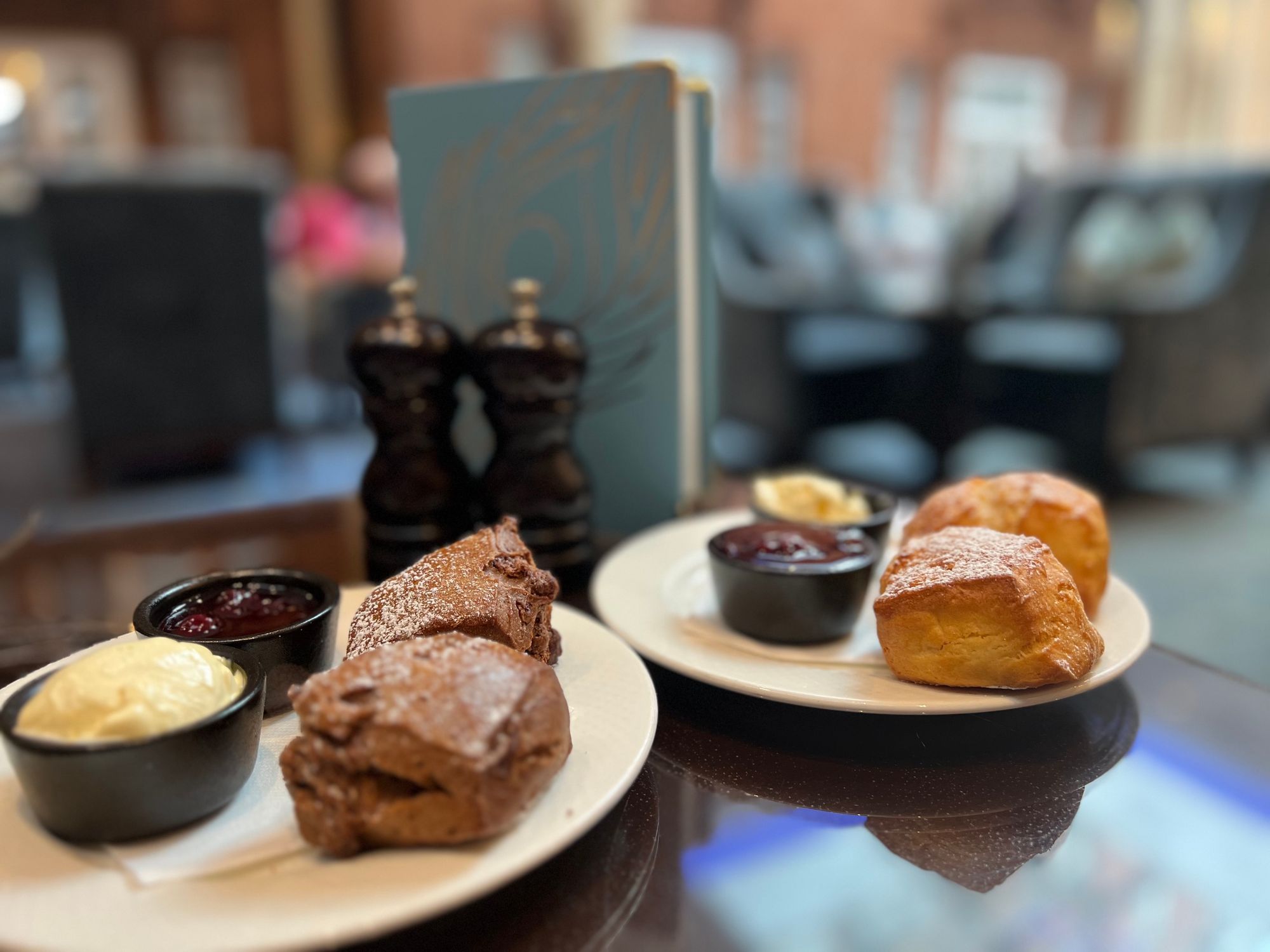 The American version of Afternoon Tea is getting a bag of chips and a Diet Coke from the office vending machine and, no shade to Diet Coke, that is no way to live. Put those chips on a tower and then maybe we can talk.
I really want to go from coffee shop to coffee shop and office to office preaching the gospel of Afternoon Tea. There's actually a whole essay in my new book called "Break Room Cake Communion" about office culture and the exquisite pleasure of lurking in the break room around 2 o'clock hoping that someone had a birthday or a going away party and left 1/4 of a sheet cake with a note that reads "please take." Afternoon Tea is a whole tower of goodies inviting you to please take and if I'd known about it before my whole book would have been different. My whole life would have been different!
Speaking of Congratulations... it's almost time!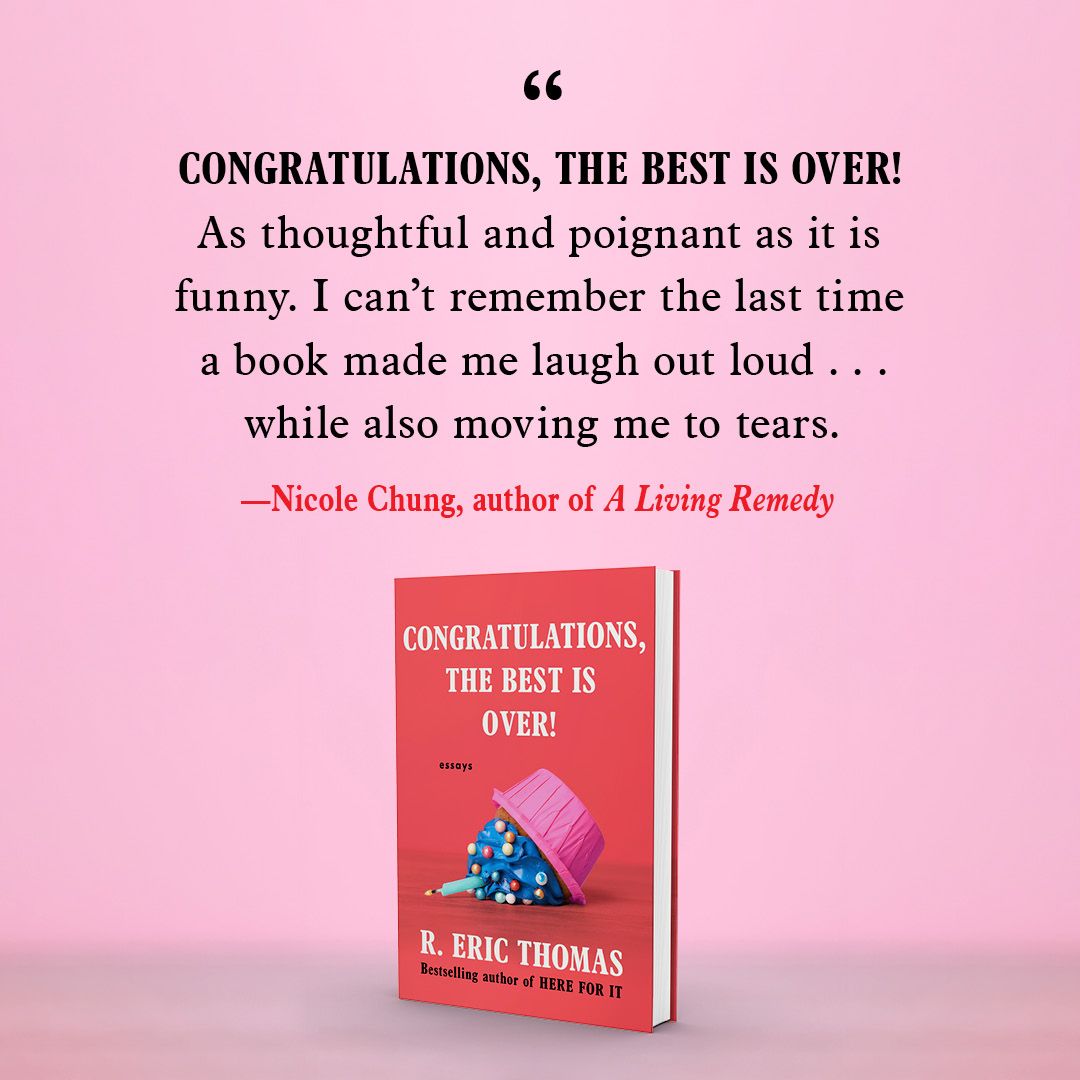 There's so many ways to get the book, which comes out August 8th!
Order it from your favorite indie bookstore or any retailer.
Request it from your local library!!
If you want a signed, personalized copy order from Greedy Reads and put your personalization in the comments at checkout (LAST WEEK TO DO THIS!)
If you want a signed bookplate, order from The Bookshelf Thomasville.
If you want to get a copy when you see me on tour, register for one of my tour dates!
WASHINGTON, DC
East City Bookshop at Miracle Theatre – Monday 8/7/23
In conversation with Chasten Buttigieg
REGISTER HERE
PHILADELPHIA, PA
The Free Library of Philadelphia – Tuesday 8/8/23
REGISTER HERE
NASHVILLE, TN
Parnassus Books – Wednesday 8/9/23
REGISTER HERE
BALTIMORE, MD
The Ivy Bookshop – Friday 8/11/23
REGISTER HERE
WHITE MARSH, MD
Signing at Barnes & Noble White Marsh
Sunday 8/13/23
MORE INFO
PROVINCETOWN, MA
East End Books – Thursday 8/31/23
REGISTER HERE
WINSTON-SALEM, NC
Bookmarks Festival of Books & Authors!
September 22 & 23
MORE INFO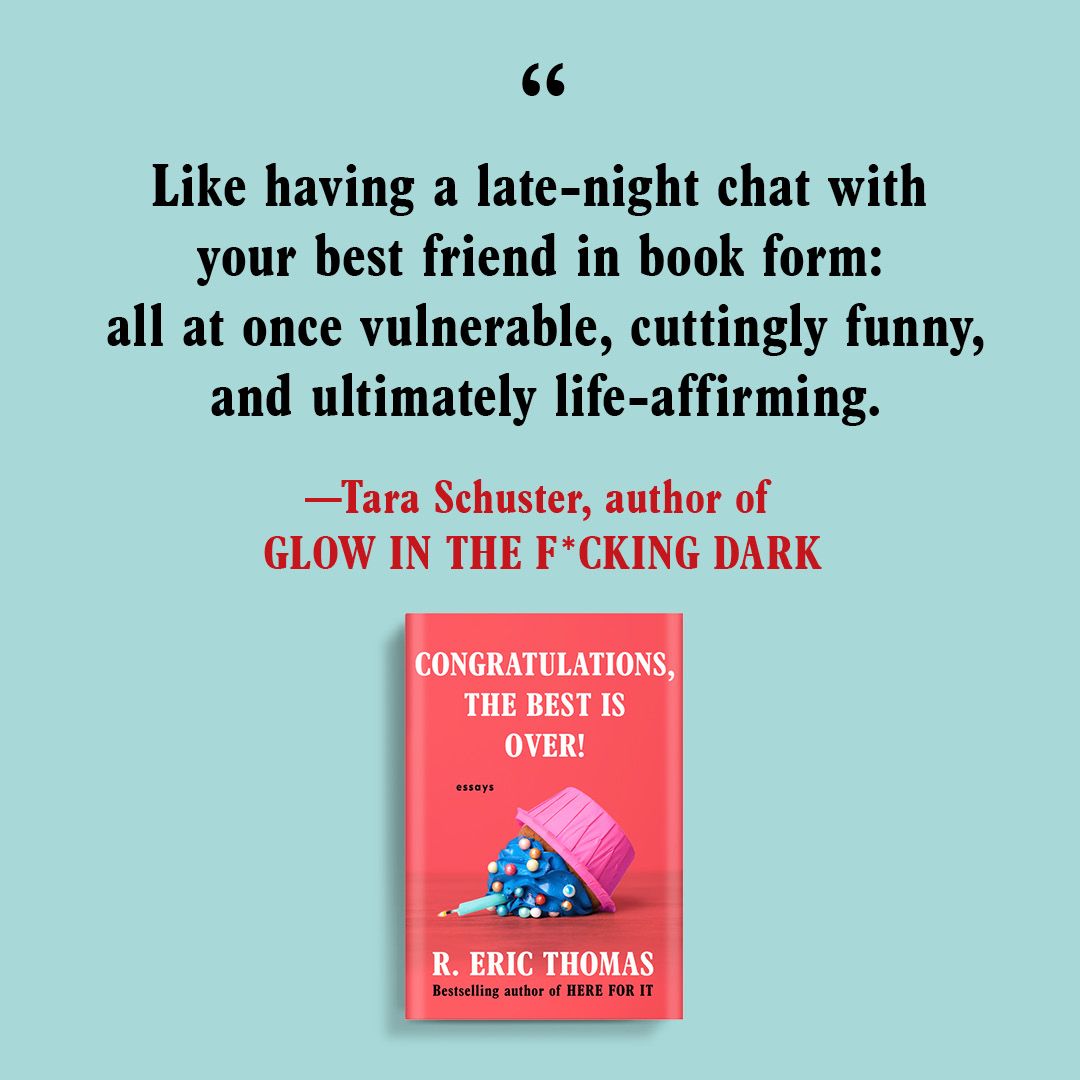 Random thing on the internet
I won't spoil Barbie, which I loved, but I will say that there's one section that is like Back to the Future 2 meets The Hours and very little has ever been more my thing.
Put those chips on a tower and then maybe we can talk,
Eric