Hi! It's R. Eric Thomas. From the internet?
Hi!
I believe it was the philosopher Missy "Misdemeanor" Elliott who once posed the question "Beep beep; who's got the keys to the Jeep?" This is from, of course, the 1997 song "The Rain (Supa Fly)" aka the song where Missy rocks the most fashionable Glad trash bag in the music video.
Over 20 years later, it brings me no joy to report that person who has the keys to the Jeep is... me.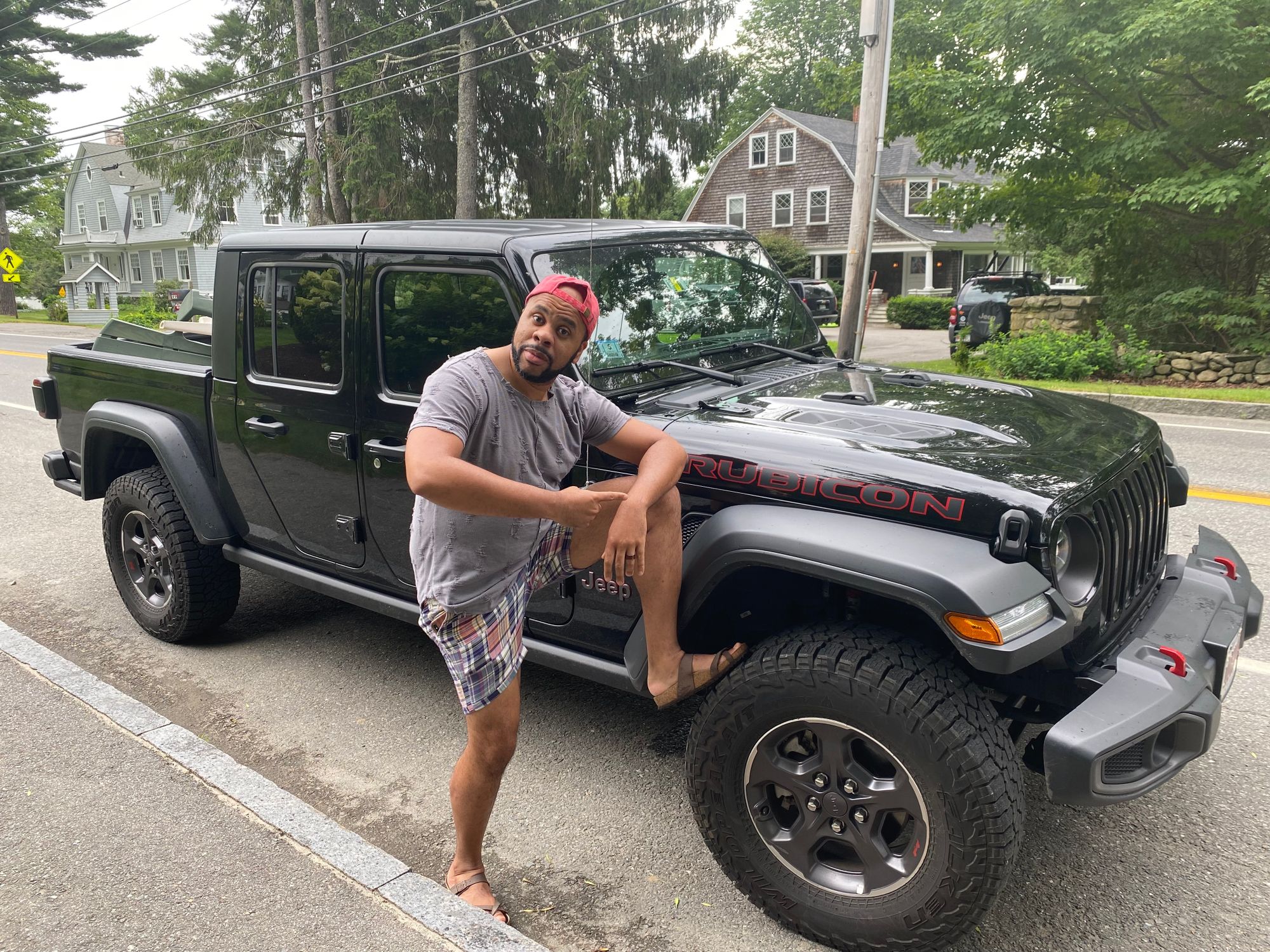 I should let you know that I did not buy this Jeep. I do not see myself, spiritually, as a Jeep person. Who am I, Queen Elizabeth? (No, I am Meghan Markle; this has been established.) I don't have anything against Jeeps, I suppose. I really don't put much thought into cars in general. I keep wanting to have opinions on cars but every time I try my brain is like "Oh my gosh, darling, no. Can we not? Let's rank breakfast foods."
My most strongly held opinions on cars are:
1) The car I drive is a Ford C-Max and I think that name is atrocious. It sounds like a sinus headache medicine.
2) When you turn your windshield wipers on, the headlights should automatically come on. It's the law in many places (all places? Possibly!) that when your wipers are on, your headlights also have to be on. It's also common sense. Why do I have to do two maneuvers, on different sides of the steering wheel, to accomplish this? Who is the Mayor of Cars? I demand answers. Beep beep, whose going to turn on my headlights when it's raining??!
Those are my full and complete thoughts on cars. You say anything else to me about cars and my brain just starts playing the song from the Empire Flooring commercials on loop. (Unrelated, but I always thought the cartoon man in those commercials looked like Stan Lee and I didn't understand why the co-creator of Spider-man was installing affordable hardwood flooring in the Maryland suburbs. But that's a philosophical question for another day.)
Anyway, the Jeep.
A month ago David and I went up to Maine to meet some family at the home they own and give his father a Viking burial. There was, obviously, a lot of logistical stuff he was navigating so I tried to take what I could off of his plate. That included figuring out flights and car rentals. While I do not have any opinions on cars, I do have a lot of opinions on getting deals and using coupons, so I spent hours trying to hack the Matrix to get an affordable rental rate. I went with Hertz because they were the cheapest. I was nervous I was going to have to go with Dollar Rental, which I'm sure is a fine company but because of the name always makes me think I'm going to get a beat-up hoopty with two actual donuts for tires. (Jokes on me, of course, because Hertz and Dollar are owned by the same company. That company is Dunkin.)
Hertz asked what kind of car I wanted. I did not have any requests beyond "low carb". I picked "mid-size sedan", a term that means absolutely nothing to me. You could show me an ice cream truck and tell me it's a mid-size sedan and I'd be like "Okay." (And in my head I'd be like "800! 588! 2300! Empire! TODAY!")
We flew into Portland, Maine and had to drive to Camden, Maine, which was like 2 hours away. (Another opinion I hold is that Maine is too long and I would like Susan Collins to explain herself.) It took, lich'rally, an hour to get our bags. The flight was only 45 minutes. I think the bags walked from Baltimore.
We finally get up to the Hertz counter after waiting in a very long line and I say "one small-size satine, please!" They don't have the reservation. I show the email confirmation. The very nice and very professional Black woman at the desk kindly informed me that I'd made a reservation at a different location. And that location is about 5 minutes drive away. And it closed 30 minutes ago while our luggage was hitchhiking up 95. Immediately I begin to spiral internally because, even though it's a simple mistake, it's an unforced error and I'm adding complication to a trip that's already going to be complicated enough. Also, I'm annoyed that Hertz has locations 5 minutes from each other. Folks, let's spread out, folks. AND I'm freaking out because every single person who is going up to the other counters trying to rent a car without a reservation is being turned away because at the beginning of the pando all rental car companies sold all their cars because apparently they thought that driving was over. Moderna is going to give us all wings. Anyway, there's a rental car shortage and I can't get the Mayor of Cars on the phone.
The very kind employee tells us she can make a new reservation for us if we're okay with taking whatever they have available. We have a two hour drive ahead of us and we are not picky. Bring out the ice cream truck. She says "It's a Rubicon." I say, "No, that's not the name of a car. The only known use of that word is in Fiona Apple's song 'Better Version of Me'. So, are you saying that you are going to rent us a better version of me??"
No, she was going to rent us the largest truck I have ever been in. This thing was comically huge. The cab was so high that we had to launch ourselves into it like Simone Biles on the uneven bars. It rode so far off the ground that I got altitude sickness. I don't know how to explain this car other than to say it is literally just Wheels and Don't Tread On Me vibes. It has a gas mileage of 45 feet per gallon. It came with its own oil rig. For some reason it also has a truck bed in the back which concerned me psychically. This was not a rental car, this was a Transformer and I just didn't want to anger it.
We didn't have another choice, so we paid for it, and she gave us the keys to the Jeep, beep beep.
I do not think becoming a Jeep person is in my future, no offense. It felt like driving a space ship and it gave far too much personal information about what was going on with the tires and the gears for my liking. And there was a button which allowed you to "disconnect" something called a "sway bar", which feels like it's against God's plan.
So, I regret to inform Missy Elliott that I will not be able to add much more to the Jeep discourse. But I did make David take this photo of me, which I'm going to use as my headshot when I pivot to being a motivational wellness coach with questionable morals and conspiracy podcast. So, that's something!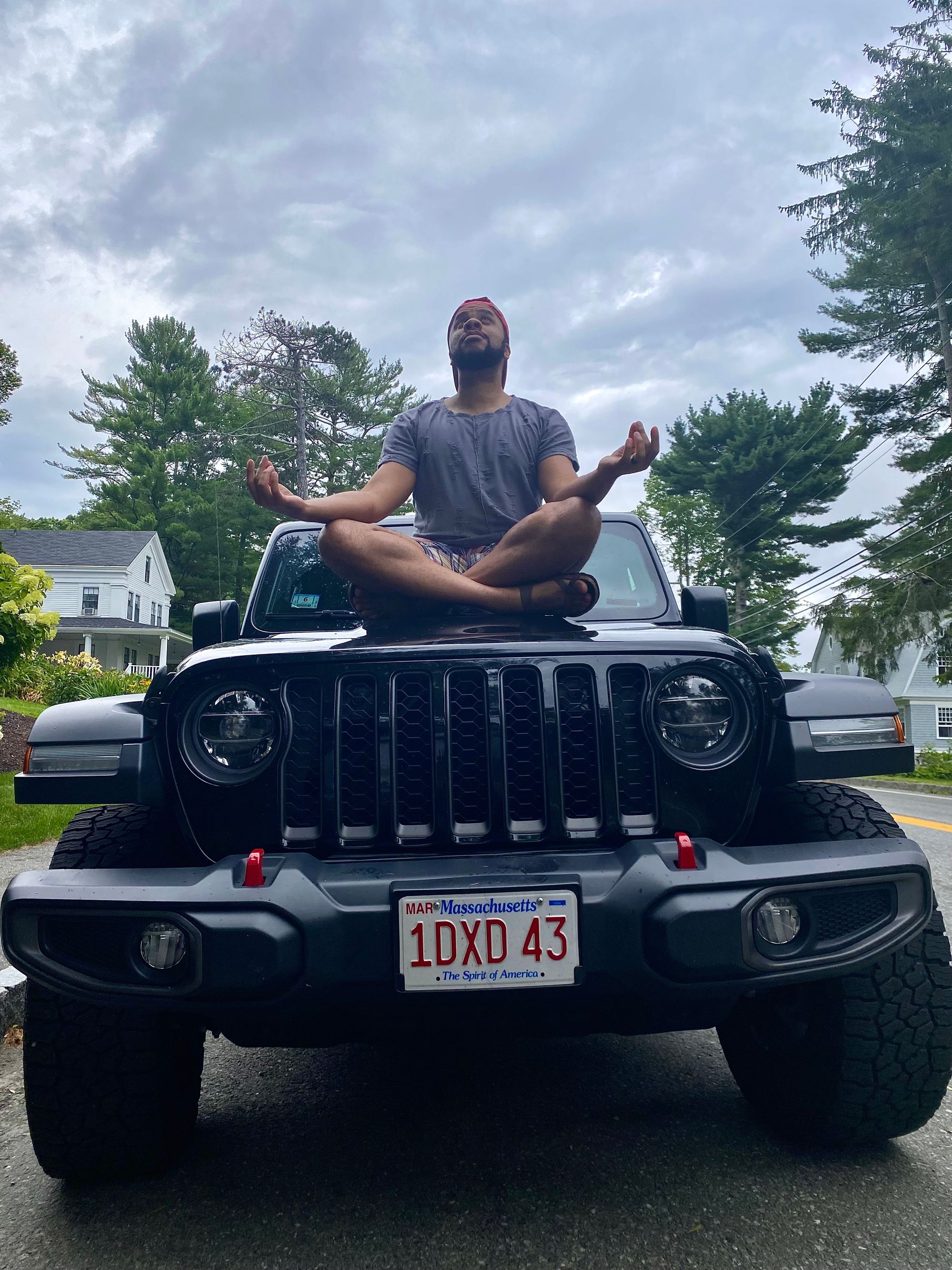 ---
Let's Hang Out!
This is the last week of the DC run of Time Is On Our Side! The reviews have been astounding! I'm so proud of this production. Here's a great write up from the Washington City Paper!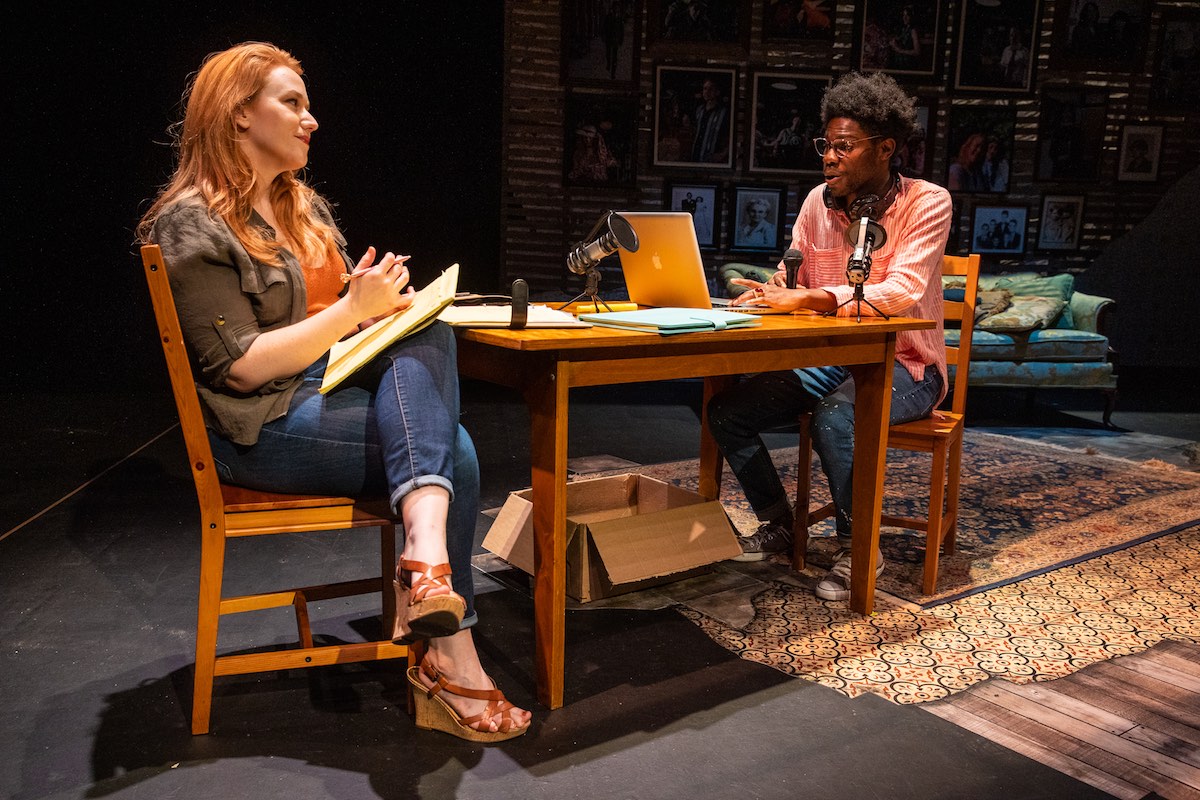 In other play news, for Theatre Exile I wrote a one-hour play for all ages about South Philly neighborhoods and the magic of storytelling, which will be performed outdoors starting September 11th. It's free and fun for kids, families, adults, Jeeps, and dinosaurs!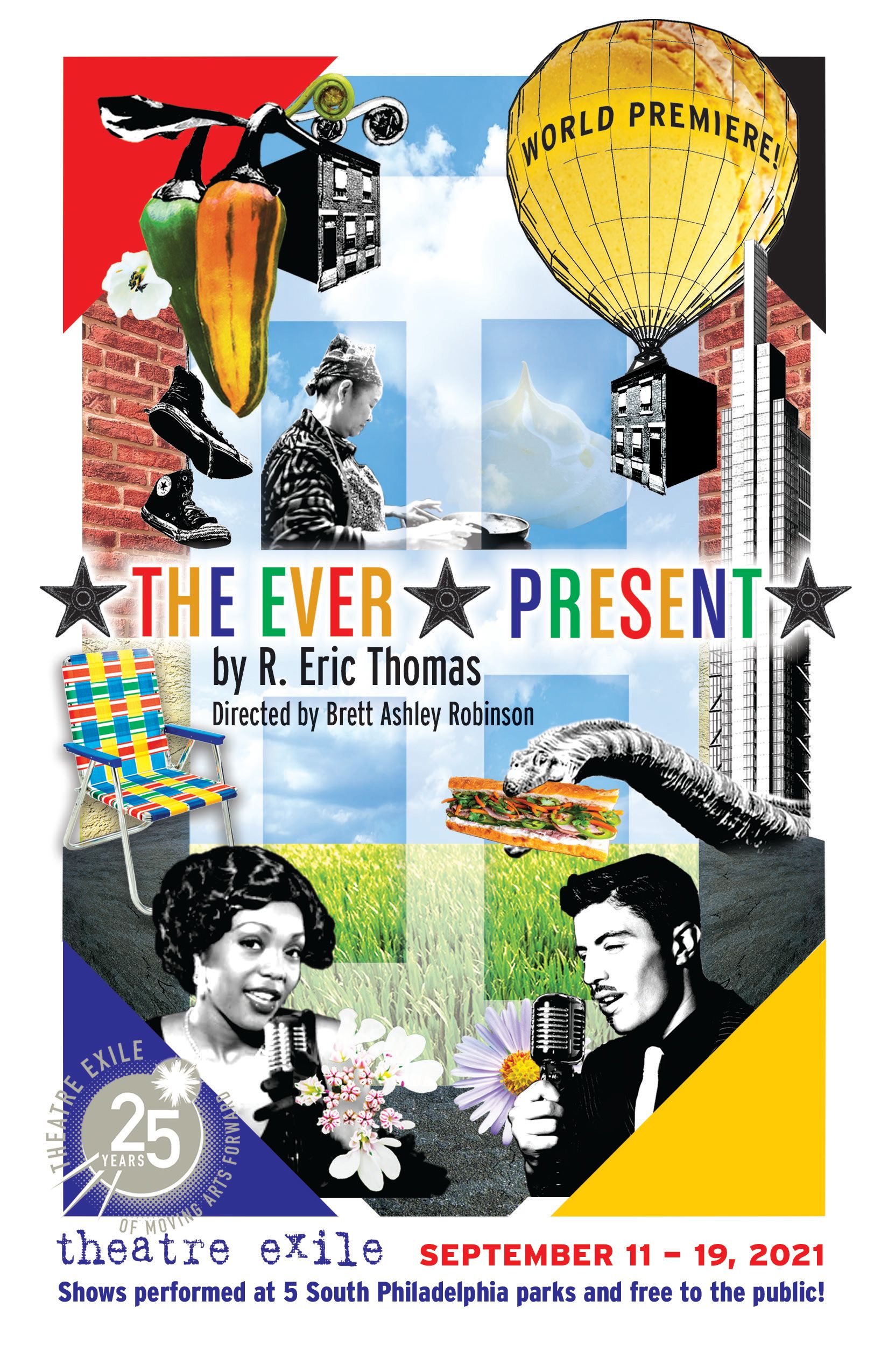 ---
We've got more church fans in celebration of the release Here For It, or How  to Save Your Soul in America in paperback on September 7th! From now until September 6, Ballantine is running a sweepstakes to get one for free, all you have to do to enter is preorder the paperback (from a local bookseller, Bookshop.org, or anywhere you like to buy books) and submit your receipt at this link!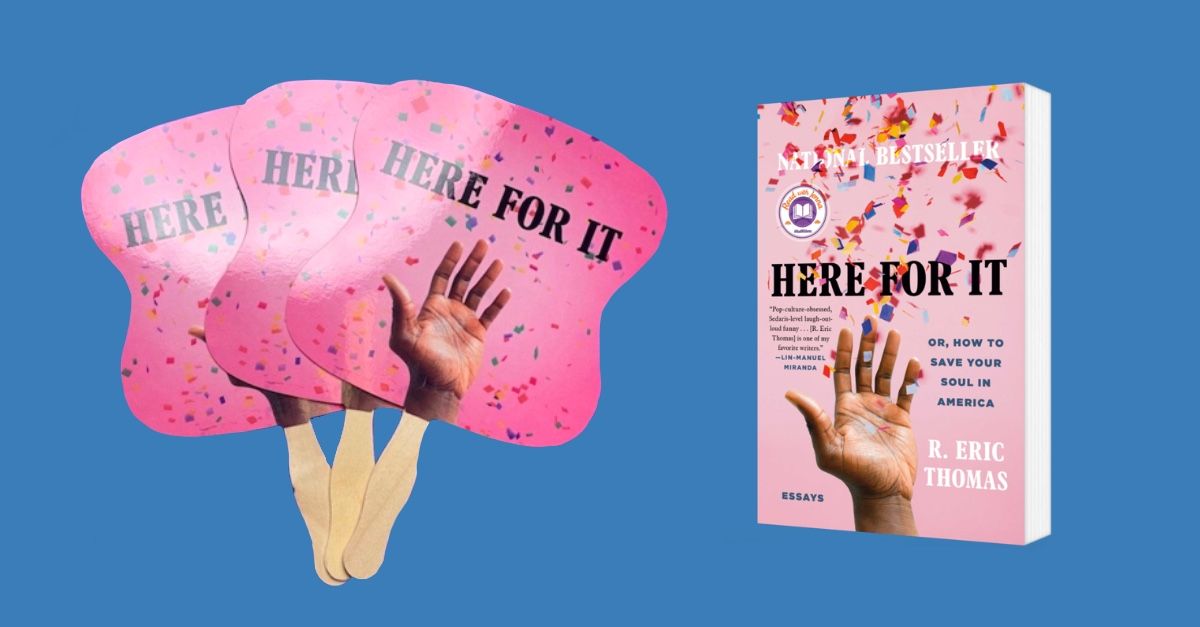 ---
Random Thing on the Internet
Here is a video David found of someone named Jeep Momma explaining how to use your Sway Bar on your Rubicon. In case you need to know.
I can't get the Mayor of Cars on the phone,
Eric