Swimming: Here for It, #240
Hi! It's R. Eric Thomas. From the internet?
Hi!
This year the Olympics changed the name of my favorite sport from synchronized swimming to artistic swimming which feels like a real missed opportunity to rename it ARE YOU KIDDING ME RIGHT NOW?! I don't know why they changed the name and I've done absolutely no research on it, which is part of my artistic process. Or is it my synchronized process? Unclear. All I know is that what I do with my little typing and tweeting and whatnot can sometimes be called artistic but never does my workday agenda include activities like "Defy gravity" and "performing a Broadway chorus number under water". (You would think that my daily life would actually include the latter, but alas although I am constantly puttering around the house performing the entirety of Little Shop of Horrors it is all very much off-off-Off-Broadway. Non-equity!)
I would like to file a complaint with the President of Discourse because I believe we as a society do not spend enough time talking about how impressive artistic swimmers are. I was in a pool this weekend and the idea popped into my head that I should do a high-kick (was I doing an aquatic rendition of the opening number from Shuffle Along? MAYBE SO.) Sweet angels, I could not get my leg out of the water! Gravity said "YOU THOUGHT!" (Can I do a high kick in regular air? No, I cannot. But I don't let myself be limited by the tyranny of reality.) Meanwhile, these athlete artists are kicking, spinning, flipping, and jumping in and out of the water. IN SYNC WITH EACH OTHER. Folks. Folks. This is not possible. I think about this so much and I really don't know how artistic swimming works. I have tried to formulate sophisticated questions about the process and then I look at photos like this and all my questions boil down to "Wow, how?"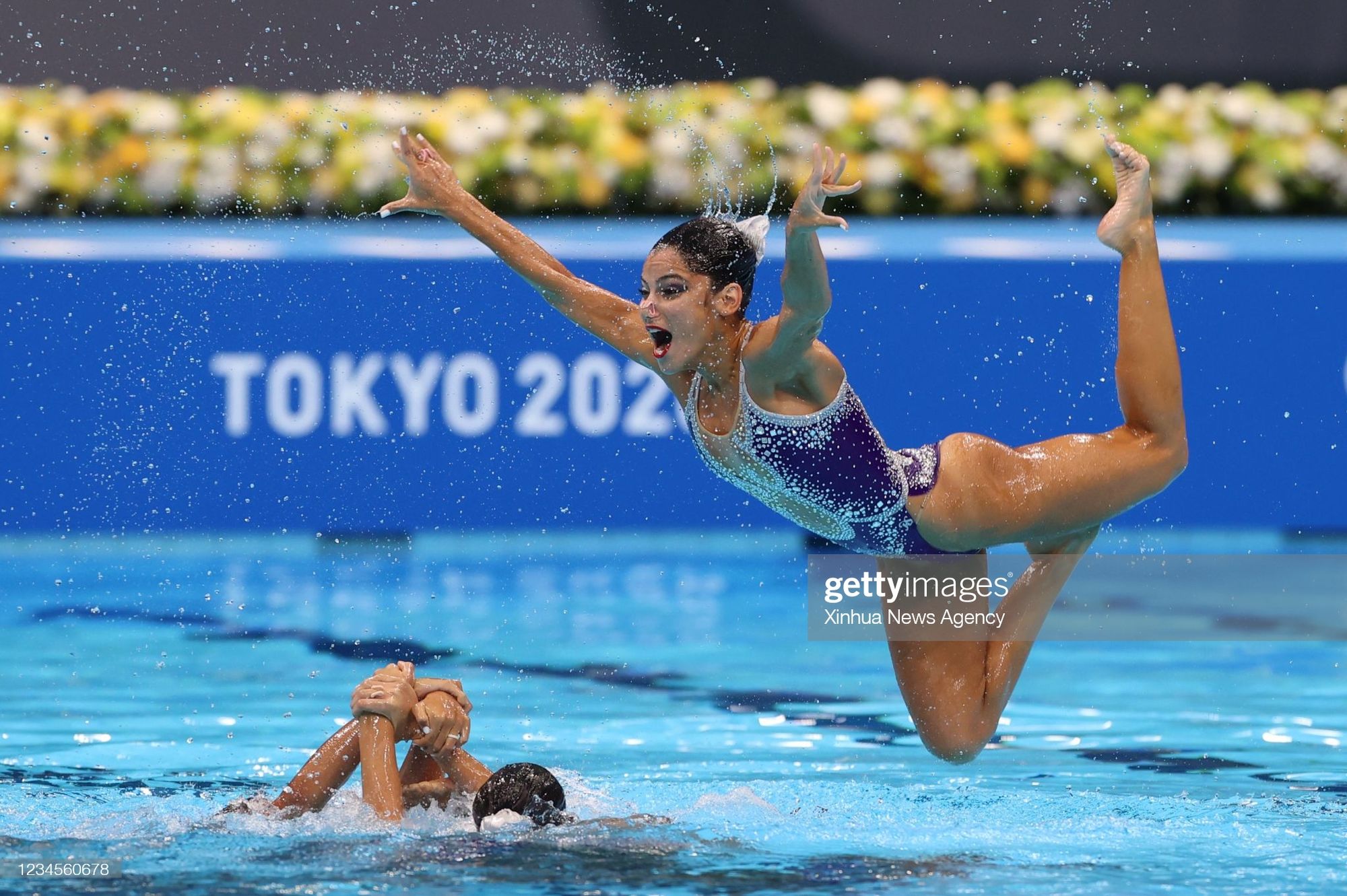 I will never understand but I will defend Artistic Swimming with my life!
One of my favorite things about Artistic Swimming is that watching it always feels like I'm interrupting something important. I'm like "Oh, excuse me, I'm so sorry. I didn't mean to walk in on a zombie outbreak at an adult ballet class. Please pardon!"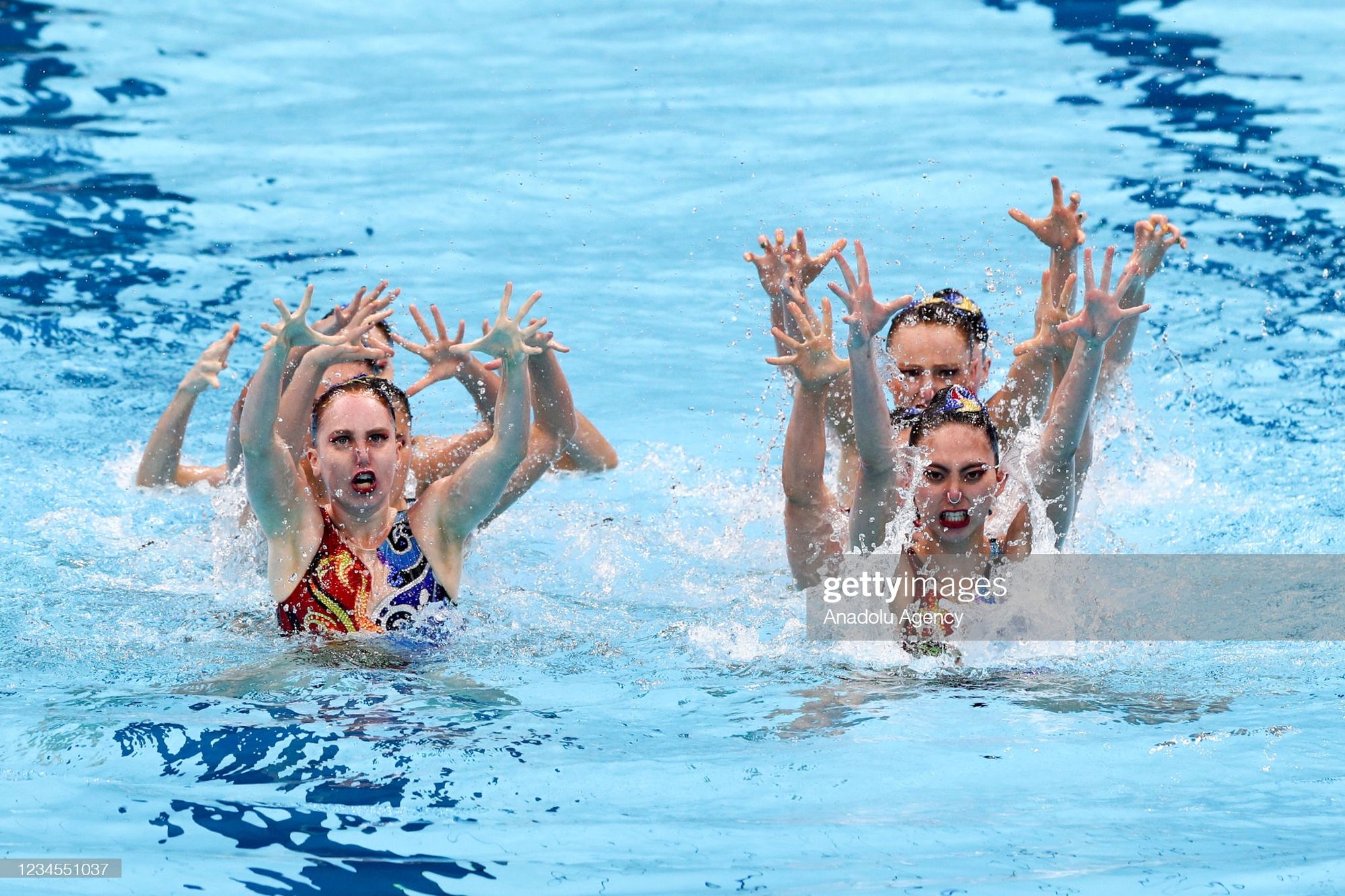 "They were rehearsing for a production of Swan Lake at the rec center but then Cindy started biting people and next thing you know we had a crisis."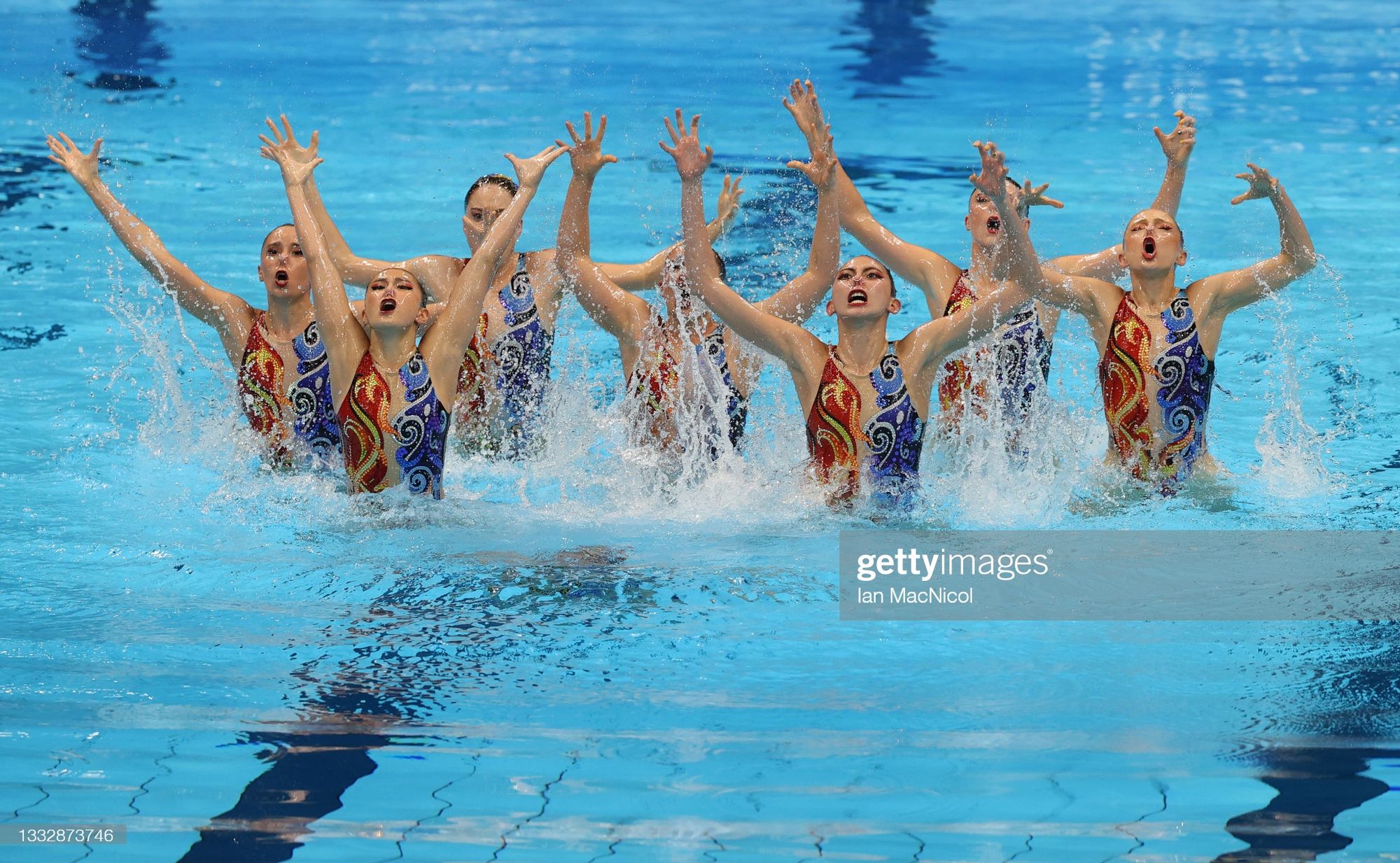 "Obviously we had to refund all of the tickets although a large number of people said they were still interested in seeing the show with, quote, all the rampaging and zombie stuff."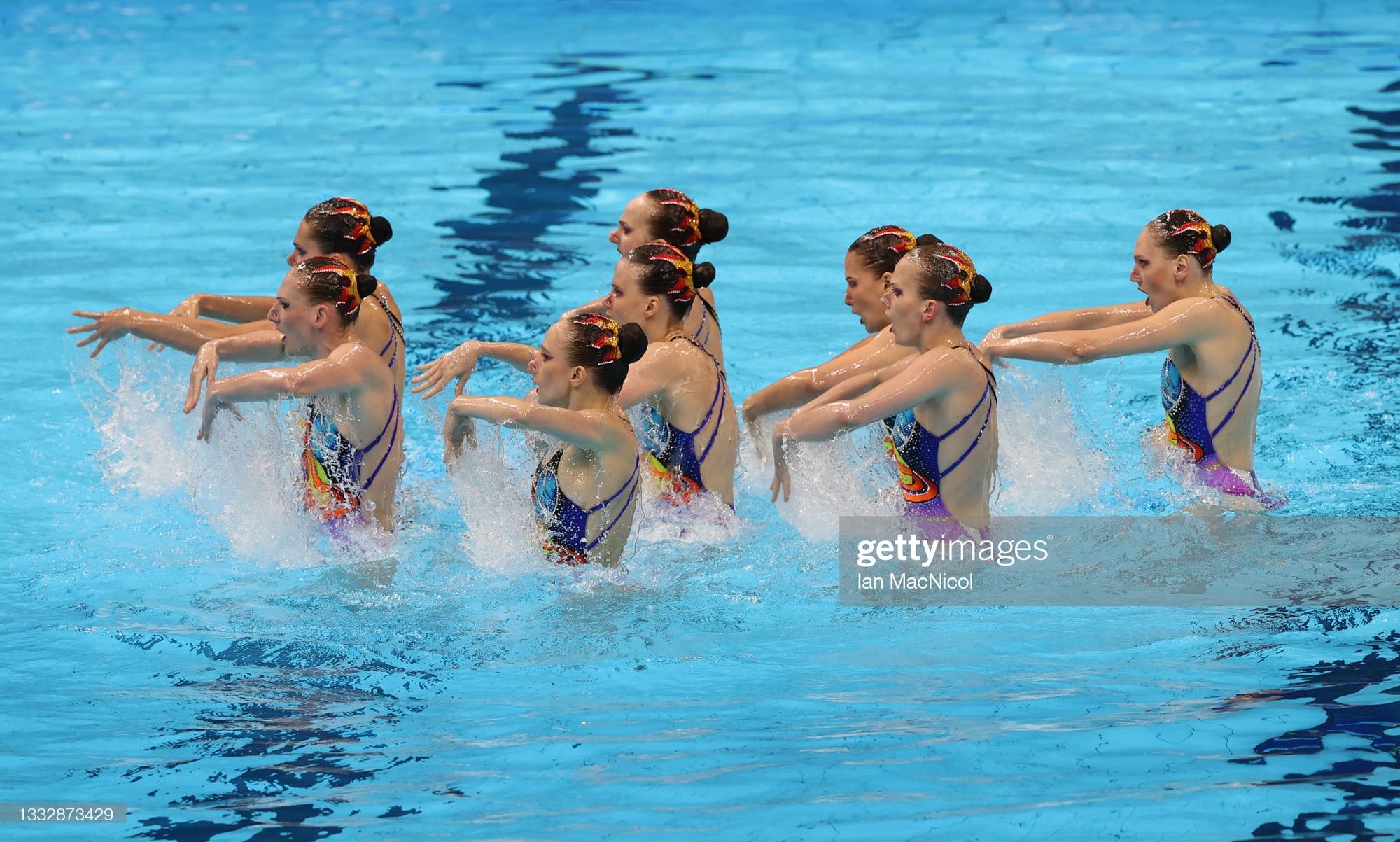 "In a review published in a local church newsletter, self-appointed arts critic Cyril Catalina wrote 'While the performance definitely lacks most of the technical precision that ballet requires and has no narrative coherence whatsoever, the fact that it is being performed by a cast that is 90 percent zombies adds a certain urgency and immediacy to the classic material."
I guess my question is: what's going on with the 10 percent of the Swan Lake cast that is not zombies?
Every photo of an Artistic Swimming routine is a masterpiece. I honestly don't know why every room in my house isn't covered with photos of highly skilled swimmers absolutely freaking out.
I call this one I STEPPED ON A LEGO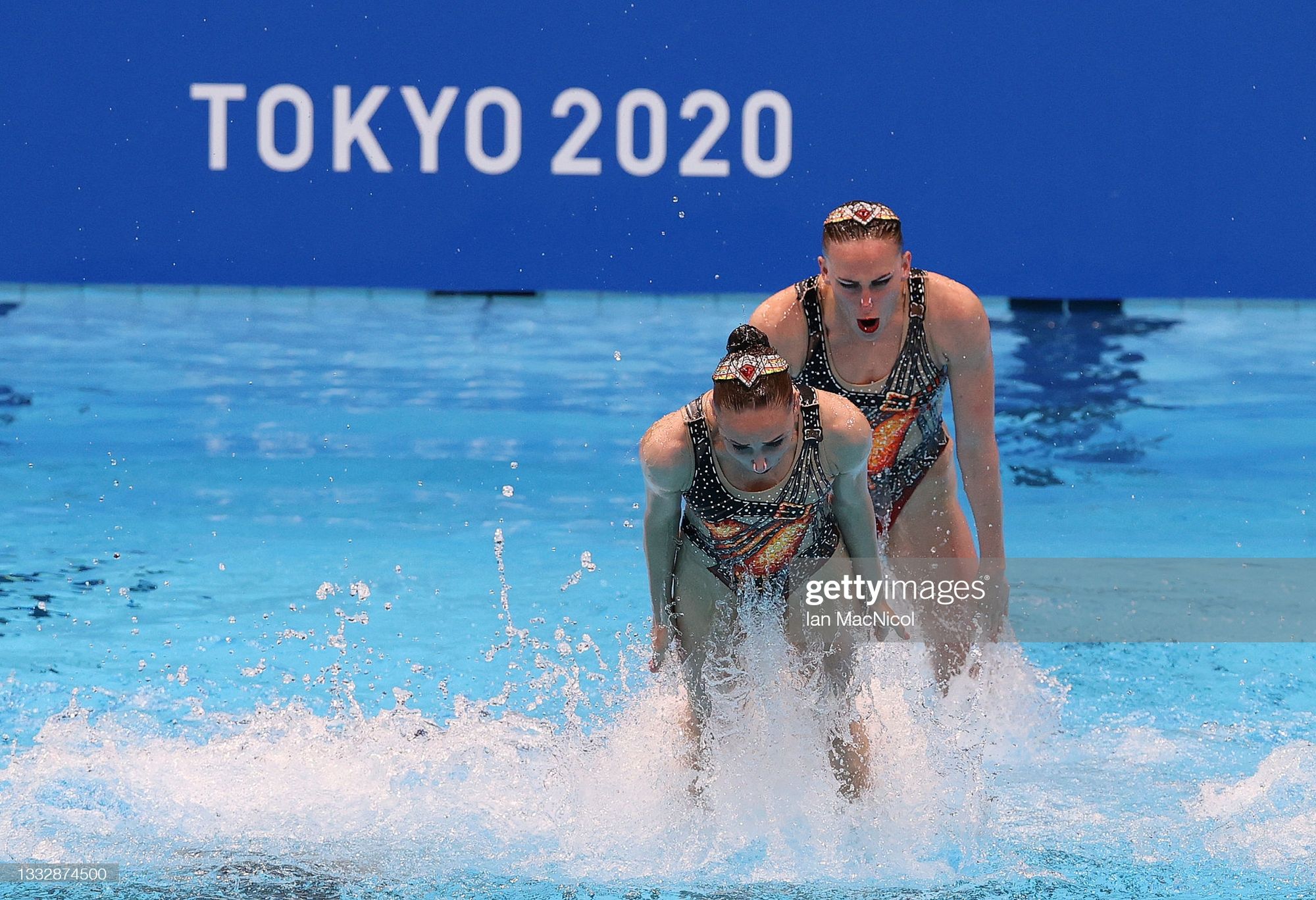 ---
This one is TRYING TO LOOK CLASSY WHILST PICKING UP A VERY COMPLICATED APPETIZER FROM A BUFFET SERVER'S TRAY IN THE MIDDLE OF A GALA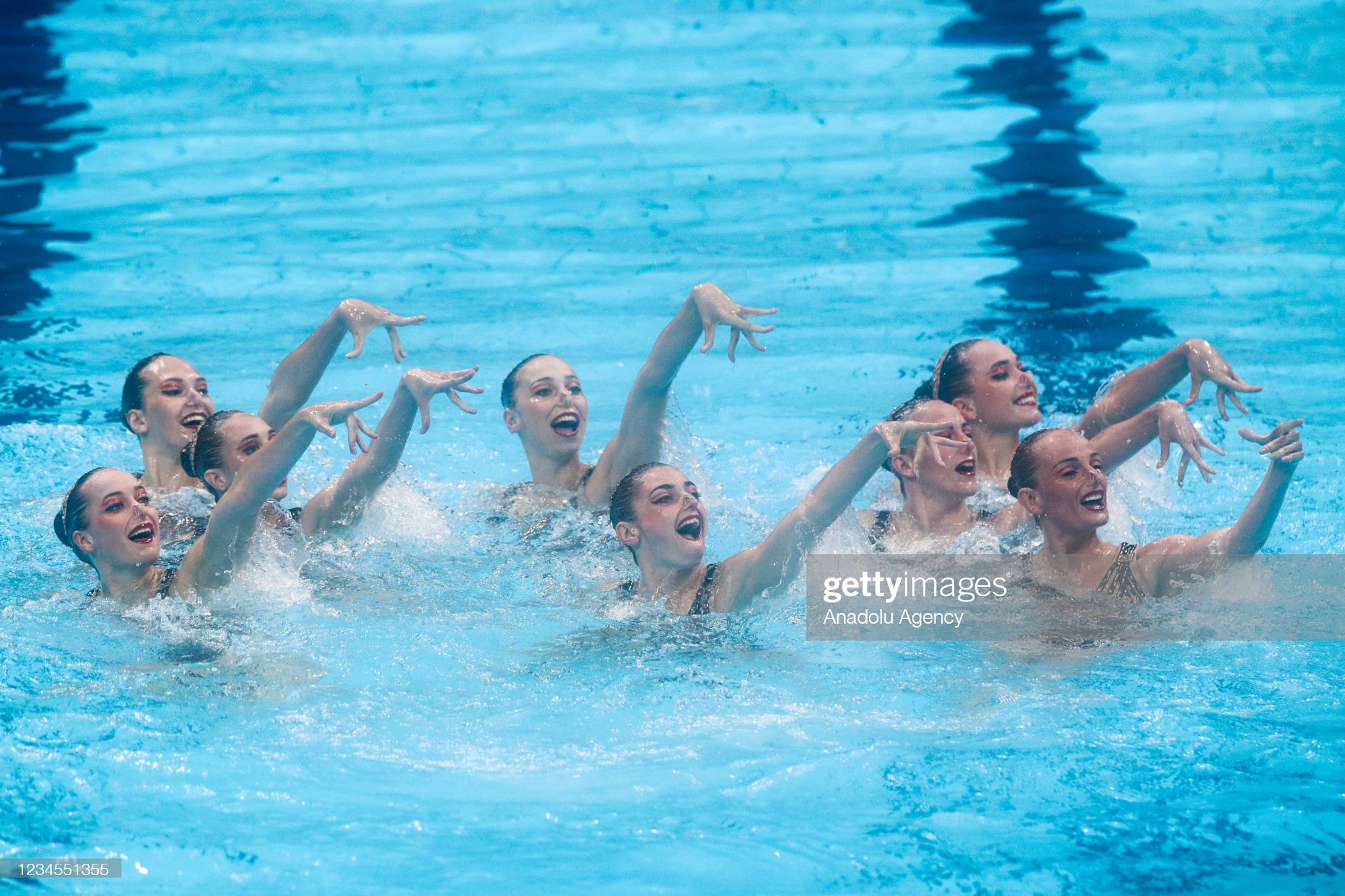 ---
Ah, a classic: BEING INCONSPICUOUS AS YOU WALK THROUGH THE BACKGROUND OF YOUR SPOUSE'S ZOOM CALL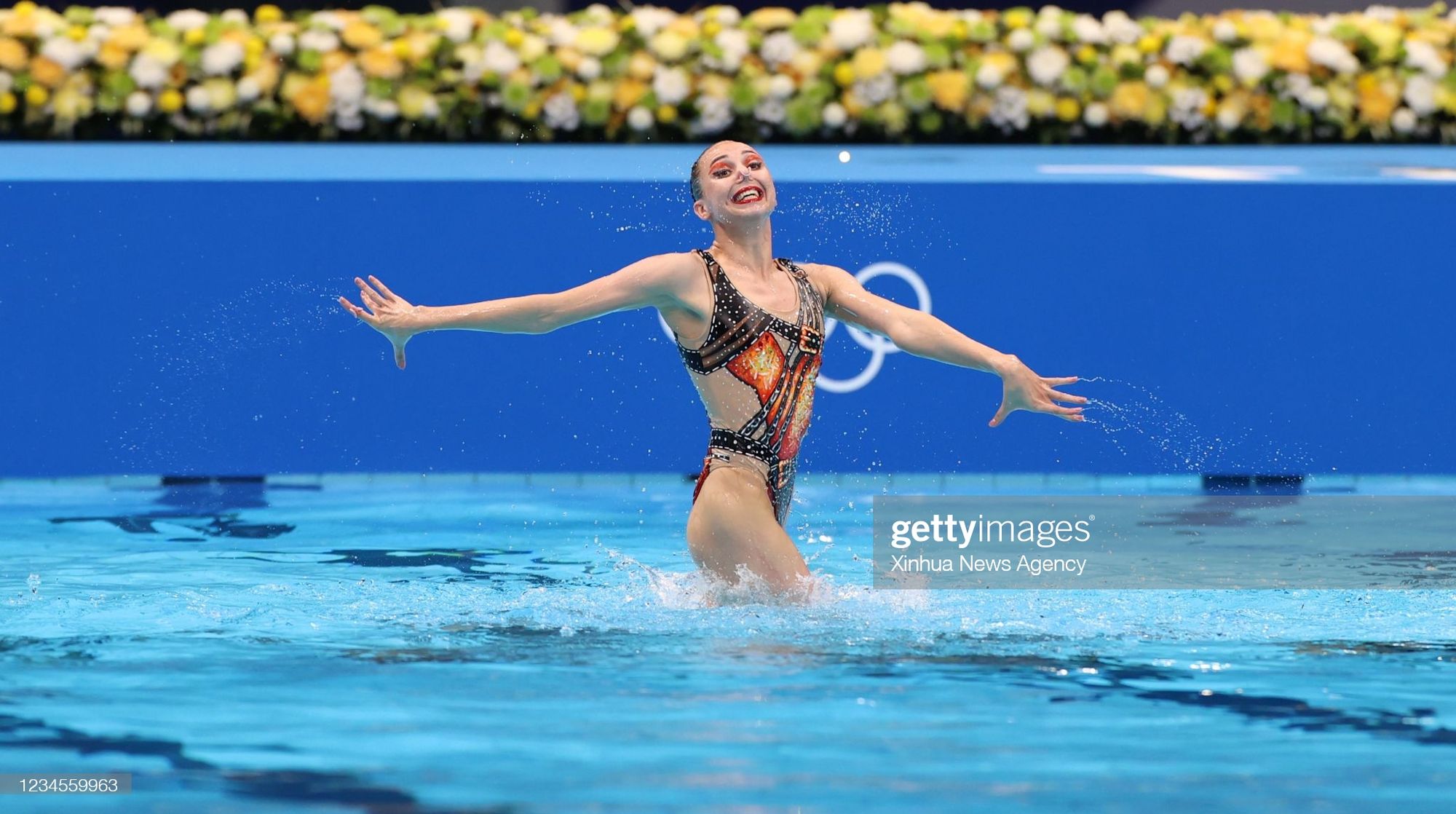 ---
JENNIFER LOVE HEWITT IN "I KNOW WHAT YOU DID LAST SUMMER"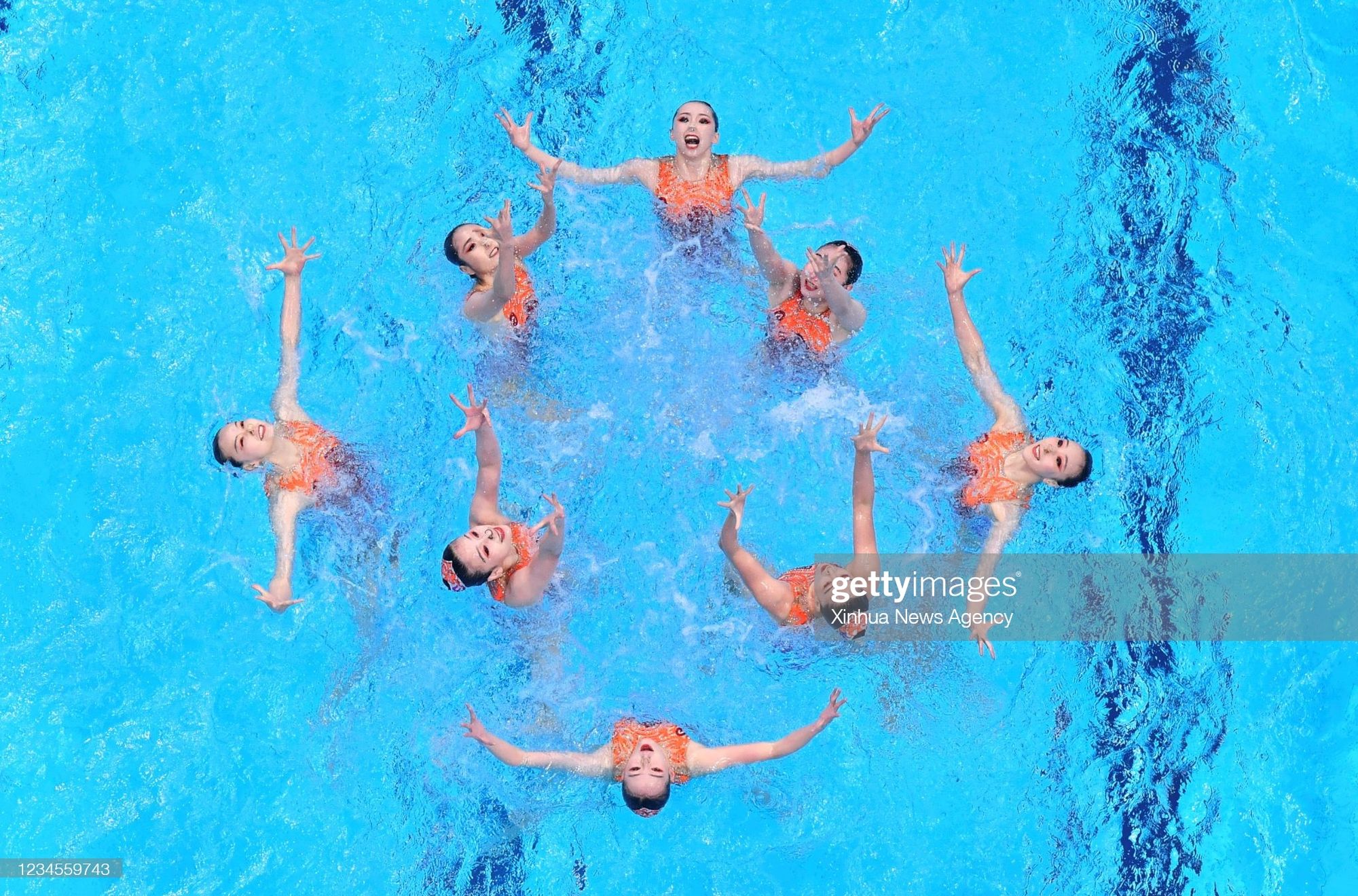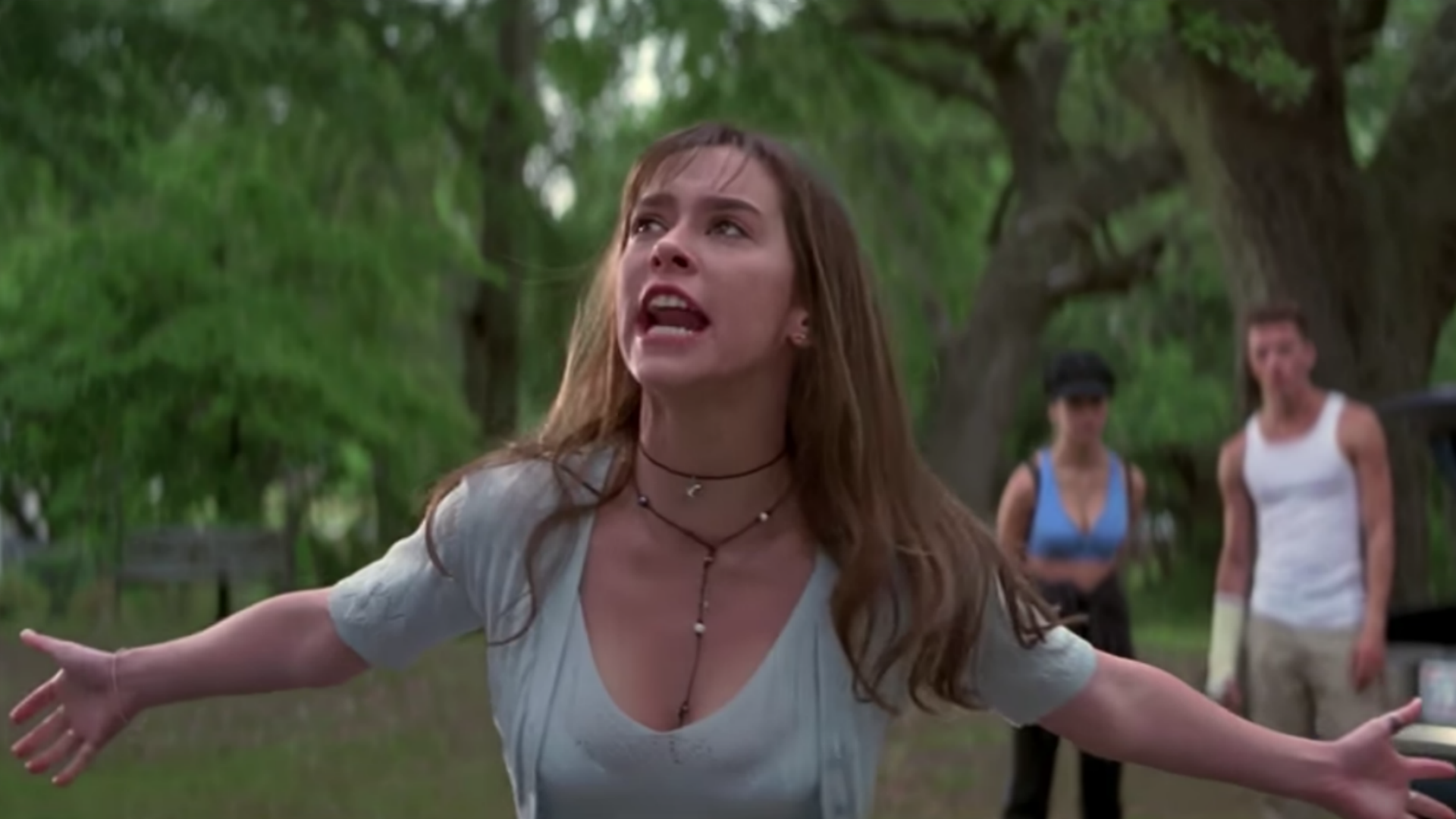 ---
NICOLE KIDMAN LEAVING THE LAWYER'S OFFICE AFTER HER DIVORCE FROM TOM CRUISE WAS FINALIZED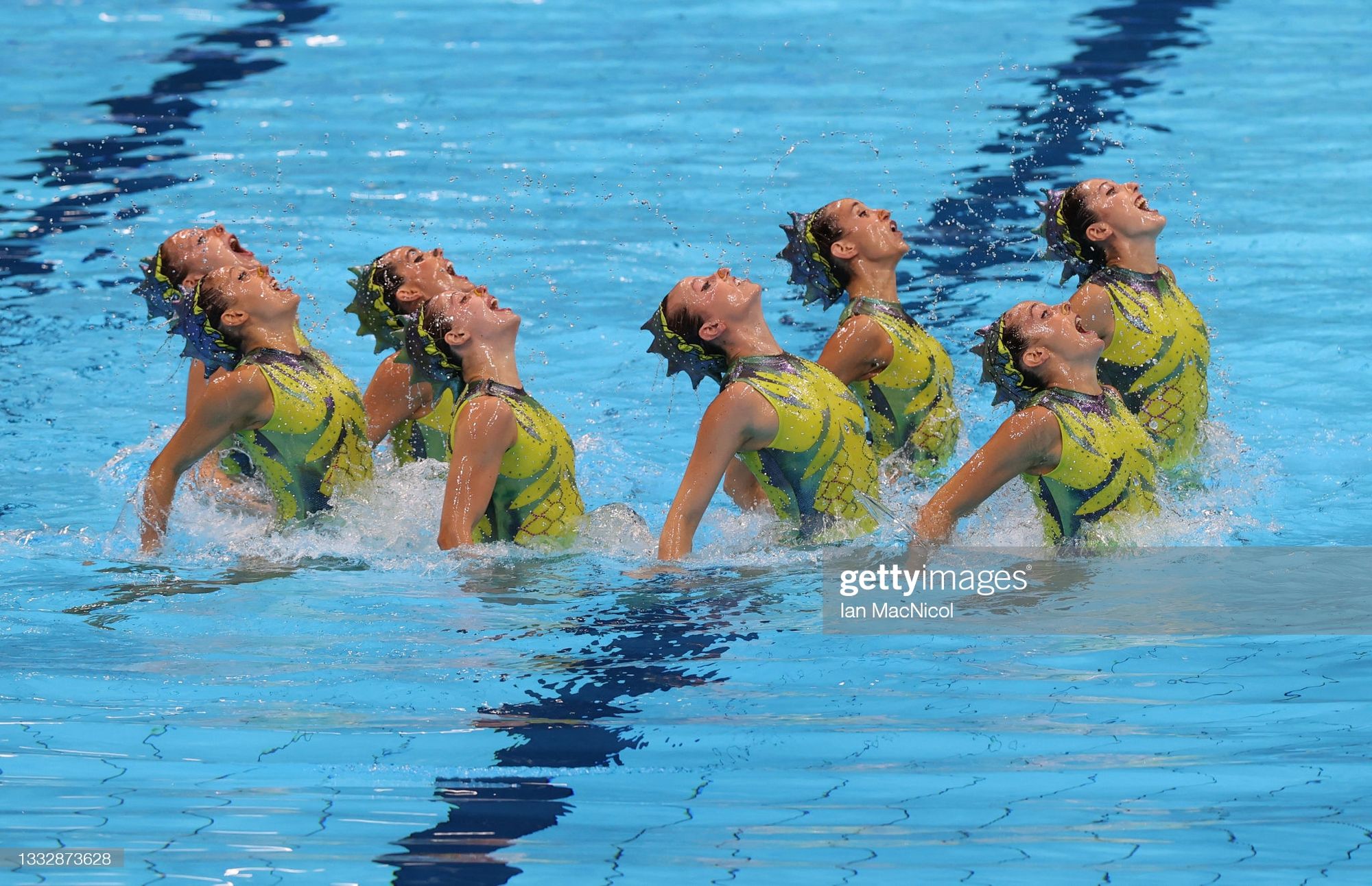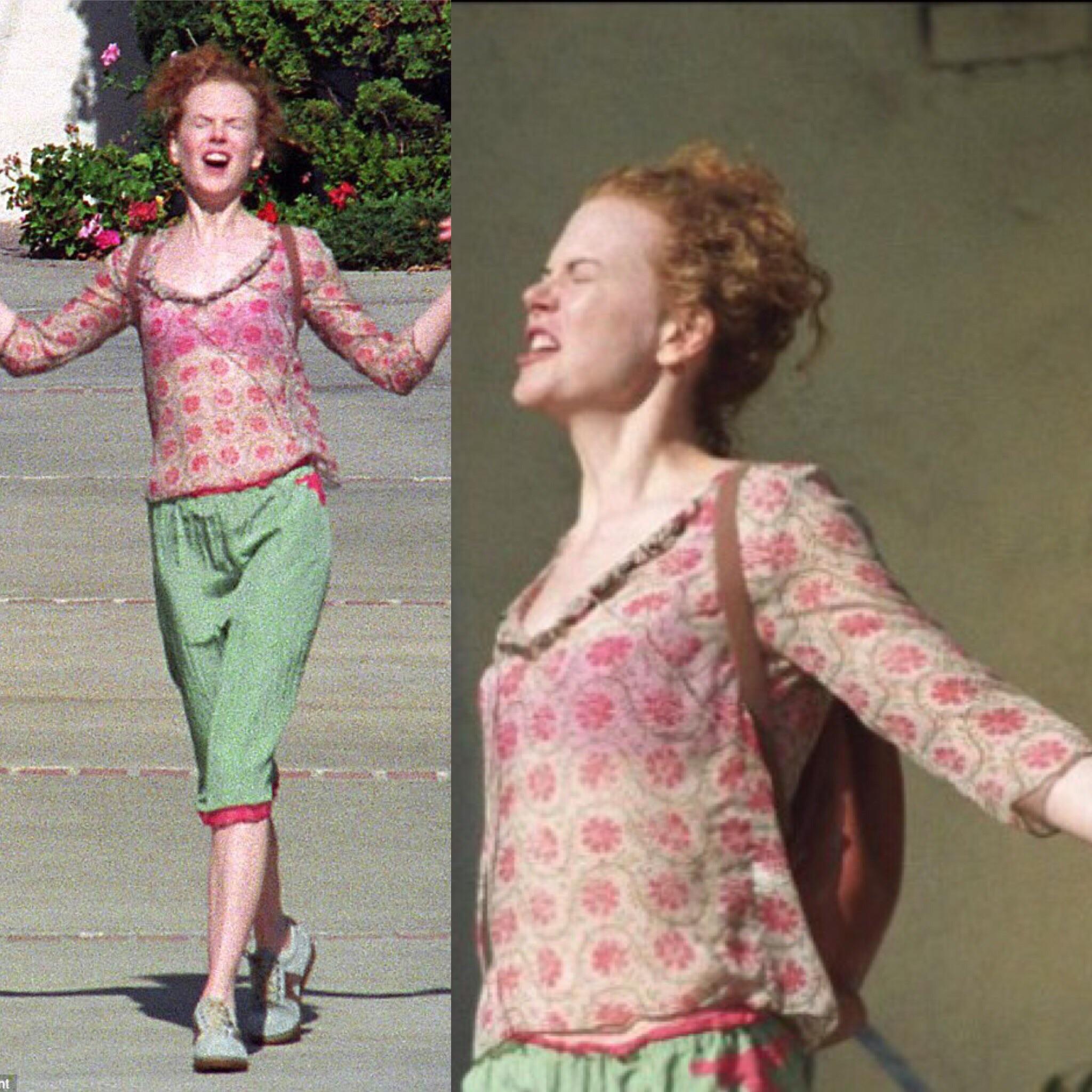 ---
WEST SIDE STORY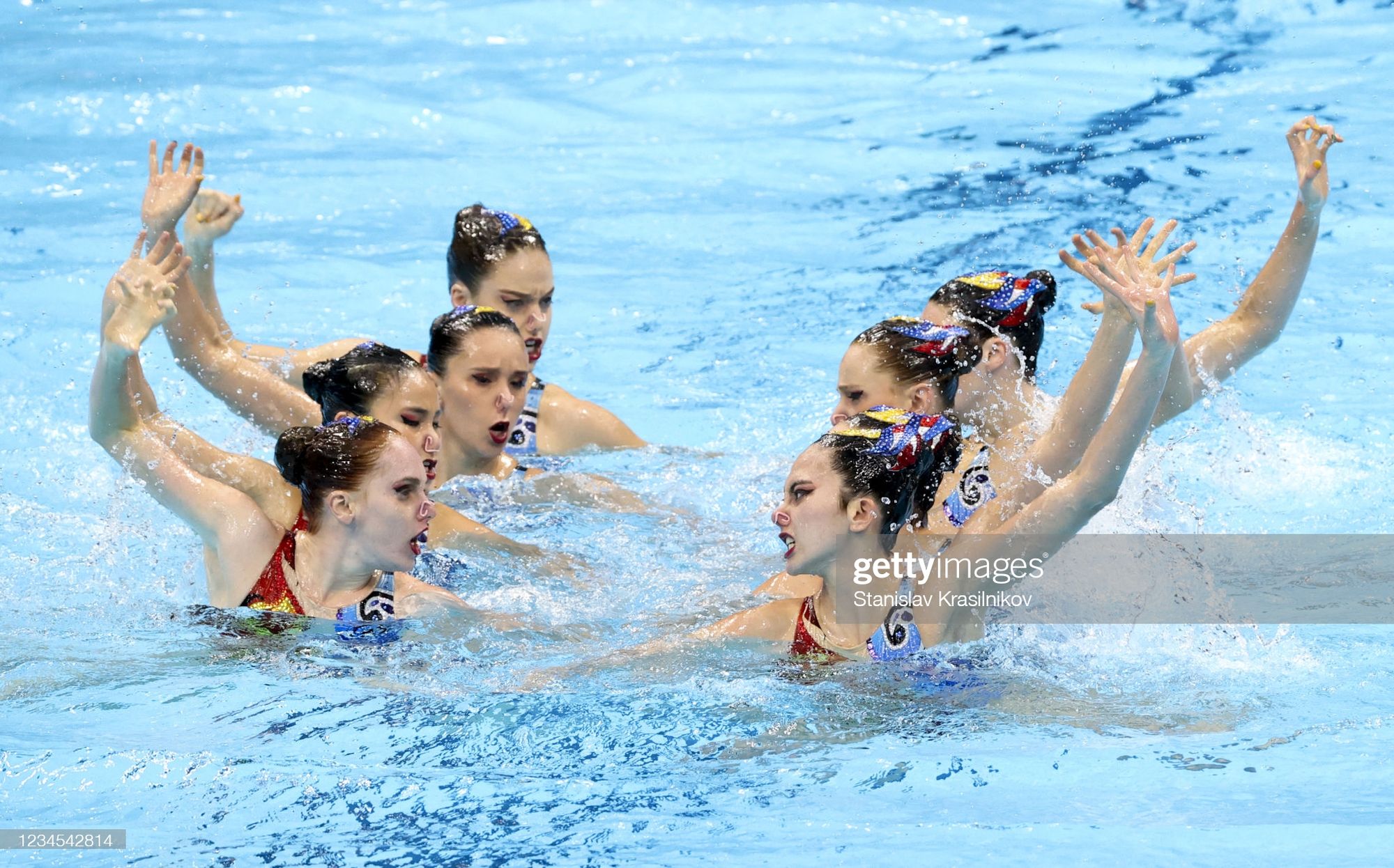 ---
WHEN YOU START A NEW JOB AND YOU HAVE TO INTRODUCE YOURSELF IN A MEETING AND YOU TRY TO REMEMBER HOW TO SOUND LIKE A PROFESSIONAL ADULT PERSON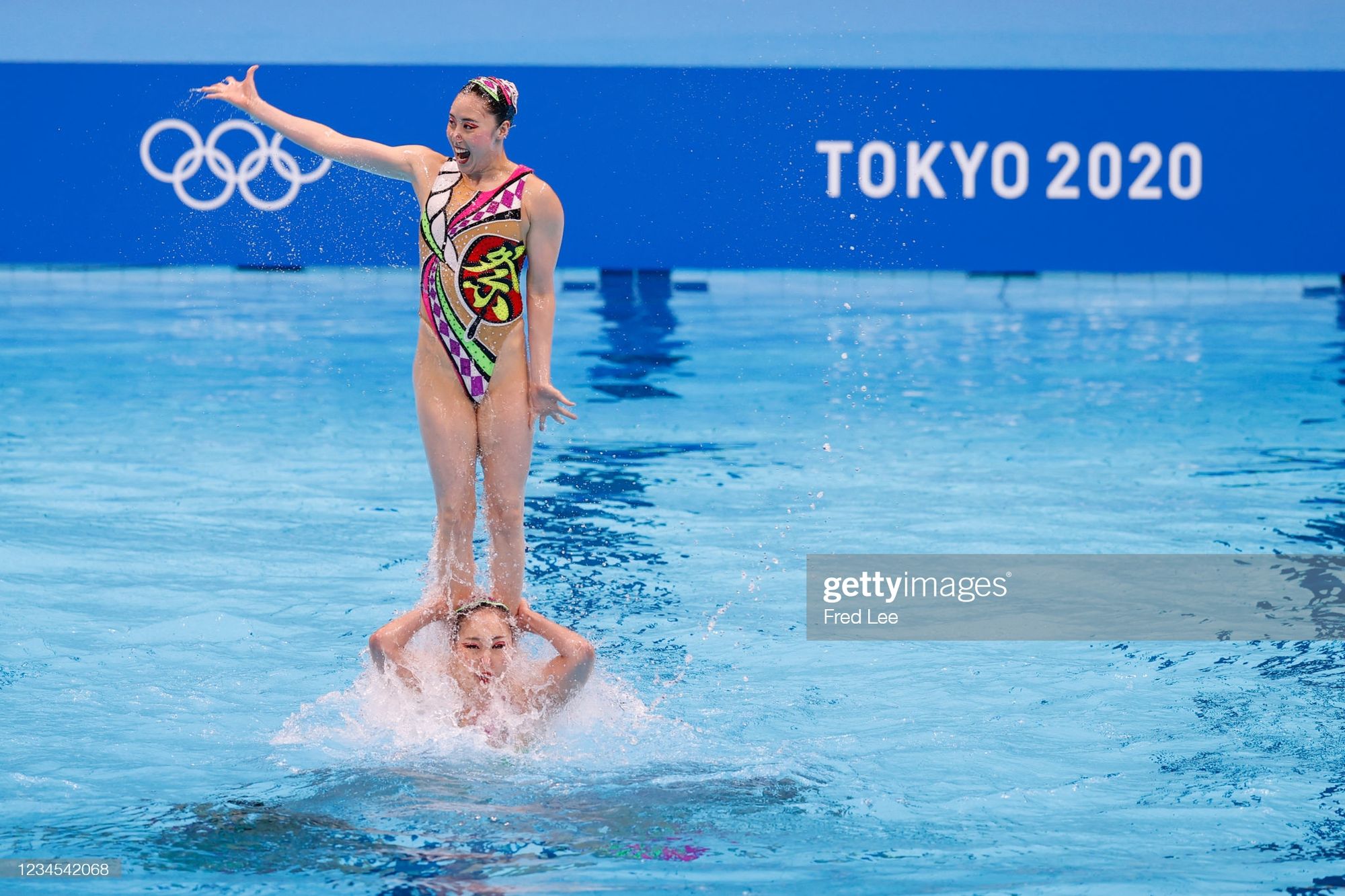 ---
WHEN YOU'RE A COOL TEACHER IN A MOVIE AND TWO KIDS ARE ARGUING AND YOU GO "WOAH, TIME OUT."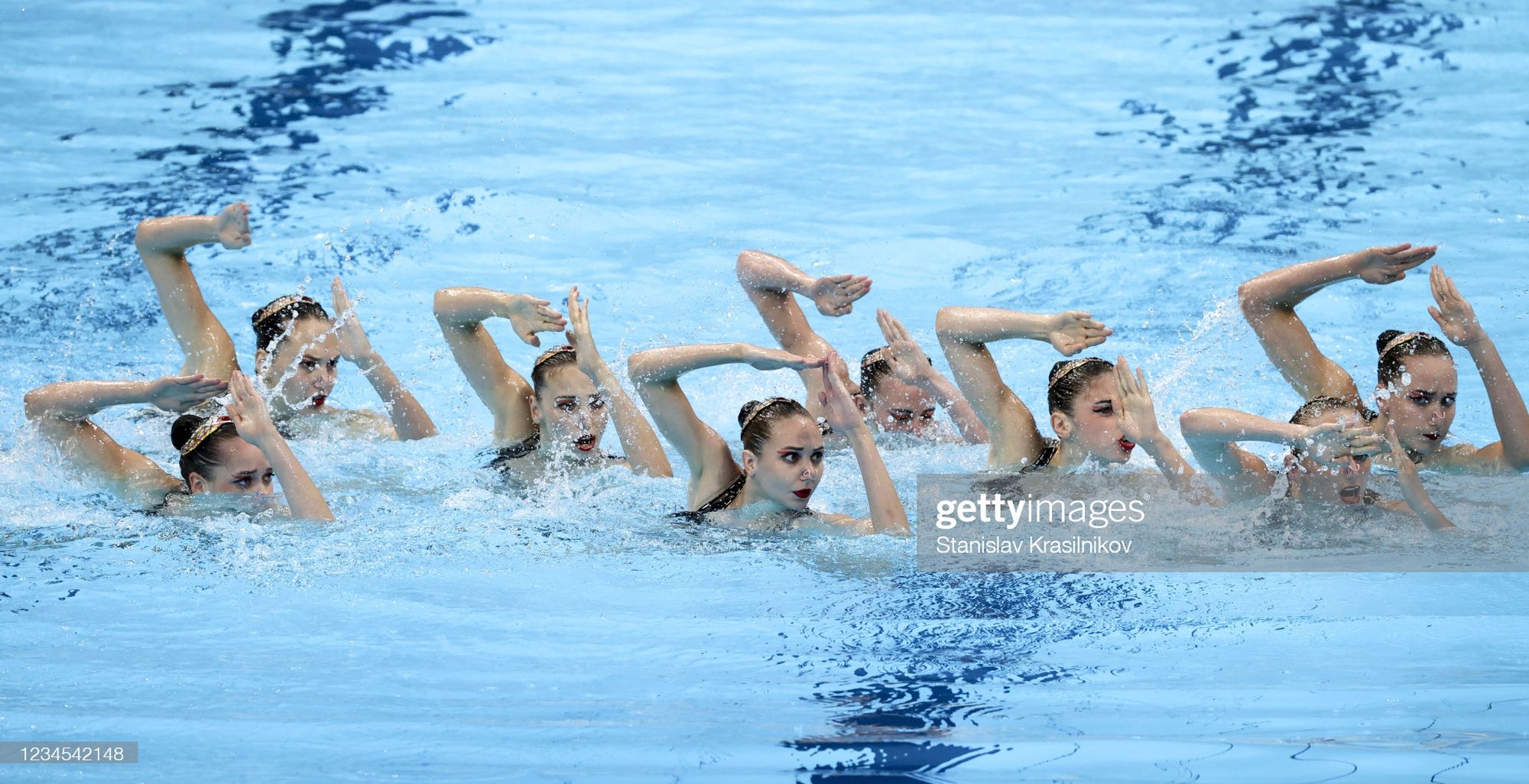 ---
WATCHING SOMETHING FALL ACROSS THE ROOM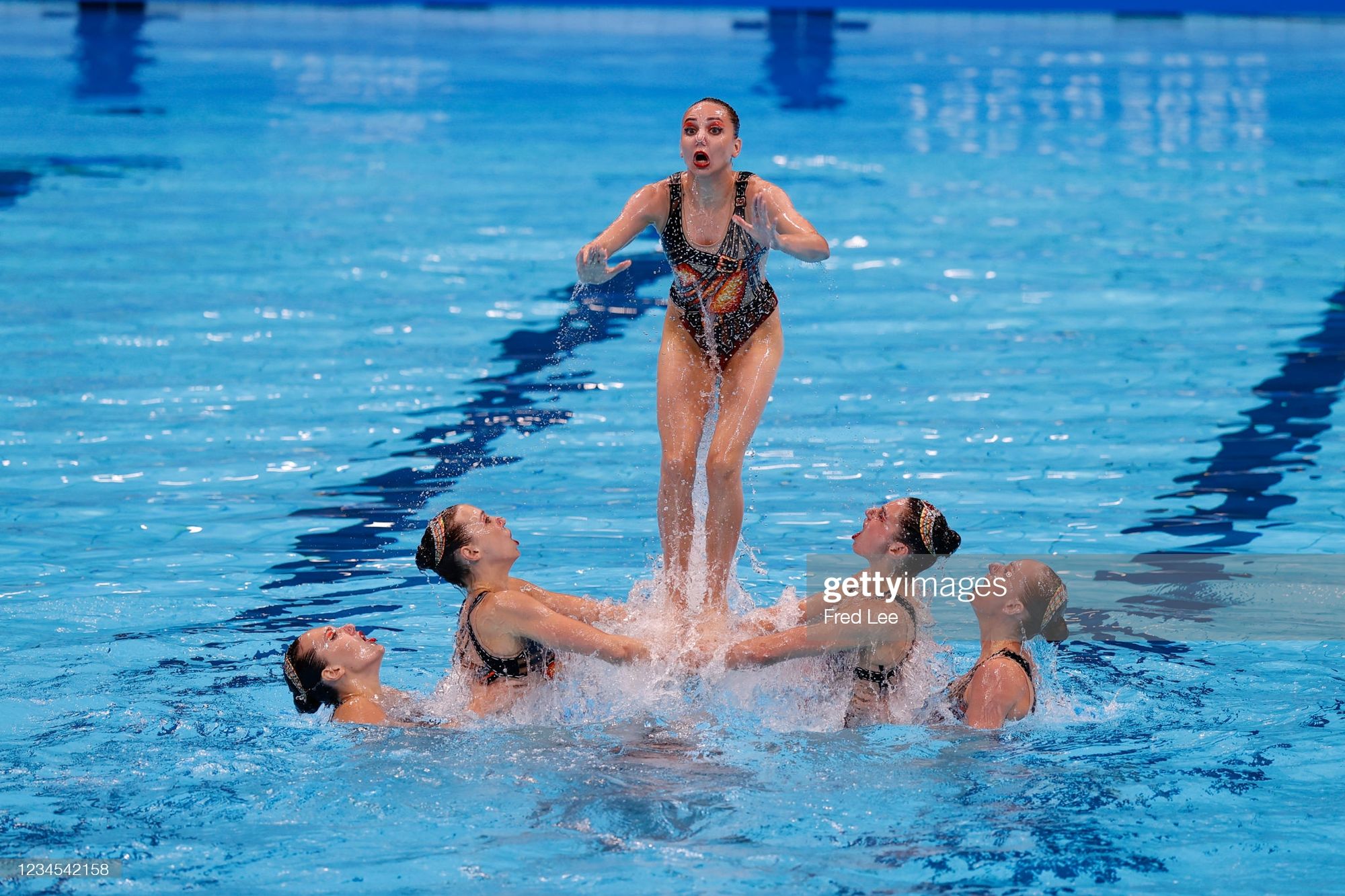 ---
BEYONCÉ FALLING INTO THE BED IN THE "ROCKET" MUSIC VIDEO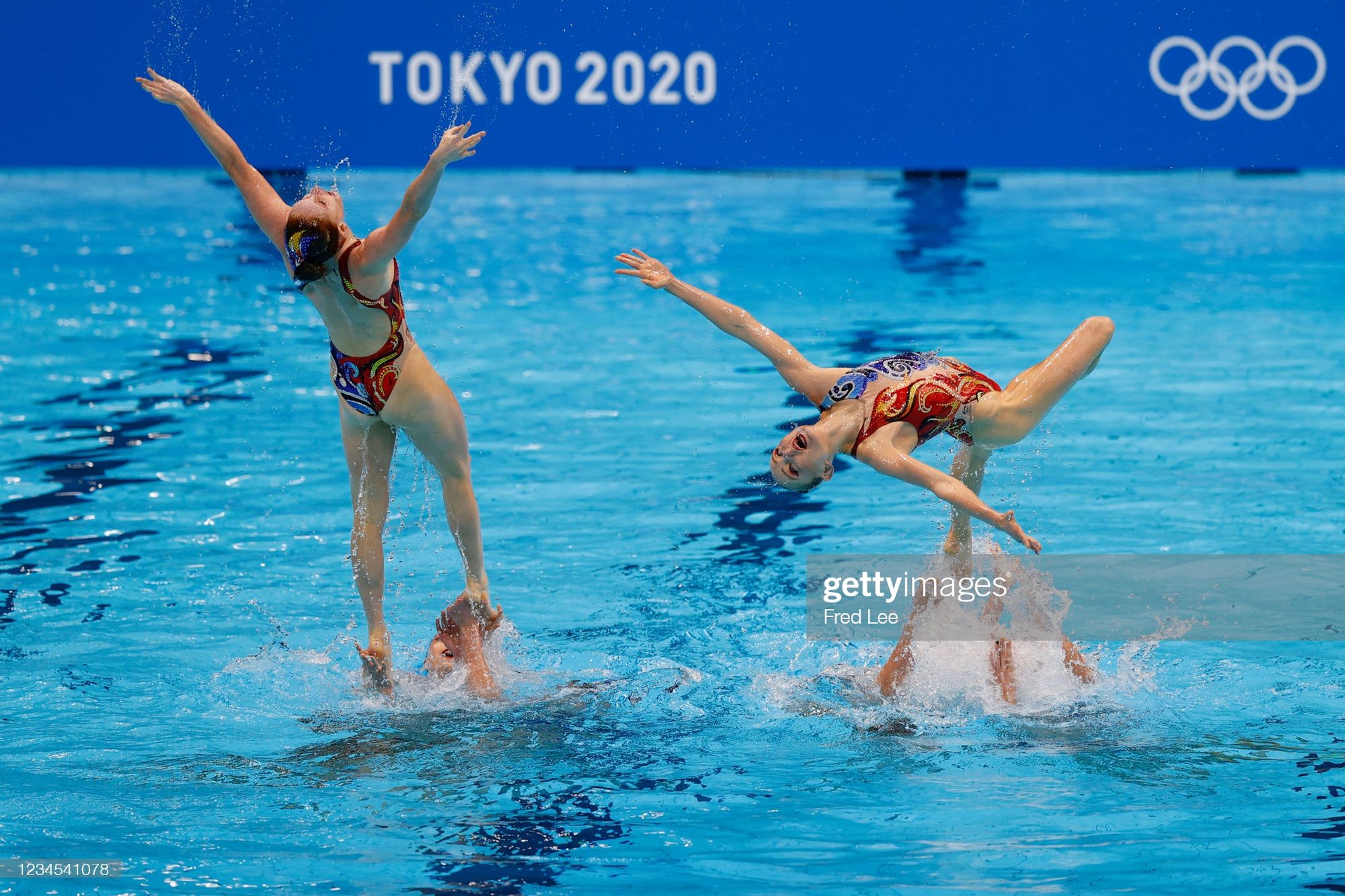 ---
WAITING FOR YOUR RIDE HOME ON HALLOWEEN NIGHT WHEN IT'S 20 DEGREES OUT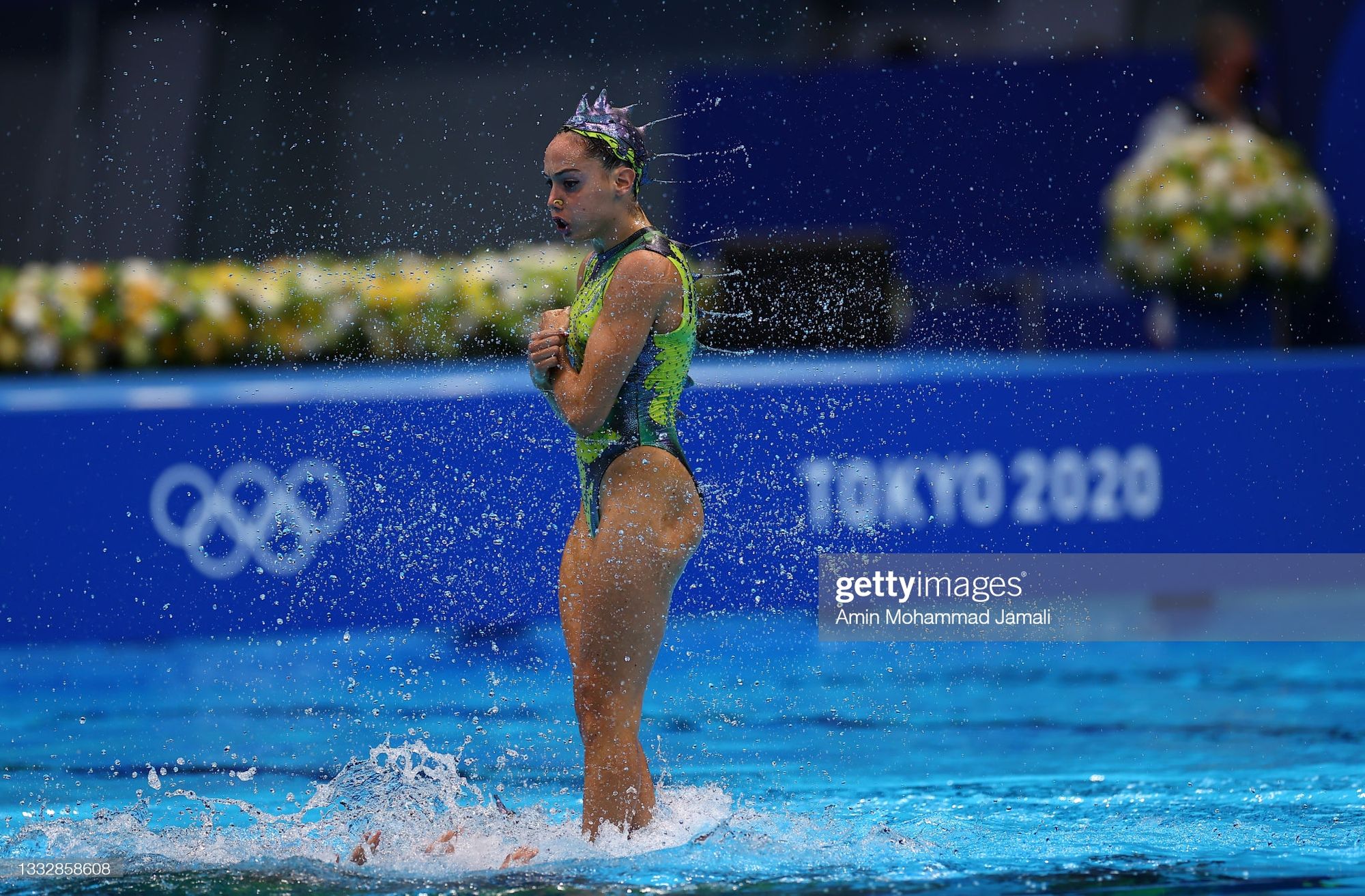 ---
AT BRUNCH THE NEXT DAY TELLING EVERYONE ABOUT YOUR HALLOWEEN NIGHT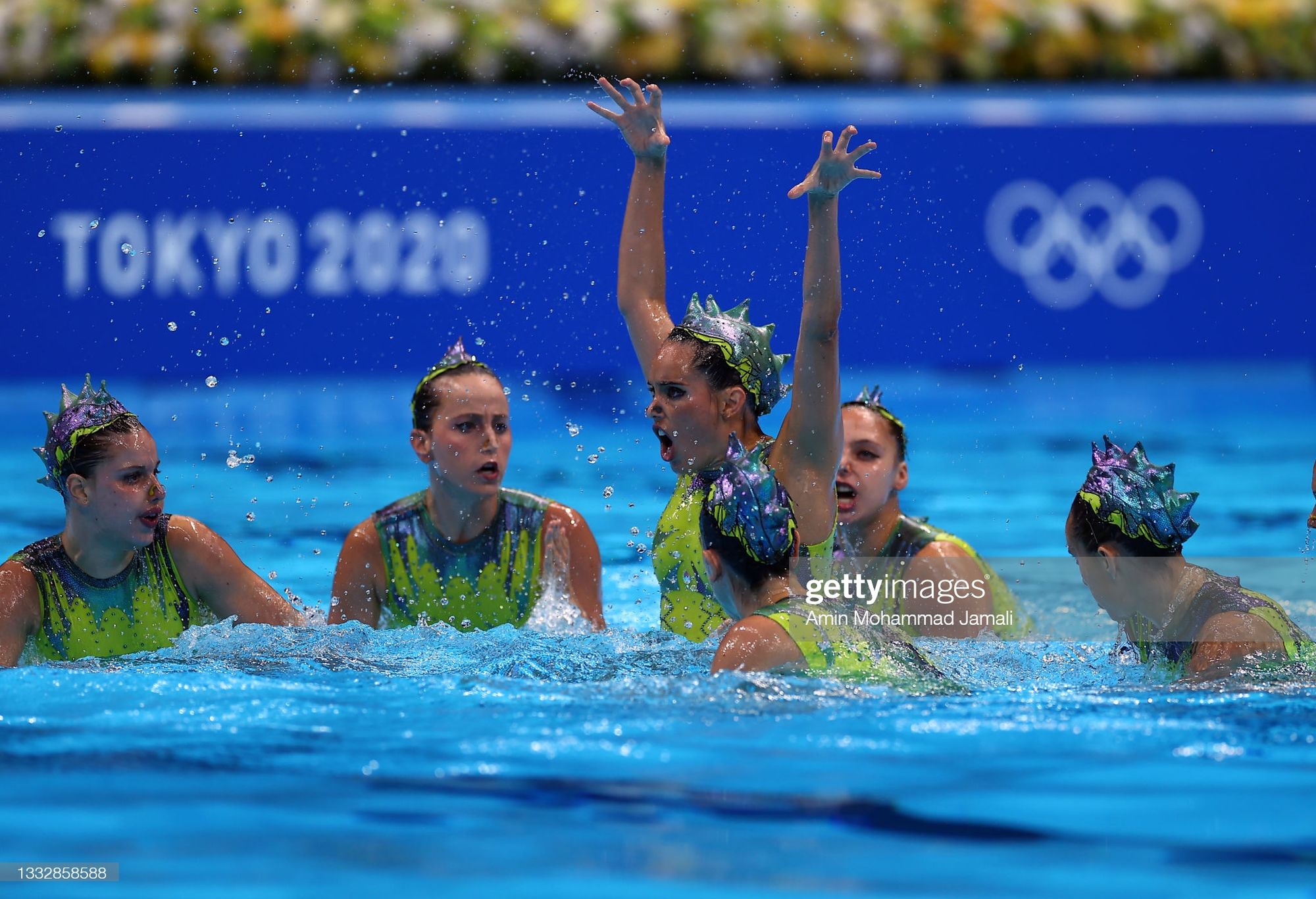 ---
And of course: MAY I SPEAK TO THE MANAGER?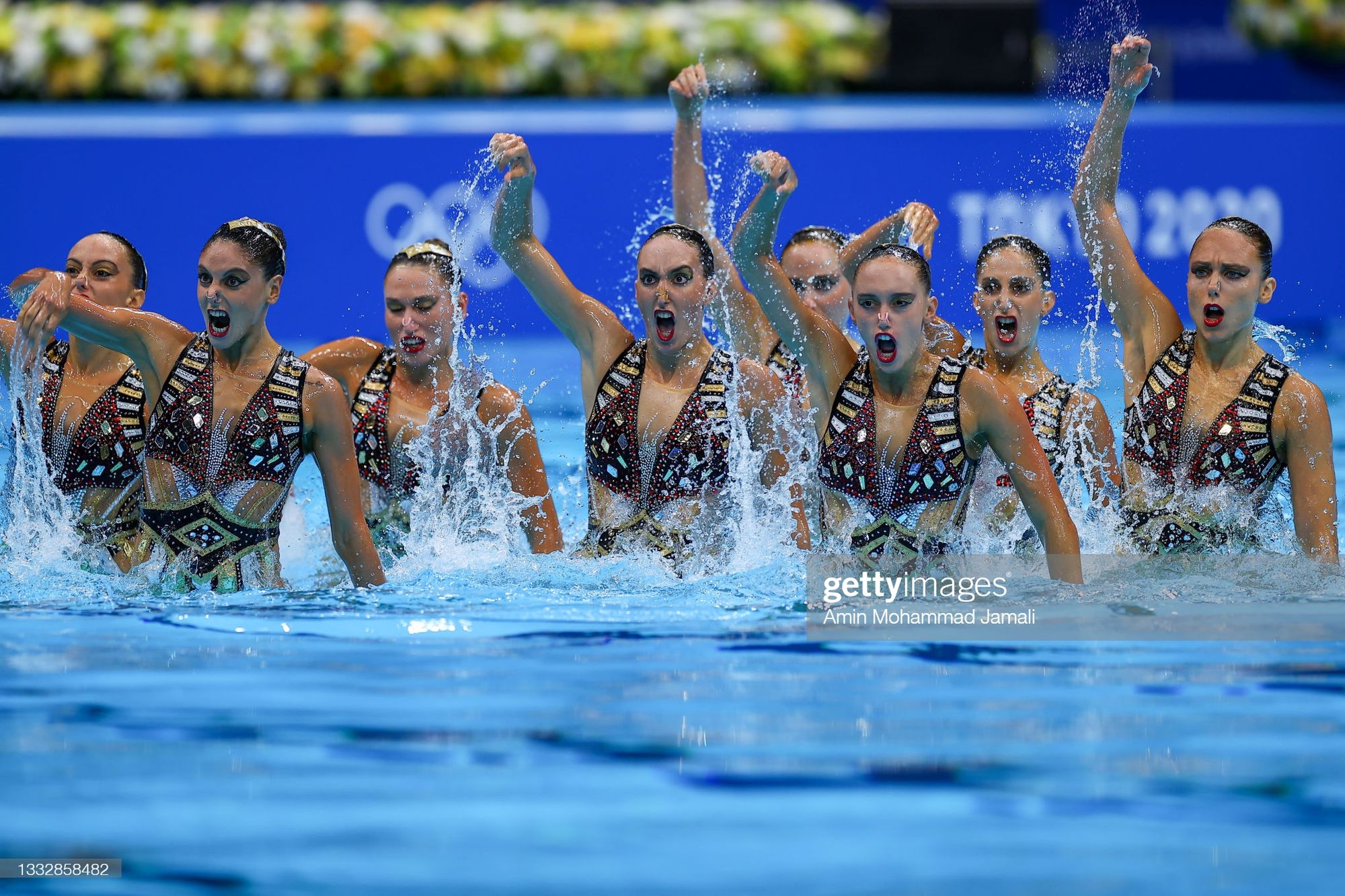 I love Artistic Swimming SO MUCH!
---
On Time...
Okay, so I have to brag for just a second. I'm so very proud of my friend Carl Clemons-Hopkins, who plays Marcus on the phenomenal HBO show Hacks and was recently nominated for an Emmy. Their success is so well-deserved and I'm so glad they're getting more and more recognition. (Hacks is so great; watch it if you haven't!)
Because I'm so proud of them, I like to read all the press that they're getting and for the second time now I've been happily reading about Carl and suddenly see my own name. I just have to share this part of a Los Angeles Times profile on them because I am so floored by Carl's generosity and the way that they talk about an artistic experience we shared.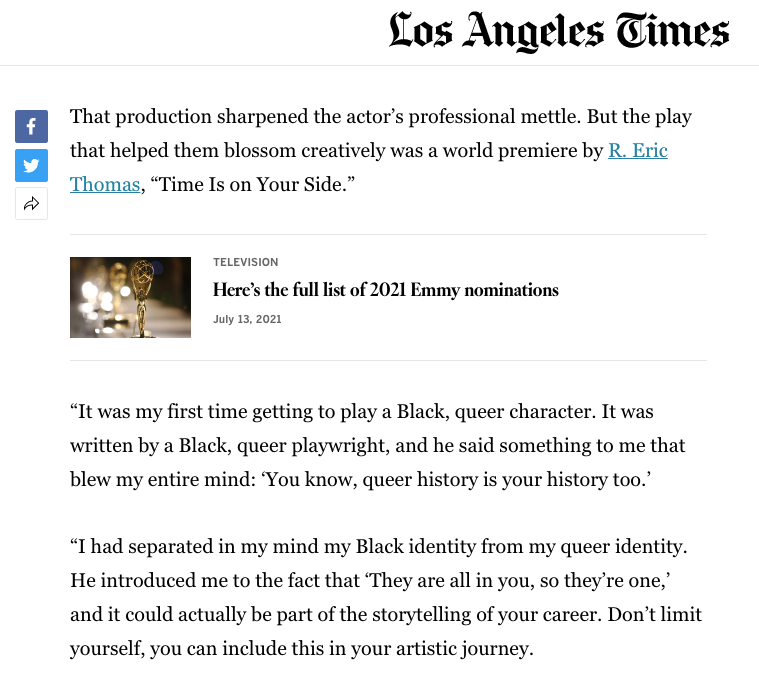 You can, and should, read the whole profile here.
If you're in the Maryland/DC/NoVa area, you can catch a new production of Time Is On Our Side produced by Perisphere Theater in Silver Spring. It got beautiful reviews in DCMetroArts and MD Theater Guide. I can't wait to catch it!
---
Random Thing on the Internet
This is that thing where you're trying to scootch yourself up to see something and you use your younger siblings as leverage.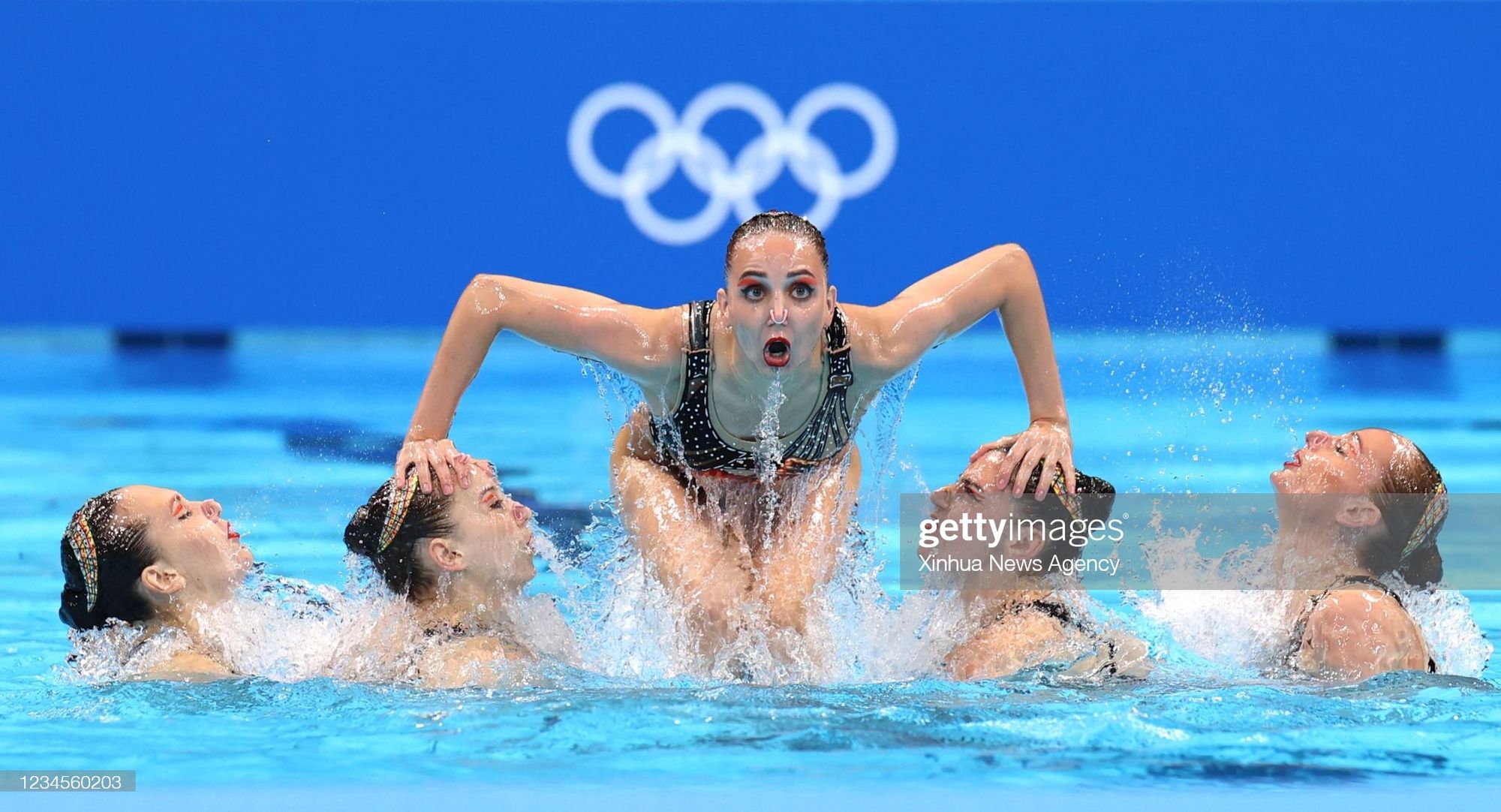 Wow, how,
Eric